Display Quality
The last area we want to test is the display quality. We have stated in the past that laptop LCDs pale in comparison to typical desktop LCDs, but the Studio XPS 16 tries to buck that trend. We've hinted that it succeeds, and here you can see the results of our testing.
We test color accuracy using ColorEyes Display Pro, and we test with two different colorimeters, a DTP-94 and an i1 Display2. We test the laptops with both colorimeters using ColorEyes Display Pro, generating both LUT and Matrix color profiles. The reason we do this is that some displays respond better to LUT profiling while others work better with Matrix profiling. We select the best result out of the four tests for our color accuracy charts.
Besides the color accuracy, the generated profiles allow us to determine color gamut, using GamutVision. We use the matrix color profiles for gamut, as they usually have ~10% higher gamut volume. We will also report the maximum LCD brightness and contrast ratio.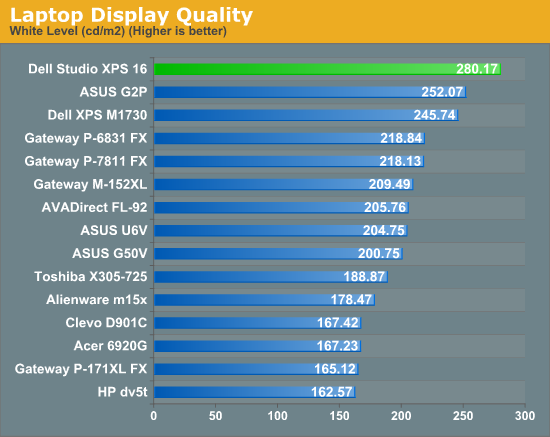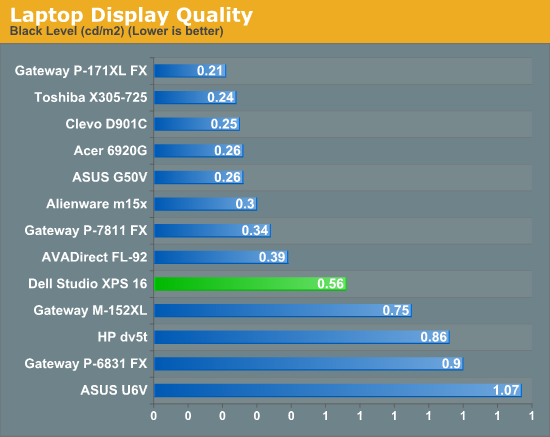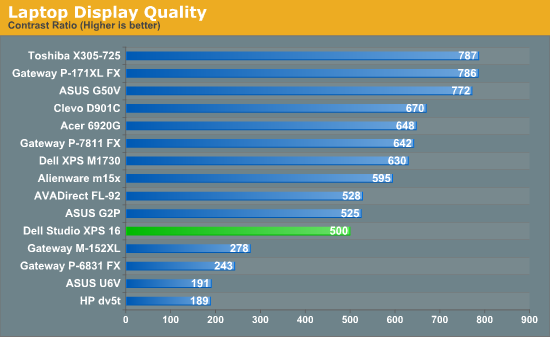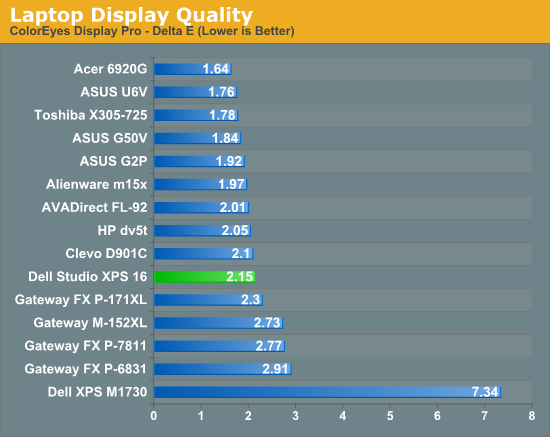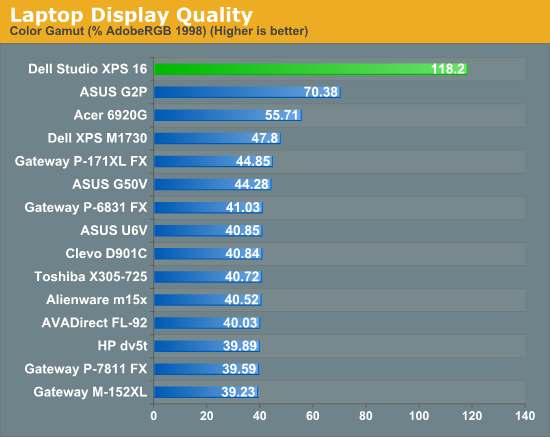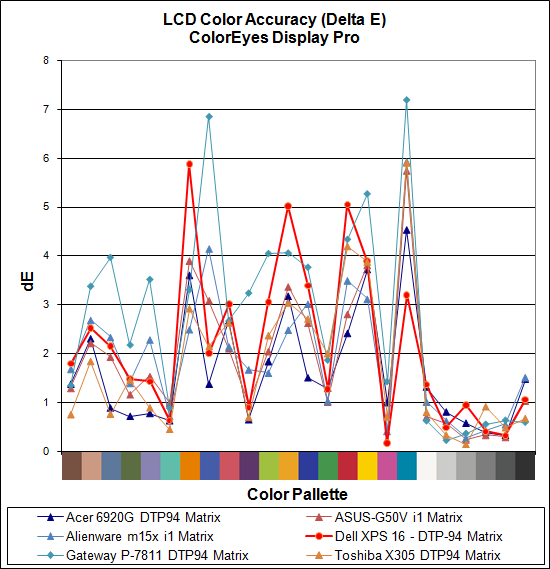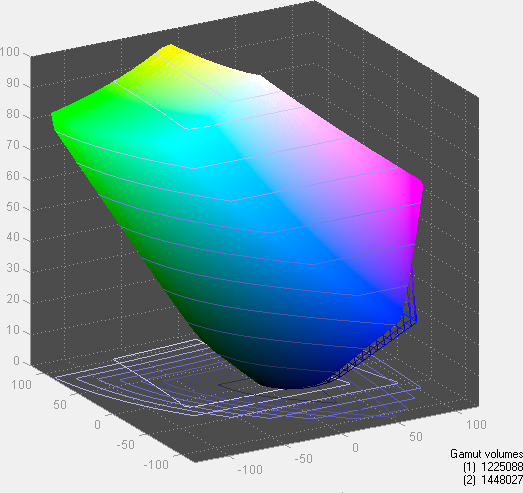 If you just scan over those graphs quickly, you might not be very impressed by the Studio XPS 16 LCD. Color accuracy is middle of the road, and contrast ratio and black levels are nothing special either. The maximum brightness is at the top of the charts, but again that's reflected with the higher than average black level. Here's the catch: contrast ratios above 500:1 are definitely a case of diminishing returns. It's very easy to look at something like the Gateway P-6831 and the Studio XPS 16 and see that the P-6831 has a poor contrast ratio. However, eyeballing the difference between the XPS 16 and any of the higher contrast ratios and determining which is "better" is far more difficult.
The big deal with the RGB LED backlighting is in the last chart. A color gamut of over 100%? In a laptop LCD? You can't be serious! Granted, we haven't tested every single laptop LCD out there, but the vast majority of laptops we've looked at have displays that can't even reach 50% color gamut. In fact, we haven't even tested a desktop LCD that has hit 118% (though Dell's 2480WFP came close and newer display have almost certainly surpassed that mark).
The ASUS G2P was one of my favorite laptops for a long time simply because of the LCD. The Acer 6920G impressed me by offering an image that was visibly better than other laptops, even though it couldn't compete with desktop LCDs. The RGB LED 1080p display on the Studio XPS 16 offers over twice the color gamut of the Acer 6920G. Again, there's a case of diminishing returns - anything beyond about 80% doesn't usually impact how you see colors unless you're really picky. However, this is the first laptop LCD to break the 80% barrier, let alone surpassing any desktop LCD that we've currently tested.
Even though the color gamut is much better than any other laptop we've tested, we do need to contain our enthusiasm somewhat. At its heart, this is still a TN panel, which means the overall quality can't match PVA, MVA, or IPS panels. Dell - or Seiko Epson if you prefer, as they're the panel manufacturer - has taken the first step by offering an improved color gamut on a laptop display. We're still a little baffled as to why no one seems to be interested in making new PVA or IPS laptop panels, as the combination of a high gamut backlight with an IPS panel would be ideal. This is still a great display, but when I want to do some serious image editing I'm still going back to my S-IPS desktop LCD.