Power Requirements
Power requirements with a laptop plugged in don't necessarily reflect power requirements when a laptop is on battery power. In particular, high-end GPUs run at lower maximum clock speeds when using the battery. Keep this in mind when looking at the following numbers. We test under idle conditions, with a 100% load placed on the CPU via Folding@Home SMP, and finally at maximum load by running FAH SMP at the same time as we loop 3DMark06 (at the native LCD resolution).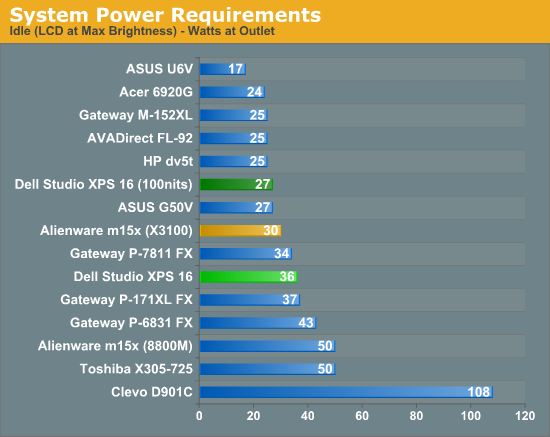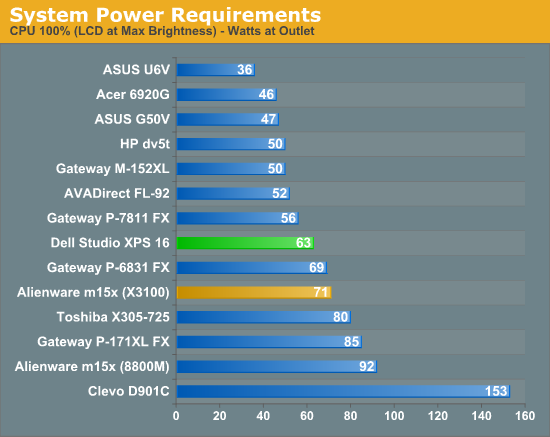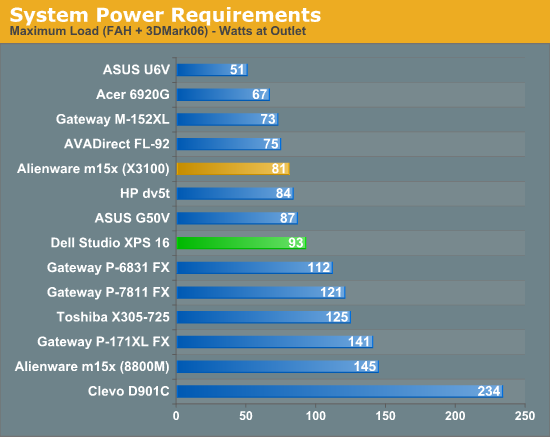 Our power measurements are with the LCD at maximum brightness, which isn't necessarily a fair way of doing things as some LCDs are much brighter than others. Unfortunately, we don't have most of the laptops around to retest. You can see that the Dell Studio XPS 16 uses 9W more power running at maximum brightness, which represents an increase in power draw of 33%. We verified that 9W figure on the other tests, but we didn't include those results in the charts. We don't know if the RGB LEDs inherently use more power than regular laptop backlights, but obviously increasing the backlight intensity requires more power. Luckily, you can often get by running the XPS 16 LCD at around 30-40% brightness (100-130 nits).
Noise Levels
We also ran noise testing using an SPL meter at 24" under the same conditions as our power tests.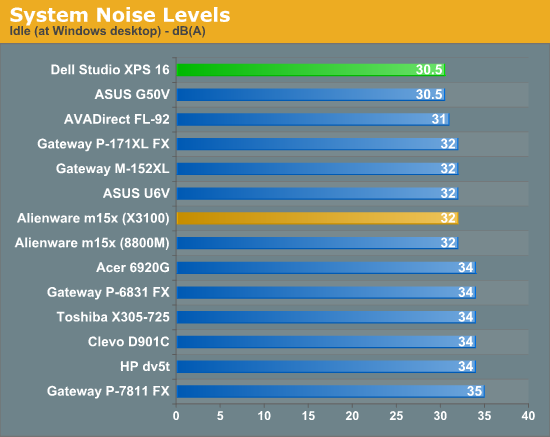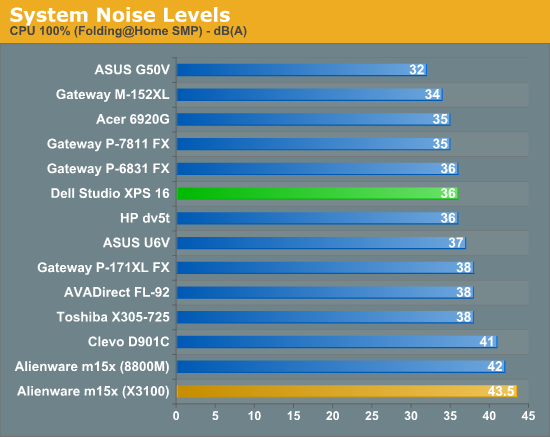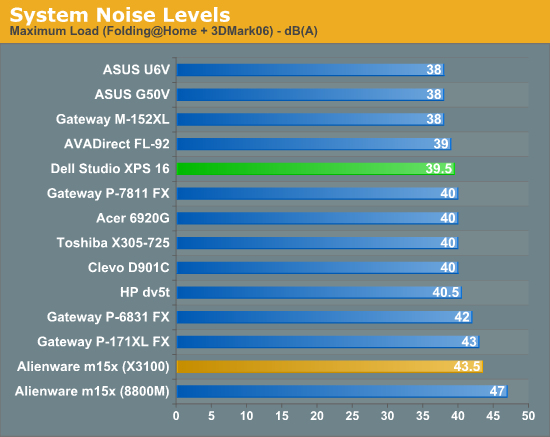 The Studio XPS 16 does reasonably well in terms of noise levels, almost reaching the noise floor of our testing environment (around 28 dB). Once you start to put a load on the system, it does get a bit louder, and extended gaming will usually reach maximum noise levels after a few minutes. The system also takes a while to quiet down after you remove the load, which is likely influenced by the top panel partially blocking the exhaust port.
Temperatures
We didn't create any charts, but we wanted to give a quick rundown of the temperatures you might expect from the Studio XPS 16. We placed a maximum load on the system for 30 minutes and then measured temperatures, so these results are something of a worst-case scenario. Then again, the testing environment was only 67°F, so in warmer conditions it might not be as difficult to make things toasty. We have heard some complaints from users about the XPS 16 getting excessively hot; we wouldn't go that far, but it definitely doesn't run cool to the touch all the time.
We measured temperatures of ~45°C at the exhaust, which isn't too bad. However, temperatures on the bottom of the laptop range from 35° to the 45° as well, with large portions of the bottom measuring above 40°C. The keyboard and palm rest weren't quite as hot, ranging from 30° to 40°C with most of the keyboard staying under 35°. Just to put things in perspective, those temperatures are higher than what we measured on the Toshiba X305-Q725, a result of the smaller chassis with fewer fans.