This is my first GDC. It's the Game Developers Conference. I'm not a game developer, but I'm not a regular developer either and I go to the Intel Developers Forum all the time. When Derek went last year he said that there was just too much show, and that next time he'd want me to come to help out. I obliged. Trips out to California always end up being useful in one way or another.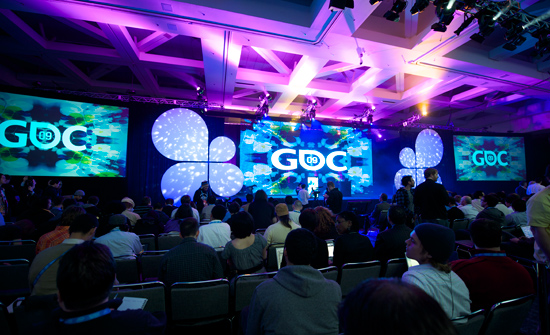 As with all conferences, this one started with a keynote. And not just any keynote. The 2009 Game Developers Conference started with a keynote from the president of Nintendo: Saturo Iwata.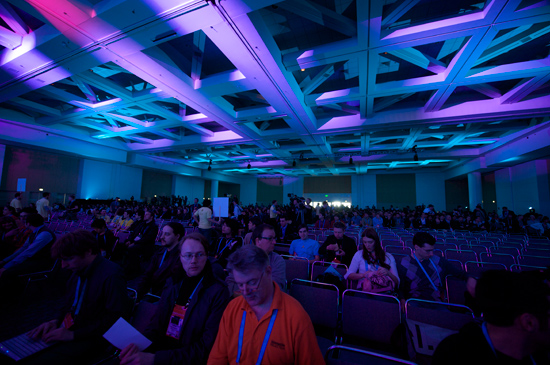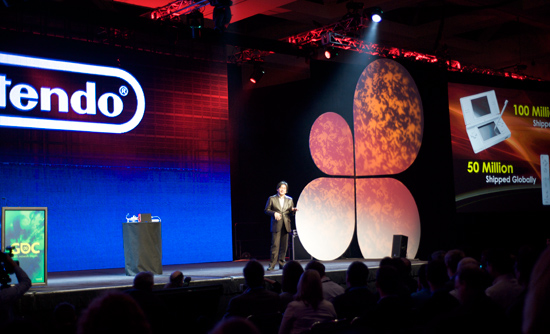 Iwata on stage
I'd never been to a Nintendo keynote before, nor had I ever heard Iwata speak. He spoke with a very mild lisp but was very calm, collected and confident in his delivery. I don't really know how else to describe it other than that he spoke the way you'd expect the president of Nintendo to speak.
Nintendo has had a huge impact on the video game business in the US and around the world, largely due to the success of the Wii. The Wii is extremely popular, but Iwata really put it in perspective. Nintendo has shipped over 50 million Wii consoles since its launch in 2006. That's the fastest ramp rate of any console. The Wii Balance Board, the peripheral that comes with Wii Fit, has sold around 15 million units. That in itself is nearly as many units shipped as Sony's PlayStation 3.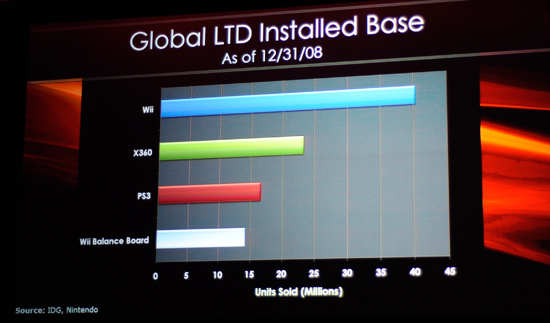 Over 40M consoles shipped by the end of last year. 50 million total since then.
The graph below shows total US video game market growth for an eight year period starting in 2001. The bars represent total video game hardware, software and accessory sales for each year in the US alone.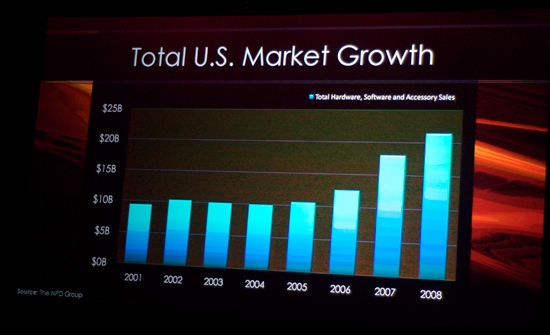 In 2008 the US video game industry broke $20B. That's pretty impressive. Now look at what percentage of that growth was solely because of Nintendo: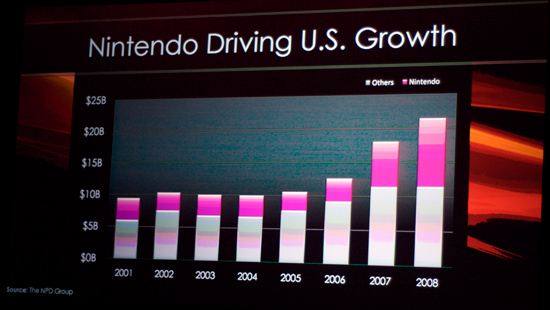 The pink sections of the bars are Nintendo related sales alone
Nintendo accounted for nearly $12B of the $22B US video game industry in 2008. There's no other way to put it, Nintendo is single handedly driving growth in the US game industry - largely due to the Wii.
The trend is the same in the UK, Germany and France: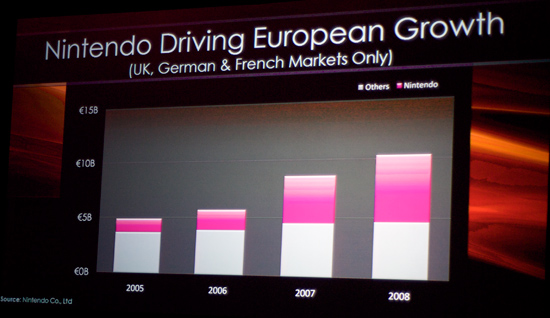 Around half of all video game related sales in those countries last year was because of Nintendo. The numbers are just ridiculous. Cute cuddly video game characters aside, Nintendo is as colossal of a market force as companies like Intel, Microsoft and Google in their respective industries. Nintendo's size in itself shouldn't be surprising, but when characterized in terms of the entire video game market it's shocking.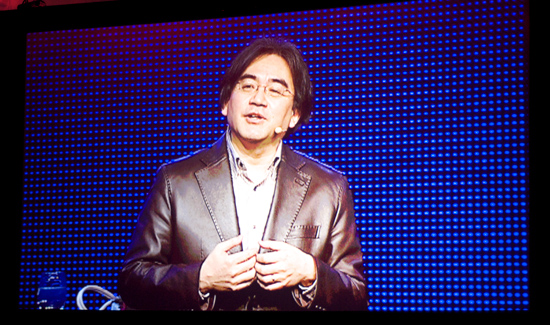 This next part was cool. Iwata took us through how goes about designing games. For those of you who don't know, Miyamoto is the creator of Mario, Zelda, Pikmin, Nintendogs and some of Nintendo's other extremely popular franchises. Given that Iwata was speaking to an audience of game developers, choosing to speak about Miyamoto's approach to game design made a lot of sense. But to me, it was just awesome to hear about how someone who is great at his craft goes about his work. I love stories like that.
Let's get started.