OCZ Sends Me SSDs, Once More
As I mentioned before, after the X25-M article I was somewhat blacklisted from getting more SSDs to test. Since the Core V2, I hadn't tested a single SSD from OCZ or anyone else for that matter. Everything on the market was either based on Samsung's SLC drive, JMicron MLC or the Intel X25 series.
Needless to say, I was excited when I got a box from OCZ.
I got the drives early in the morning. Excited, I opened them up. Inside the box were three drives. The OCZ Apex (I'd never reviewed it, and OCZ reluctantly sent another JMicron drive to me), the Vertex and the Summit.
The Summit was based on Samsung's latest MLC SSD controller, which I'd heard great things about. It's supposed to compete with Intel's drive.
The Vertex is the drive I was most interested in. A value SSD that didn't suck, or at least that's what it seemed to be on paper. Ryan even left me a little note on the box: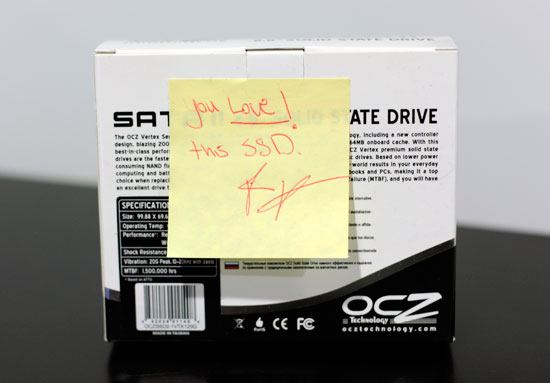 O RLY?
It's worth noting that although other SSD makers will be making drives based on the Indilinx and Samsung controllers, OCZ was the first to get me drives based on both of these controllers. In fact, I was done testing the OCZ Summit based on Samsung's latest controller before Samsung ever offered to ship me the drive.
I pushed the Apex and Summit drives aside for now. What I wanted to know was how the Vertex performed.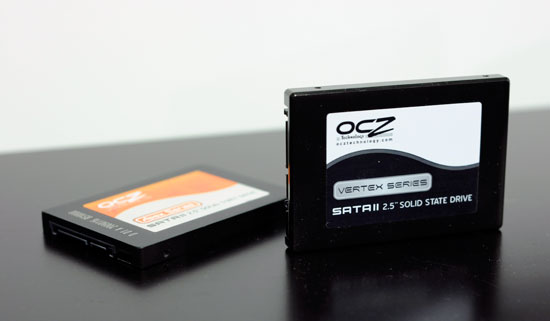 I cloned my system drive and used the Vertex in my personal machine. As soon as I hit the desktop I knew there was a problem; all of my icons took longer than they should've to load. It took about 30 minutes of actual usage for the drive to stutter and within a couple of hours performance got so unbearable that I had to pull it out.
Sigh, the Vertex was broken.