Intel Entry-level PC
While Intel still owns the top of the CPU performance charts, the area from midrange to entry is very competitive between Intel and AMD. The one advantage that remains for Intel is that their processors generally overclock much better than current AMD CPUs. This is not normally a consideration in entry computers, but it could be for some buyers.
Intel Entry-level PC
Hardware
Component
Price
Processor
Intel Pentium Dual-Core E5200 Wolfdale
(Dual-core 2.5GHz 65W 2MB Shared L2 800FSB)
$83
Cooling
CPU Retail HSF
-
Video
Onboard
-
Motherboard
Zotac N73PV-Supreme NVIDIA GeForce 7100 HDMI
$60
Memory
Kingston 4GB DDR2-800 Kit (KVR800D2N5K2/4G)
$37
Hard Drive
WD Caviar GP WD5000AACS 500GB
$59
Optical Drive
Samsung 22X DVDRW/DL SH-S202G
$25
Audio
Onboard
-
Case
Rosewill TU-155 with 400W
$60
Power Supply
Included with Case
-
Display
Hanns-G HB-175APB 17" 8ms Widescreen LCD Monitor Built in Speakers - Retail (1440x900)
$99
Speakers
Built-in Monitor
-
Input
Microsoft CA9-00001 PS/2 Standard Keyboard and Optical USB/PS2 Mouse - OEM
$16
Operating System
Microsoft Vista Home Premium OEM
$99
Bottom Line
$538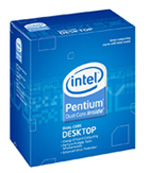 Our choice for the Intel entry CPU is the excellent 2.5GHz dual-core E5200 Wolfdale. This 65W CPU uses 800FSB, so right out of the box the first option for overclock, if you are so inclined, is to bump the FSB up to 1066. Even if you never overclock you will be very pleased with the performance of the E5200. We do not recommend going lower than an E5200 in an Intel system because the tradeoffs in performance for the few dollars saved are too great. The E1200 at $53, for example, is dismal compared to the E5200, and certainly not a good choice in performance for the $30 saved.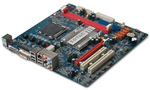 In the past year, some motherboards for Intel systems have finally reached price parity with AMD systems. One example is the Zotac board chosen for the entry Intel system. The ZOTAC N73PV-Supreme is based on the GeForce 7100. This uATX motherboard features HDMI output, Gigabit LAN, four 3Gb/s SATA ports, 10 USB ports, HD audio, one PCI-E x16 slot, one PCI-E x1 slot, two PCI slots, and support for 4GB RAM. This board offers excellent stability and performance for the money. Pair it up with an E5200 and 4GB of DDR2-800 and you have a solid SOHO system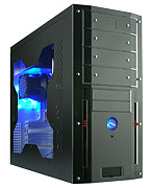 The rest of the components are virtually identical to the AMD entry-level system. This includes the Rosewill TU-155 case with 400W PSU from Newegg. It is a versatile case that will house any entry to midrange system at a current cost of $60. The TU-155 with PSU often goes on sale for $50 so it pays to shop if it is important to save every dollar possible. We generally do not recommend cases that come with a power supply, but our long-term experience with this 400W PSU has been positive with no problems - though certainly efficiency isn't going to compete with PSUs that cost as much on their own as this case/PSU combo. If you're interested in getting a better quality, higher efficiency 300-450W PSU, we'll have a couple massive roundups in the near future, so check back later this week.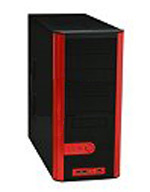 A good case alternative is the well-known Cooler Master Centurion 5 Red FR-T05-URI-GP with 430W power supply for the same $60. This black case with red trim stands out in both appearance and in its flexible interior that can handle five 5.25" devices, two 3.5" devices, and three internal hard drives. There is also an installed 120mm exhaust fan on the rear in the CPU area.
If we compare the two entry-level systems, the winner depends on what you value most. The Intel system is a bit more powerful, but you can move up to a high-end Athlon 64 X2 or a low-end AMD Phenom X3 for comparable performance at less than $100. The full-size AMD ASRock board offers more flexibility for future graphics expansion, with two x16 PCIe slots and Crossfire X support. If you are a gamer on a strict budget, the AMD entry system offers you more options for future graphics expansion. For the typical entry-level PC right now, and for what the system is typically used for - internet, office, low-end gaming, and low to mid graphics - you can go either route and be happy.