AMD Budget
Leaving the entry-level sector behind, and with a budget of up to $1000, our options increase significantly. Our aim here is to provide a configuration that allows for a nice balance of performance at stock speeds. This doesn't mean you have to spend the entire $1000 though, as prices have dropped in the past year and performance for the dollar has definitely increased. In fact, both budget systems are under $850 complete, giving you the option to increase graphics power or go for a larger monitor (or both) and still be around $1000.
The assembled system is balanced for a wide variety of computing tasks, but final tweaks can tilt it toward gaming or graphics for example, if that is what you aim for. Generally we consider PC gaming rigs to begin at the next category, or the low end of midrange, but adding a more powerful graphics card and a larger monitor will definitely make one of these budget systems a good choice for entry gaming at around $1000. If that is your goal take a look at our Holiday 2008 GPU and Holiday 2008 Display guides for help in selecting a graphics card and display for your price point.
AMD Budget PC
Hardware
Component
Price
Processor
Phenom 8750 Black Edition
(Tri-core 2.4GHz 95W 3x512KB L2)
$120
Cooling
CPU Retail HSF
-
Video
Powercolor AX4830 512MD3-H Radeon HD 4830
$85
Motherboard
Biostar TForce TA790GX3 A2+
$110
Memory
Crucial Ballistix 4GB DDR2-800 Kit (BL2KIT25664AA80A)
$48
Hard Drive
WD Caviar GP WD6400AACS 640GB
$85
Optical Drive
Samsung 22X DVDRW/DL SH-S202G
$25
Audio
Onboard
-
Case
Antec Three Hundred ATX Mid-Tower Case
$60
Power Supply
OCZ ModXStream Pro OCZ400MXSP 400W ATX12V V2.2 Modular Active PFC Power Supply
$35
Display
Acer X193W+BD 19" 5ms Widescreen LCD Monitor (1680x1050)
$130
Speakers
Logitech R-20 12 Watts RMS 2.1 Multimedia Speaker
$18
Input
Microsoft CA9-00001 PS/2 Standard Keyboard and Optical USB/PS2 Mouse - OEM
$16
Operating System
Microsoft Vista Home Premium OEM
$99
Bottom Line
$831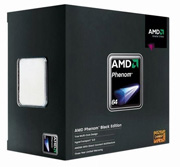 While the GPU is the most important factor in gaming performance, the CPU is also a factor - particularly below 1280x1024. To make sure the CPU is not a bottleneck now, or in the near future should you upgrade your PC, a Black Edition Phenom X3 is the CPU of choice. The Phenom 8750 Black Edition has an unlocked multiplier should you choose to overclock, which makes overclocking as simple as it gets. It is rated at 2.4GHz 95W at stock, with 3x512KB L2 cache.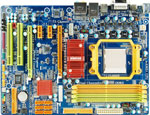 We've paired the Phenom 8750 Black Edition with the Biostar TForce TA790GX3 A2+, a perfect match for those looking to squeeze as much performance out of their money as possible. The Biostar is loaded with overclocking features, including integrated AMD HD 3300 graphics with an HDMI/DVI interface with 1080P HD support. This adds up to very decent performance using the onboard graphics. In addition to AM2+ support, Biostar claims future AM3 CPU support. Biostar includes 128MB DDR2 sideport memory for improved GPU performance, Realtek ALC 888 HD audio, Gigabit LAN, 16GB memory support, six 3Gb/s ports capable of RAID 0/1/10/5, 10 USB ports, two PCI-E x16 slots (dual x8 CrossFire), two PCI-E x1 slots, and two PCI slots. The BIOS caters to the casual overclocker and this board performs very well in a variety of tests. .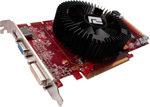 Graphics are provided by the PowerColor Radeon HD 4830. 4830 video cards are normally in the $110 to $130 price range, so $85 for an Radeon 4830 after rebate is an incredible value and allows the graphics to be kicked up to a higher level. At low to moderate resolutions (1024x768 to 1680x1050) gamers using this class of GPU hardware are all but guaranteed to be able to play with all the effects and high image quality options enabled. That makes the 4830 a good match to the other components in our Bargain systems.
We're going with the Ballistix 4GB DDR2-800 kit for $48. However, there are many memory options at great prices today. Quality DDR2-800 RAM from Corsair, OCZ, G.Skill, Mushkin, and GeIL are available on any of the major online retailers. Just be sure to look for RAM with timings of 4-4-4-12 - or even better with a little luck.
The hard drive receives a slight capacity upgrade to a 640GB Western Digital Caviar. If you'd prefer a longer warranty, look at Seagate, which includes a 5-year warranty on most of their drives for a few dollars more. The DVD burner remains the same Samsung 22X.
The case receives an upgrade with the selection of the well-regarded Antec Three Hundred and a bargain OCZ ModXStream Pro 400W power supply. OCZ power supplies have a great reputation for solid performance and good warranty support, and $35 after rebate is a great price for a quality power supply.
The LCD display was a bit of a conundrum. We selected the high resolution Acer X193W+BD for $130. Where else can you find a 19" monitor with the 1680x1050 resolution more common on a 22" screen? If you prefer a larger screen you can find a 22" widescreen for just $40 more, but the resolution will be the same.
If you plan to do a lot with 1080P HD you should consider a monitor that will support the 1080P resolution of 1920x1080. Generally this is the resolution expected of 24" LCD Monitors, which start at around $300. That is a great price compared to the $1000 of just a couple of years ago, but there are even cheaper options available.
The new class of 21.5" monitors feature a true 1080P resolution and we found the Acer H213H 21.5" HDMI 16:9 and the ASUS VH222H Black 21.5" HDMI Widescreen both selling for $200 with free shipping at Newegg. That is just a little bit more for full HD 1920x1080 native resolution.
If you want more video power for gaming, you can upgrade to the Radeon HD 4850 as the start of true HD gaming for just $45 more ($130). An upgrade to the Radeon HD 4870 512MB can be as little as $180 (just $95 more). The $130 and $180 cards still keep your total well below $1000. You can even upgrade to the $180 4870 and include the full HD 21.5" Acer or ASUS monitor and still be at $996 to $1001. That's a very capable gaming system for $1000 that can do plenty of tasks besides gaming should the need arise.