A Quick Look Under The Hood
Our first concern, upon hearing about this hardware, was whether or not they could fit two of GTX 260 GPUs on a single card without melting PSUs. With only a 6 pin + 8 pin PCIe power configuration, this doesn't seem like quite enough to push the hardware. But then we learned something interesting: the GeForce GTX 295 is the first 55nm part from NVIDIA. Of course, the logical conclusion is that single GPU 55nm hardware might not be far behind, but that's not what we're here to talk about today.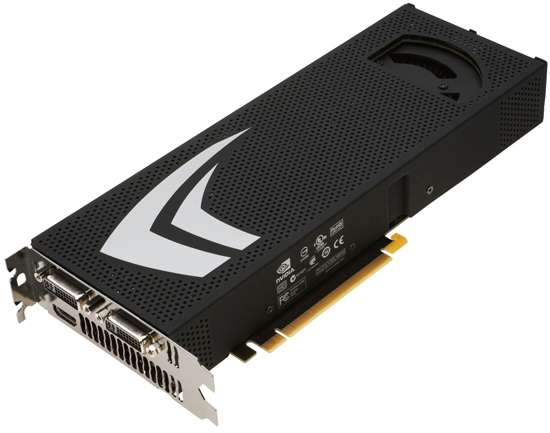 Image courtesy NVIDIA
55nm is only a half node process, so we won't see huge changes in die-size (we don't have one yet, so we can't measure it), but the part should get a little smaller and cheaper to build. As well as a little easier to cool and lower power at the same performance levels (or NVIDIA could choose to push performance a little higher).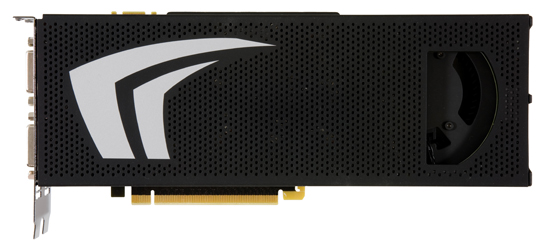 Image courtesy NVIDIA
As we briefly mentioned, the GPUs strapped on to this beast aren't your stock GTX 260 or GTX 280 parts. These chips are something like a GTX 280 with one memory channel disabled running at GTX 260 clock speeds. I suppose you could also look at them as GTX 260 ICs with all 10 TPCs enabled. Either way, you end up with something that has higher shader performance than a GTX 260 and lower memory bandwidth and fillrate (remember that ROPs are tied to memory channels, so this new part only has 28 rops instead of 32) than a GTX 280. This is a hybrid part.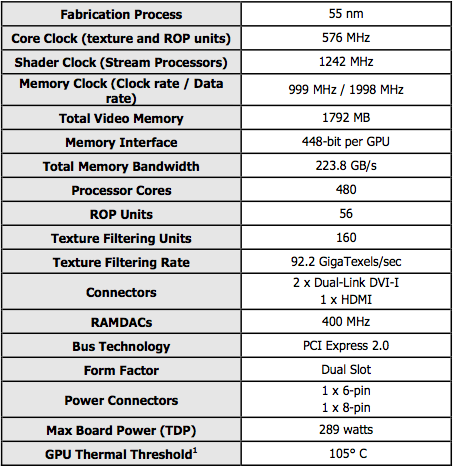 Image courtesy NVIDIA
Our first thought was binning (or what AMD calls harvesting), but being that this is also a move to 55nm we have to rethink that. It isn't clear whether this chip will make it's way onto a single GPU board. But if it did, it would likely be capable of higher clock speeds due to the die shrink and would fall between the GTX 260 core 216 and GTX 280 in performance. Of course, this part may not end up on single GPU boards. We'll just have to wait and see.
What is clear, is that this is a solution gunning for the top. It is capable of quad SLI and sports not only two dual-link DVI outputs, but an HDMI out as well. It isn't clear whether all boards built will include the HDMI port the reference board includes, but more flexibility is always a good thing.

Image courtesy NVIDIA