The HDMI Repeater Issues
One day I got the silly idea to build a theater in my basement, I documented the process here. In doing so however, I was exposed to the reality that although our PC technology is quite well suited for home theater use, much of it is remarkably broken in that sense.
At launch, G45 was the epitome of the broken HTPC space. Hardware decode acceleration didn't work right, there were HDCP issues on various displays and something called HDMI repeater support was broken.
The HDCP spec was created to be flexible for use in both PC and consumer electronics devices, as such there's support for three types of devices: source, sink and repeater. The source in a HDCP chain is the, well, source - it's what is originally outputting the content. The source could be your PC or a Blu-ray player among other things. The sink is the final device in the chain, its only purpose is to decrypt the HDCP signal and display the final output; an example of a sink is your monitor or a TV. The third type of device is a repeater and what it does is accepts an incoming HDCP signal, decrypts it, optionally adds additional data or processing to the signal then re-encrypts it and passes it along.
The best example of a repeater is a HDMI receiver. Many high end HDMI receivers will take any input and upscale it to 1080p before sending it out to your display. That feature alone requires that the receiver be a repeater as it needs to decrypt the incoming signal, upscale the video, then encrypt the new signal and send it out to your display. Any audio processing done to the signal also requires the same decrypt, process, encrypt path.
As far as I can tell, implementing support for repeaters in both the HDMI and HDCP specs is fairly trivial. There's a single bit that indicates support and the whole chain should just work, however at G45's launch the chipset didn't support HDMI/HDCP repeaters. And today, despite many driver and software revisions - support is still broken.
The initial incompatibilities were actually due to the software player vendors, mainly Corel and Cyberlink. Without repeater support, my G45 testbed would not propagate HDCP and thus I'd get this error from PowerDVD: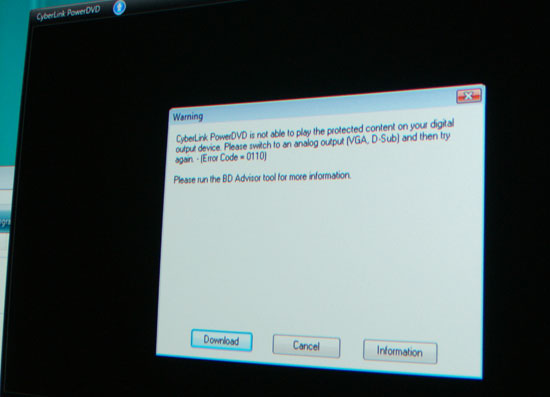 The repeater in this case was an Integra DTC-9.8 pre-processor. I used the latest version of Arcsoft's Total Media Theater to see if perhaps this was a Cyberlink issue and although Arcsoft didn't throw an error, I couldn't get the player to actually play any encrypted content when my Integra was in the HDMI chain.
Gary tried the Denon AVR-3808 and got the same error: HDCP failed until a firmware update from Denon although the unit worked fine with competing solutions. His situation was slightly different with the Pioneer VSX-94TXH as it worked properly (finally) after the latest updates from ArcSoft and Corel. However, Cyberlink's PowerDVD 8 Ultra still does not have G45 repeater support at this time.
Intel is apparently still getting down to the root of the HDMI repeater issue with G45, but one thing is for sure: it doesn't exist on our 780G or GeForce 8200 based test beds. Even the add-in Radeon HD 4800 or 4600 series cards don't have this problem. If you don't have an AV receiver then the flaky repeater support won't matter, but home theater aficionados beware.