The Last "Discrete" Intel Integrated Graphics Chipset?
Intel always made its chipsets on a n - 1 manufacturing node. If the majority of its CPUs were being built on 90nm, Intel would make its chipsets on 130nm. When the CPUs moved to 65nm, chipsets would move to 90nm and so on and so forth. This only applied to the GMCH/North Bridge, the South Bridges were on a n-2 process. If the CPUs were built on 65nm, the GMCH would be built on 90nm and the ICH would be a 130nm part.
Building chipsets on n-1/n-2 manufacturing processes meant that Intel could get more use out of its older fabs before converting them to the latest technology. Given how large of an investment these multi-billion dollar fabs are, Intel's approach to manufacturing made financial sense.
Unfortunately from a performance standpoint, Intel's approach left much to be desired. Graphics performance, to a certain extent, is closely related to the die size of your GPU. The reason NVIDIA's GT200 is twice as fast as its previous generation G80 core is because there are simply more transistors, on a larger die, to crunch away at pixels (and more memory bandwidth to feed them). By limiting its chipset manufacturing to older technologies, Intel artificially limits the performance of its IGP solutions. This is compounded by the fact that they are also building hardware using architectures with fundamentally reduced capability and performance compared to competing solutions.
A year ago Intel committed to changing all of this; remember this slide?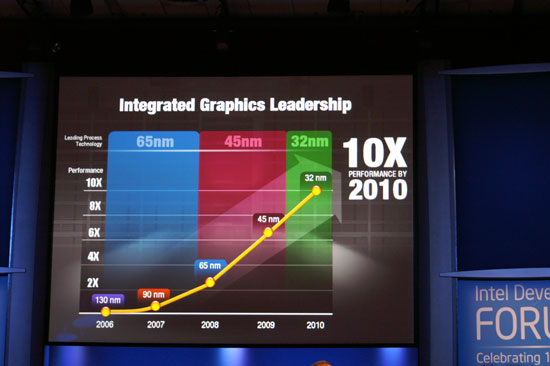 With G45 the gap between the process that the chipsets are made on and the process that the CPUs are made on is narrowed, G45 being Intel's first 65nm IGP, it's also Intel's last IGP. After G45, there will be no more integrated graphics chipsets - Intel's graphics cores will simply be integrated onto the CPU package and eventually the CPU die itself.
A Lower Power Chipset
The move to 65nm does have some serious power benefits, we looked at the total system power consumption of G45 vs. G35 using a Core 2 Quad Q9300 running a variety of tests:
| | | | | |
| --- | --- | --- | --- | --- |
| | Intel G45 (DDR3) | Intel G45 (DDR2) | Intel G35 (DDR2) | Intel G45 Power Savings |
| System at Idle | 66.8W | 68.2W | 79.7W | 11.5W |
| Company of Heroes | 92.4W | 95.6W | 103.9W | 8.3W |
| Video Encoding (PCMark Vantage TV/Movies) | 114.8W | 115.8W | 124.6W | 8.8W |
| Blu-ray Playback | 83.3W | 84.9W | 107.3 | 22.4W |
Using the same memory, G45 manages to shave off a good 8 - 11% from the total system power consumption. There's a tremendous advantage in Blu-ray playback but that is due to more than just more power efficient transistors, which we'll address shortly.
We'll also see some G45 boards use DDR3 memory, which thanks to its lower operating voltage will shave off another couple of watts from your total system power budget.