New TLBs, Faster Unaligned Cache Accesses
Historically the applications that push a microprocessor's limits on TLB size and performance are server applications, once again with things like databases. Nehalem not only increases the sizes of its TLBs but also adds a 2nd level unified TLB for both code and data.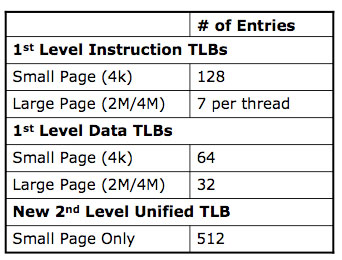 Another potentially significant fix that I've already talked about before is Nehalem's faster unaligned cache accesses. The largest size of a SSE memory operation is 16-bytes (128-bits). For any of these load/store operations there are two versions: an op that is aligned on a 16-byte boundary, and an op that is unaligned.
Compilers will use the unaligned operation if they can't guarantee that a memory access won't fall on a 16-byte boundary. In all Core 2 processors, the unaligned op was significantly slower than the aligned op, even on aligned data.
The problem is that most compilers couldn't guarantee that data would be aligned properly and would default to using the unaligned op, even though it would sometimes be used on aligned data.
With Nehalem, Intel has not only reduced the performance penalty of the unaligned op but also made it so that if you use the unaligned op on aligned data, there's absolutely no performance degradation. Compilers can now always use the unaligned op without any fear of a reduction in performance.
To get around the unaligned data access penalty in previous Core 2 architectures, developers wrote additional code specifically targeted at this problem. Here's one area where a re-optimization/re-compile would help since on Nehalem they can just go back to using the unaligned op.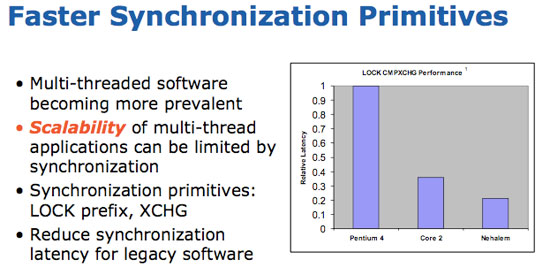 Thread synchronization performance is also improved on Nehalem, which leads us in to the next point.