...and Now We Understand Why: Hyper Threading
Years ago I asked Pat Gelsinger what he was most excited about in the microprocessor industry, he answered: threading. This was during the early days of Hyper Threading but since the demise of the Pentium 4, we never really got another look at HT on any of the subsequent microprocessors based on Core.
Hyper Threading was Intel's marketing name for simultaneous multi-threading (SMT), the ability to fetch instructions from two threads at the same time instead of just a single one. The OS sees a HT enabled processor as multiple processors, in this case two, and send two threads of instructions to the CPU.
Nehalem sees the return of Hyper Threading and it is met with much, much better performance than we ever saw with Pentium 4 for a number of reasons:
1) Nehalem has much more memory bandwidth and larger caches than Pentium 4, giving it the ability to get data to the core faster and more predictably

2) Nehalem is a much wider architecture than Pentium 4, taking advantage of it demands the use of multiple threads per core.
Just as the first Pentium 4 didn't ship with Hyper Threading support, the architectures that Nehalem was derived from didn't have HT either. The time is right with Nehalem for the reasons mentioned above and because there are simply many more applications that can take advantage of HT today than ever before.
The chart below shows the performance gain from enabling HT on a Nehalem processor, no other variables were changed: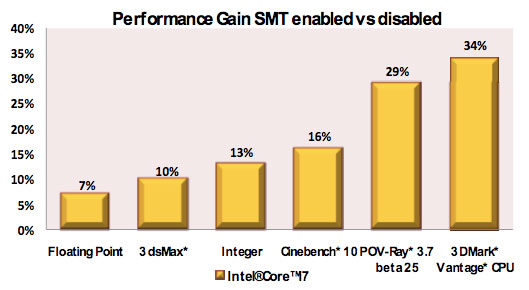 Just like on Atom, enabling HT on Nehalem required very little die area. Only the register state, renamed return stack buffer and large page instruction TLBs are duplicated. The rest of the data structures are either partitioned in half when HT is enabled or are "competitively" shared, in that they dynamically determine how much of each resource is allocated per thread: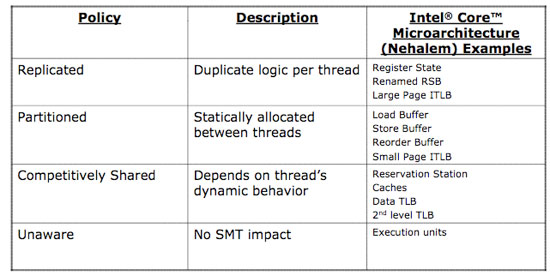 Enabling HT was a very power efficient move for Nehalem, and you can expect that it will improve performance in a number of applications - far more regularly than it ever did with the Pentium 4.
Now it should also make sense why Intel increased buffer sizes in Nehalem, because many of those buffers now have to deal with ops coming from two threads instead of just one. That's more instructions to decode, better utilization of the front end, more micro-ops in the pipeline, more micro-ops in the re-order engine and more micro-ops executing concurrently.