Remember this slide?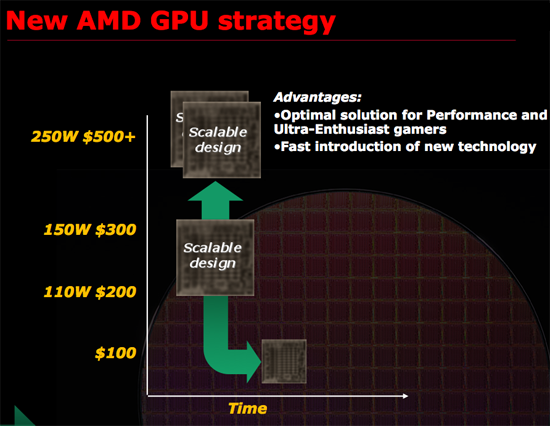 The "Scalable design" block we already know about, that's RV770 - we reviewed it last month. The 150W TDP $300 part is the Radeon HD 4870, and the 110W $200 part is the Radeon HD 4850, the two cards that have caused NVIDIA quite a bit of pain already. The smaller $100 part has a name, and a release date, neither of which we can talk about at this point, but it's coming.
Today however, is about the 250W, $500 multi-GPU solution - internally known as R700. Hot on the heels of the Radeon HD 4800 series launch, AMD shipped out ten R700 cards worldwide, attempting to capitalize on the success of the 4800 and showcase the strength of AMD's small-GPU strategy.
We're assuming that AMD will call the R700 based cards the Radeon HD 4870 X2, and based on the chart above we're expecting them to retail above $500 (possibly $549?). Today's article is merely a preview as R700s won't be officially launched for at least another month, but AMD wanted to unveil a bit of what it's cooking.
| | | | | |
| --- | --- | --- | --- | --- |
| | ATI R700 | ATI Radeon HD 4870 | ATI Radeon HD 4850 | ATI Radeon HD 3870 |
| Stream Processors | 800 x 2 | 800 | 800 | 320 |
| Texture Units | 40 x 2 | 40 | 40 | 16 |
| ROPs | 16 x 2 | 16 | 16 | 16 |
| Core Clock | 750MHz | 750MHz | 625MHz | 775MHz+ |
| Memory Clock | 900MHz (3600MHz data rate) GDDR5 | 900MHz (3600MHz data rate) GDDR5 | 993MHz (1986MHz data rate) GDDR3 | 1125MHz (2250MHz data rate) GDDR3 |
| Memory Bus Width | 256-bit x 2 | 256-bit | 256-bit | 256-bit |
| Frame Buffer | 1GB x 2 | 512MB | 512MB | 512MB |
| Transistor Count | 956M x 2 | 956M | 956M | 666M |
| Manufacturing Process | TSMC 55nm | TSMC 55nm | TSMC 55nm | TSMC 55nm |
| Price Point | > $500 | $299 | $199 | $199 |
The R700 board is literally made up of two RV770s with a PCI Express switch connecting the two. The clock speeds are identical to the Radeon HD 4870, and memory size per GPU has been doubled to 1GB, which could help in hi res cases with AA enabled. In other words, R700 should perform very much like a pair of 4870s in CrossFire. Or should it?
Building a Better CrossFire
When AMD began talking about no longer building high end hardware using single monolithic GPUs a few weeks back, we let them know that improving CrossFire support would be incredibly important going forward. AMD told us that they are putting a lot into that but also that they have some exciting technology up their sleeves with R700 to help out as well. Unfortunately, we haven't gotten as much detailed information on how it works, but the new technology is GPU to GPU communication.
Until now, CrossFire has done zero GPU to GPU or framebuffer to framebuffer communication. As with the first iteration, each card fully renders the parts of the screen for which it is responsible (be it a whole frame in AFR, the top or bottom half of a screen, or alternating tiles). These results are sent to a combiner where the digital signals are merged and output to the screen. This is the only communication that takes place in CrossFire at the moment. R700 will change that by allowing GPUs to communicate.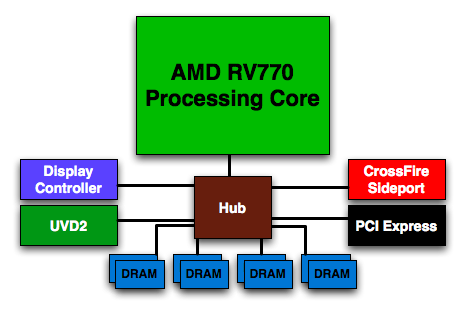 RV770 has a CrossFire X Sideport...we assume that the two RV770s on a single R700 board somehow connect Sideports and make fast. AMD hasn't told us how yet.
It is not clear how extensive this communication will be, what information will be shared, or how much bandwidth requirements are increased because of this feature. And while it is a step in the right direction, the holy grail of single-card multi-GPU solutions will be a shared framebuffer. Currently both GPUs need a copy of all textures, geometry, etc., and this is a huge waste of resources. While the R700 has 2GB of RAM on board, it will still be limited in many of the same ways a 1GB RV770 would be as each GPU only has access to half the RAM on the card. Of course, since we don't have a 1GB RV770 yet, this card could show some advantages over the single 4870 regardless of CrossFire.
Regardless of where we want (and need) to see multi-GPU technology get to, R700 is the first part to follow AMD's official change in strategy, and as such it will be very important to establish their place in the market and will need to prove to gamers that they are taking the high end seriously. It's great that single-card multi-GPU solutions are capable of providing high end performance, but when spending the amount of money required to put a high end part in your system, people expect compatibility, reliability, and consistent performance. We can't really talk about how well they pull that off with prerelease hardware and prerelease drivers, but we can't emphasize the importance of this enough. We will certainly be putting the screws to it when the hardware does eventually make it out into the wild.
UPDATE: Our initial publication of this article indicated a 2x 512MB framebuffer for a total of 1GB on board. We have since learned that the R700 we tested has 2GB of RAM total for 2x 1GB framebuffers. This has affected some of our analysis and conclusion. We do apologize for any confusion this may have caused.