Overall System Performance - SYSMark 2007
SYSMark 2007 is an application benchmark suite that plays back real world usage scenarios in four categories (E-Learning, Video Creation, Productivity and 3D), using the following applications:
Adobe After Effects 7
Adobe Illustrator CS2
Adobe Photoshop CS2
AutoDesk 3ds Max 8
Macromedia Flash 8
Microsoft Excel 2003
Microsoft Outlook 2003
Microsoft PowerPoint 2003
Microsoft Word 2003
Microsoft Project 2003
Microsoft Windows Media Encoder 9 series
Sony Vegas 7
SketchUp 5
WinZip 10.0
Performance is measured in each individual category and then an overall score is reported.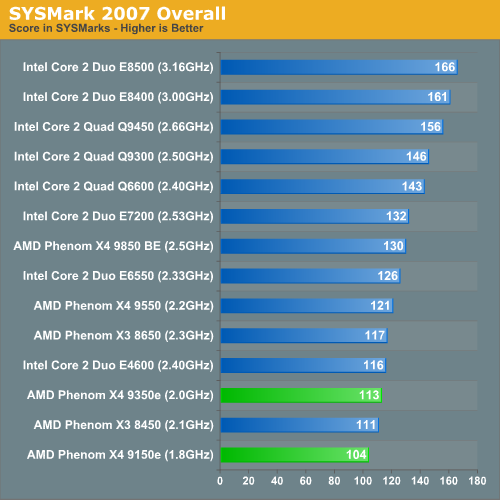 Overall SYSMark performance shows the newcomers exactly where we'd expect them: at the bottom of the list. Remember that the vast majority of applications don't really scale well from two to four cores, and thus there's no real performance advantage that the lower clocked Phenom X4s hold over the much more affordable X3s.
In a performance-per-dollar comparison here, Intel sweeps the floor with AMD regardless of what CPU we use (the $205 9850BE is bested by Intel's $133 E7200). But SYSMark 2007, while very application-centric, is still only one datapoint. Let's see how the rest of the applications fare