PCMark Vantage Performance
While SYSMark tends to be more of a high end benchmark, PCMark Vantage focuses on simpler individual tasks like webpage rendering, video transcoding and media playback. In comparison, SYSMark has more of a content creation focus with applications like 3D rendering, Flash movie authoring and complex Excel calculations making up its tests.
We only ran tests that minimized the GPU's role as we weren't able to maintain the same graphics core across all of our test platforms, first up is the TV and Movies Suite.
Taken from Futuremark's PCMark Vantage whitepaper:
"High definition TV broadcasts and movies have arrived. Playing an HD DVD with additional HD content, a Blu-ray movie, or watching HDTV smoothly (while making a backup of an HD DVD by transcoding to a media server or transcoding from a media server archive to a portable media player) requires lots of computing and graphical power. Windows Media Center with a high performance HDD can handle simultaneous video recording, time-shifting, and streaming to an Extender for Windows Media Center, such as Xbox 360™. "
The tests themselves primarily measure video transcode performance (VC1) and high definition video playback performance: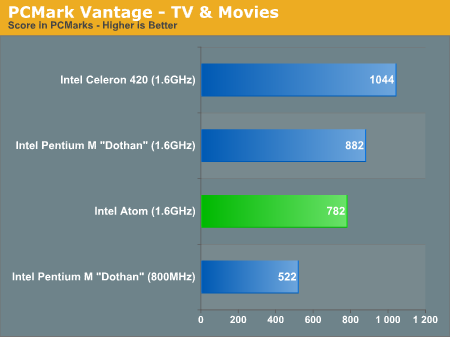 The results here are quite surprising; the Atom processor is within striking distance of the 1.6GHz Pentium M and is 50% faster than the 800MHz Dothan. With full SSE3 support, Atom will have some inherent advantages over older architectures in media manipulation tasks. The chip is around half the speed of a Core architecture based system at the same clock speed however.
Music Suite
From the PCMark Vantage whitepaper:
" Online music shops have changed the way we purchase music, letting us buy exactly the tracks we want, right from home. Cataloguing your music library is a breeze for fast and powerful HDDs. The most common audio file formats decrease your music?s audio quality which is undesirable. Luckily, lossless audio file formats are becoming more popular. Transcoding from non-compressed audio to a lossless format is heavily taxing on the CPU. Transcoding your audio files from one format to another is much quicker and easier using high performance CPUs. "
The tests in the music suite include audio encoding, adding music to Windows Media Player and browsing online music stores while performing both of these tasks.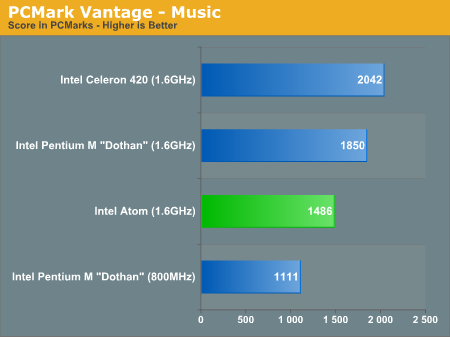 Here the Atom performs like a 1.2GHz Pentium M, which is more than sufficient for the tasks at hand. This benchmark is the perfect example of the types of tasks that an Atom system can handle without feeling slow - browsing the web, adding music to a library and even transcoding is done "fast enough" for your average user.
Communications Suite
" Security is more important today than ever before. To compress and encrypt all personal information is vital for safe computing. Emails are the most important type of communication, whether it is personal or business. To keep the workflow smooth and enjoyable, high performance CPUs and HDDs are recommended. Reading news online while having your cup of coffee is quality-time. Often one site isn?t enough, so tabbed browsing is a perfect solution for news-hungry people. Spyware is very common on systems without protection against it, letting Windows Defender scan & protect your system is recommended. Voice over IP – with Skype™ or Windows Live Messenger – is very popular these days. Encrypted messaging for home and workplace gives additional security. "

The tests in the communications suite are perfect for the Atom, they include things like web page rendering, data encription, searching for emails in Windows Mail and VoIP performance: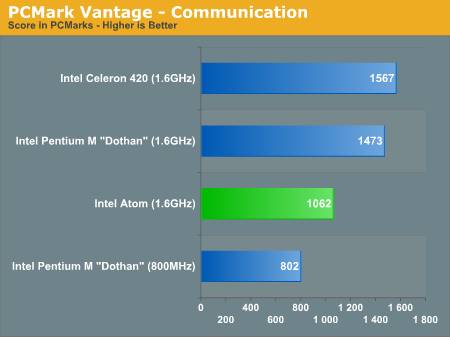 Once more, the Atom processor does reasonably well here - outperforming the 800MHz Dothan and performing more like a 1.2GHz Pentium M but at significantly lower overall system power.
Productivity Suite
"Starting various applications can take a long time – unless you have a high performance HDD. Editing text with WordPad is a breeze when done with fast CPUs and graphics cards. Often one site isn't enough, so tabbed browsing is a perfect solution for highly productive people. Spyware is very common on systems without protection against it, letting Windows Defender scan & protect your system is recommended. Starting Windows Vista is a rather demanding task for the storage device, but a fast HDD will notably decrease the loading time. Our busy lives find us hard at work, balancing multiple tasks; with little time for breaks. It's the same for our computers. Multiple tasks, running simultaneously, put your system under a lot of stress. Having a modern, up-to-date CPU, HDD, graphics card and board full of system memory increases your computer?s productivity and reduces your stress. "
While primarily a HDD test, the productivity suite does a great job of simulating normal PC usage with things like running applications, editing text, searching through contacts, browsing the web and working with Windows Mail.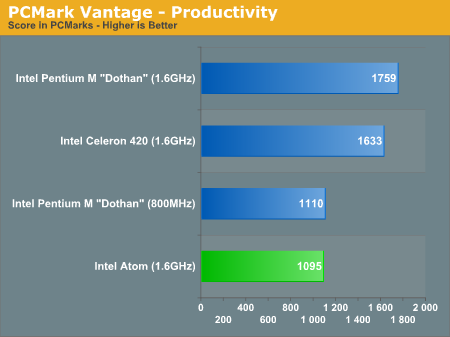 Here the Atom performs exactly like an 800MHz Pentium M, most likely due to the Pentium M's significantly larger L2 cache while all of the CPUs running on an identical hard drive.
Overall the general application performance of the Atom processor is exactly where Intel said it would be: around the level of a notebook made in 2004. The caveat is that Atom's performance is on the lower end of that spectrum, so take a low to midrange 2004 notebook and that's the level of performance you can get out of this 2W processor.

DivX Performance
Just for giggles we decided to run our DivX encode test on the Atom to see how well it would perform: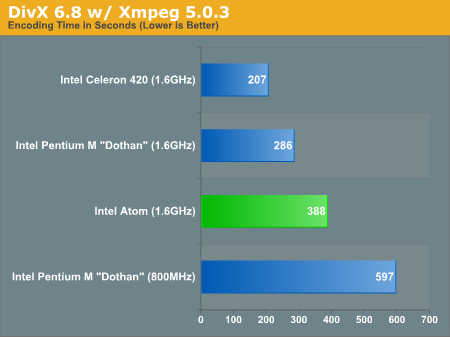 The performance breakdown is inline with what we've seen throughout the rest of the tests; the Atom is about half the speed of the Celeron 420, and around the speed of a 1.2GHz Pentium M.