If you aren't familiar with Intel's Atom processor be sure to read our piece on its architecture.
| | | | |
| --- | --- | --- | --- |
| CPU-Z Latency Test | L1 Cache | L2 Cache | Memory |
| Intel Atom (1.6GHz) | 3 cycles | 18 cycles | 129 cycles |
| Intel Celeron 420 (1.6GHz) | 3 cycles | 14 cycles | 125 cycles |
| Intel Pentium M "Dothan" (1.6GHz) | 3 cycles | 10 cycles | 172 cycles |
Atom has the same 3 cycle L1 access latency of even the modern Celeron 420, but its L2 cache latency is almost 30% greater than Conroe's, not to mention almost double that of the original Pentium M. Atom's L2 cache is far more power efficient than either core we're comparing to here so the sacrifice in performance is not unexpected.
Memory access latency is comparable to the Celeron 420 thanks to the modern memory controller in the Intel 945G chipset, unfortunately Atom needs lower latency memory accesses since it is an in-order CPU. The follow-on to Atom, codenamed Moorestown will address this problem but it won't be until 2009/2010 before we see that.
We started with a full run of SYSMark 2007 to show how the Atom stacks up in the same CPU heavy workload that we subject all desktop CPUs to: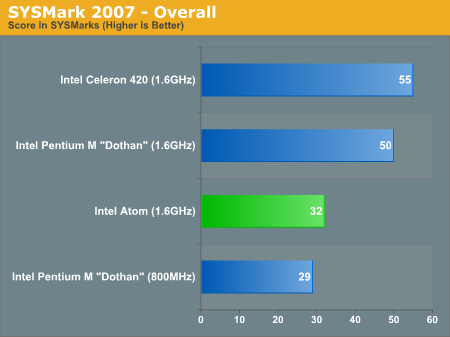 The first result sets our expectations: a 1.6GHz Atom is around 10% faster than an 800MHz Pentium M. Early data Intel shared with us indicated that the 1.6GHz Atom should be around 20% faster than an 800MHz Dothan, so we're within the realm of reasonable here. Compared to the cheapest single-core desktop CPU Intel is shipping today, the Atom offers around 60% of its performance.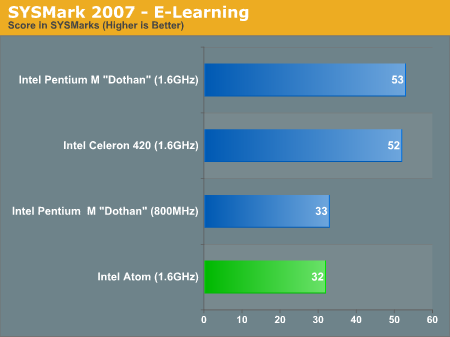 The E-Learning suite has the 800MHz Dothan just edging out the Atom in performance and interestingly enough, the 1.6GHz Dothan actually takes the lead here. With a large 2MB L2 cache the Dothan is at an advantage compared to both the Celeron 420 and the Atom.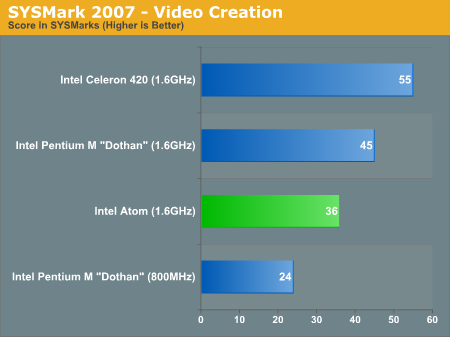 The video creation suite has the Atom outperforming the 800MHz Dothan by 50%, which is quite impressive given the Atom's significantly simpler microarchitecture. Clock for clock Dothan is still 25% faster than the Atom but its performance is quite competitive here.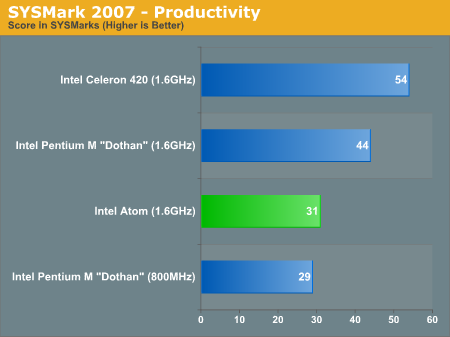 These last two benchmarks show the Atom at 1.6GHz about on par with the 800MHz Dothan.