ASUS P5Q3 Deluxe (WiFi-AP@n) Specifications
ASUS P5Q3 Deluxe / WiFi-AP@n
Market Segment
Mainstream Performance - $229.00 (MSRP)
CPU Interface
Socket T (LGA775)
CPU Support
Any LGA775-based CPU, Core 2 Duo, Core 2 Extreme, or Core 2 Quad recommended, including next-generation 45nm CPU support
Chipset
Intel P45 Northbridge (MCH) with Fast Memory Access Technology and Intel ICH10R Southbridge
CPU Clock Multiplier
6x ~ 11x, downward adjustable for Core 2, upward to 31x for Core 2 Extreme, including half-multiplier support for 45nm processors
Front Side Bus Speeds
Auto, 200 ~ 800 in 1MHz increments
System Bus Speeds
1600 / 1333 / 1066 / 800 MHz and 2000 / 1800 MHz (OC)
DDR3 Memory Ratios
1:1, 6:5, 5:4, 4:3, 3:2, 8:5, 5:3, and 2:1 (dependent upon strap selection)
FSB Strap
Auto, 200, 266, 333 and 400
PCIe Speeds
Auto, 100MHz ~ 180MHz
PCI Speeds
Locked at 33.33MHz
DRAM Voltage
Auto, 1.50V ~ 2.78V in 0.02V increments, 1.50V (DDR3) standard
DRAM CLK/CMD Skew CA/CB
Auto, Manual (Advance/Delay 50ps ~ 350ps in 50ps increments)
DRAM Timing Control
Auto, Manual - 20 DRAM Timing Options (tCL, tRCD, tRP, tRAS, tRFC and 15 other sub-timings)
DRAM Static Read Control
Auto, Enabled, Disabled
DRAM Dynamic Write Control
Auto, Enabled, Disabled
Ai Clock Twister
Auto, Ligher, Light, Moderate, Strong, Stronger
Ai Transaction Booster
Auto, Manual
Common Performance Level
1 ~ 31 (settings above 14 prevent POST)
CH A/B Phase Pull-In
Based on Memory Divider, All Phases Adjustable (Enabled/Disabled)
CPU Voltage
Auto, 1.10000 to 1.70000 in 0.00625V increments then to 2.1V w/OV jumper
CPU PLL Voltage
Auto, 1.50 ~ 2.78v in 0.02V increments, 1.50V standard
FSB Termination Voltage (VTT)
Auto, 1.20V to 1.50V in 0.02V increments, 1.20V (65nm CPU) or 1.10v (45nm CPU) standard
NorthBridge (NB) Voltage
Auto, 1.25V ~ 1.91V in 0.02V increments then to 2.21V w/OV jumper, 1.25v standard
SouthBridge (SB) Voltage
Auto, 1.05V ~ 1.20V in 0.15V increments, 1.05V standard
Clock Over-Charging Voltage
Auto, 0.70V ~ 1.00V in 0.10V increments, 0.80V standard
Load-Line Calibration
Auto, Normal, Performance
CPU GTL Voltage Reference
Auto, 0.370x ~ 0.760x in 0.005x increments, 0.630x standard (both dies)
NB GTL Voltage Reference
Auto, 0.61x ~ 0.67x in 0.06x increments, standard 0.67x
Memory Slots
Four 240-pin DDR3 DIMM Slots
Dual-Channel Memory Architecture
Regular Unbuffered, non-ECC DDR3 Memory to 8GB Total
Expansion Slots
2 - PCIe 2.0 x16 (blue), Supports ATI CrossFire Technology @ 2x8
1 - PCIe (1.x) x16 (black) @ x4 or x1 mode only
2 - PCIe (1.x) x1
2 - PCI Slot 2.2
Onboard SATA RAID
6x SATA 3.0Gbps Ports - ICH10R (Intel Matrix RAID 0, 1, 5 and 10)
Onboard IDE/Additional SATA
Jmicron JMB363 PATA Controller (up to 2 UDMA 133/100/66 devices)
1x External eSATA ports - RAID 0, 1 and JBOD
Onboard USB 2.0/IEEE-1394
10 USB 2.0 Ports - (6) I/O Panel - (4) via Headers
2x Agere/LSI L-FW3227-100 IEEE-1394a Ports - (1) I/O Panel, (1) via Header
Onboard LAN (with Teaming)
1x Marvell 88E8056 PCI Express Gigabit Ethernet controller
1x Marvel 88E8001 PCI Gigabit Ethernal controller
Wireless LAN (optional)
ASUS WiFi-AP@n (USB-based), 300Mbps Draft Wireless-N (Wireless-G/Wireless-B compatable), Software Access Point mode
Onboard Audio
ADI AD2000BX 8-channel HD Audio CODEC
Power Connectors
ATX 24-pin, 8-pin EATX 12V
I/O Panel
1 x PS/2 Keyboard/Mouse
2 x SPDIF - (1) Optical Out, (1) Coaxial Out
1 x External eSATA
2 x IEEE-1394a - (1) back panel, (1) header
2 x RJ-45 (LAN)
6 x USB 2.0/1.1
8 channel Audio I/O
2 x WiFi-Ap@n antenna jacks (optional)
Fan Headers
6 - (1) CPU, (1) Power, (4) Chassis
BIOS Revision
0129 (pre-release)
Board Revision
1.03G
The ASUS P5Q3 Deluxe is strikingly similar to the ASUS P5E3 Premium in both layout and specification. Worth noting is that the P5Q3 Deluxe will be bundled for sale with ASUS' WiFi-AP@n wireless Draft-N controller. We really like the idea of including useful features such as these onboard but would really like to see ASUS ditch the USB-connect interface for something a little more modern, like a PCI Express x1 link.
An Analog Devices AD2000BX 8-channel HD CODEC provides onboard audio. Although we do not have much information about this new controller as of yet we can tell you that our initial listening impressions leave us feeling that It's a notch above the ADI1988B Audio CODEC that ASUS has been extensively utilizing for the past two years.
The crowd of readers that constantly complain about the lack of Firewire-800 support will have no reason to change their tune - up to two 1394a ports, one on the back panel and one via an optional header, are provide by a single Agere/LSI L-FW3227-100 IEEE 1394a Firewire-400 controller. When asked why no current motherboard supported the newer Firewire-800 standard, ASUS representatives commented that the cost of the controller was excessive when first introduced but admitted that the price should have substantially dropped over the years and resolved to see what could be done for future boards.
The P5Q3 also includes the latest and greatest Express Gate module, which allows quick pre-boot access to digital content stored on a USB drive or other attached media, near instant access to the internet and communications programs like Skype, and the ability to play simple games regardless of the OS installed (including the lack of any main system drive). This environment is built using a highly-optimized, low footprint Linux kernel and is upgradable - meaning as new features are released they can be added to the system at no additional cost.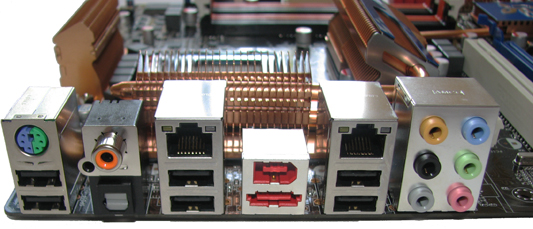 The back panel contains a pretty standard array of connection I/O ports. There is a PS/2 port capable of supporting either a single keyboard or mouse, two SPDIF audio ports (one digital Coax, one optical), analog speakers outputs including line-in, six USB 2.0 ports, two RJ-45 1Gbps Ethernet ports, one eSATA port, and a single 1394a (Firewire-400) port.