As one of the motherboard industry's most experienced advocates of new technology, ASUS wasted no time in preparing what may be their premier Intel P45-based offering, the P5Q3 Deluxe, for near global distribution. With the long-awaited first-round availability of motherboards based on Intel's newest high-performance X48 Express chipset barely behind us, some buyers are finding themselves at yet another crossroad. This time attention is focused squarely on P45, Intel's first ever consumer chipset built using 65nm process technology. Today, choosing the right platform can be a lot like trying to take aim at a field of continually moving targets: just when you think you've figured out what's right for your next build the market shifts and something new appears on the not-too-distant horizon. As before, this has a lot of users asking if now is the right time to pick up that board they've been eyeing or if they would be better off waiting just a little while longer for the next big thing to come down the pipe.
In the past, most new chipset launches either were well timed to coincide with the release of a new system-wide feature/technology or were introduced due to the need to support the validated operation of an entirely new CPU architecture. The Intel P45 Express chipset will continue to defy this pattern, the seemingly lockstep association of CPUs and chipsets having been abandoned long ago. Intel ditched the single chipset approach awhile back giving rise to what can only be described as the continual overlapping availability of multiple chipset models at any given time. The idea is that each design is tuned for a specific market sector, with default behavior depending on the intended application and with support for certain minimum requirements. Of course, this also provides an easy way to differentiate product offerings based on the target performance segment, thereby allowing top-shelf prices for premium components.
Ultimately, all of this goes back to our initial entering argument - should I wait or should I go? With Intel's next-generation Nehalem CPU architecture due to arrive sometime in late 2008 or early 2009, P45 will offer users one last chance to upgrade before the monolithic MCH design goes the way of the dodo. As the last of its kind, P45 must be capable of standing the test of time. Given the maturity of the ICH/MCH design, we expect P45 to be very capable, and the adoption rate among OEMs should be especially high. However, it remains to be seen whether P45 will be the crowning glory of the pre-IMC (Integrated Memory Controller) chipsets, or if it will merely be the last gasp from a dying breed.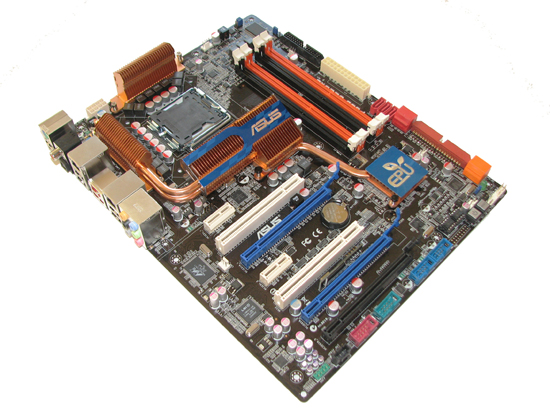 The P5Q3 Deluxe will include some of the more traditional features found on ASUS boards - a black PCB with copper heatsink assembly, all-solid capacitor design, wireless-N module (optional) and a tasteful color pallet.
From a feature perspective, P45 brings little if anything new to the table. To our surprise, unlike X48, P45 will not boast official support for Intel's newest 1600 FSB (400 MHz) CPUs, such as the Core 2 Extreme QX9770 quad-core processor, officially topping out at 1333 FSB. The chipset has been validated for operation at up to DDR3-1333 only, with as much as 8GB of non-ECC main system memory. However, designs utilizing DDR2 will be able to make use of as much as 16GB of memory but will be limited to a maximum memory speed of DDR2-1066, unless the chipset is overclocked. Assuming inexpensive 8GB DDR2 kits (2x4GB) ever appear on the market, P45 could be quite the platform for those that are looking to run 64-bit OSes that can employ such massive amounts of installed memory.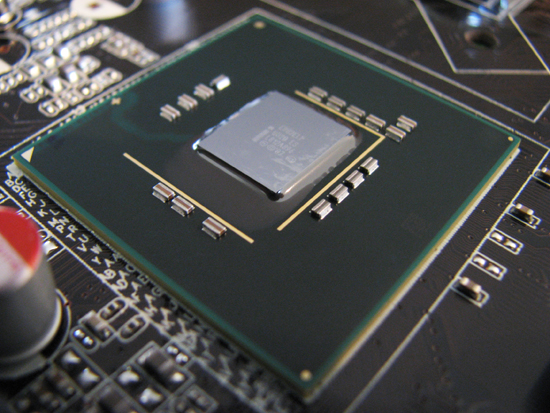 The Intel P45 Express chipset, seen here as a revision A2 chip, is quite a bit larger than we expected.
In addition, P45 provides full PCI Express (PCIe) 2.0 interconnect compliance, which increases the maximum theoretical bandwidth of any installed PCIe 2.0-enabled component by twofold. However, unlike X48, P45 only provides 16 PCIe 2.0 lanes, so AMD/ATI CrossFire setups will only receive half the bandwidth relative to an X38/X48 board. How much that actually impacts dual-GPU performance is still a topic of debate, as the PCIe bandwidth generally does not seem to be the major limiting factor.
This brings us to the main difference between P35 and P45. Unlike P35, P45's Northbridge PCIe 2.0 ports can be configured for either 1x16 or 2x8 operation, which is different than past mainstream/performance segment chipsets like P35 and P965 where it was impossible to directly connect more than one graphics card to Northbridge PCIe resources. In this respect, P45 provides something new, allowing discerning gamers on a budget the opportunity to experience multi-GPU 3D graphics acceleration without the need for an absolute top-end motherboard. Given time, P45 platforms could become quite the powerhouse when it comes to assembling an inexpensive CrossFire(X) gaming system.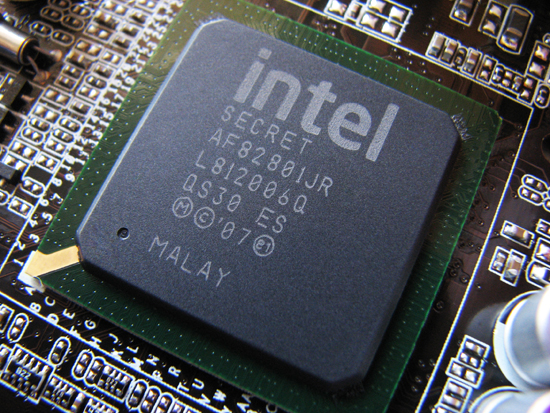 The Intel ICH10R Southbridge - trust us; there are no secrets in here.
Motherboards based on P45 are also the first to include Intel's revised I/O Controller Hub, ICH10(R). When it comes to peripheral support, we were expecting something more than what ICH10 provides. The truth is ICH10R looks a lot like ICH9R. In fact, for 99% of users they might as well be one in the same. ICH10 (the non-RAID enabled variant) adds 2 more SATA ports for a total of 6, while ICH10R remains unchanged, with support for 6 ports, just as before. Among the more popular features, AHCI support and Intel's Matrix RAID Technology also make a comeback.
In light of the lack of change, P45's saving grace may be its relatively low price, assuming vendors decide to pass their savings on to the consumer. The latest channel information shows P45 chipset prices at around $40 USD in 1000-lot quantities, with the cost of X48 chipsets still hovering near the $70 USD mark. P45 appears to be more of a manufacturing optimization than anything else as the P45 Express chipset marks the first time that Intel has mass produced such a device using 65nm process technology. A side-by-side comparison with a P35 die reveals only slight differences in size and shape, not what we expected considering the die shrink from 90nm down to 65. We can only conclude that a significant portion of the new die has been dedicated to what will become G45, the upcoming chipset variant that will feature an X4500 integrated graphics GPU. That discussion will be postponed until a later date; for now let's take a closer look at what the ASUS P5Q3 Deluxe has to offer.