S.T.A.L.K.E.R. Performance
Version: 1.0005
Settings: full dynamic lighting, everything maxed without AA and no grass shadows.
With the graphics setting turned as far up as we could get them, video memory does seem to be a very important factor in performance. Our 256MB parts simply tanked this benchmark. Getting playability out of this game involves turning down the lighting distance at least (as it doesn't have a huge visual impact) and possibly turning off or down some of the shadow settings.
For this test, we walk in a straight line for about 30 seconds and use FRAPS to measure performance. We use the same save game every time and the path doesn't change. Our performance measurements are very consistent between runs. We do two runs and take the second.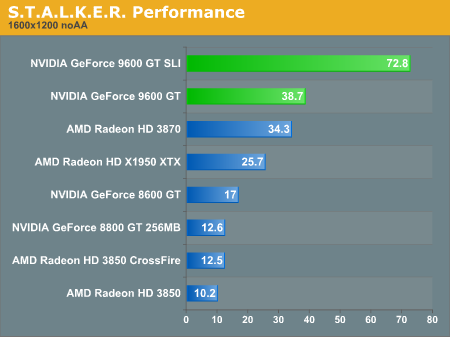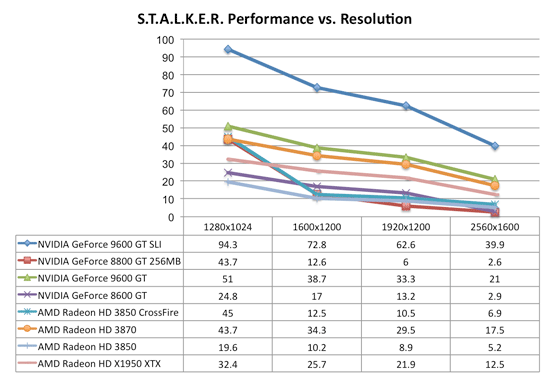 The 256mb Radeon HD 3850 and GeForce 8800 GT clearly suffer from lack of memory in this case. Of course, the 9600 GT actually outperforms the 3870, so we know it isn't all about the framebuffer, but we would absolutely expect the 512MB 8800 GT to outperform the 9600 GT here as well. Crossfire doesn't seem to help out ATI much here, but SLI provides as close to linear scaling as is possible, which is a nice thing if S.T.A.L.K.E.R. is your game of choice (and with Clear Sky on the horizon).