Vista vs. Vista SP1
We'll start with our Futuremark benchmark applications, 3DMark 2006 and PCMark Vantage. 3DMark in spite of being a graphics benchmark is sensitive enough to pick up on any changes in CPU or GPU performance (in this case any optimizations that reduce overhead), while PCMark Vantage is a full suite of benchmarks to measure overall system performance. It's also one of the few benchmarks that we're using that has a 64-bit mode.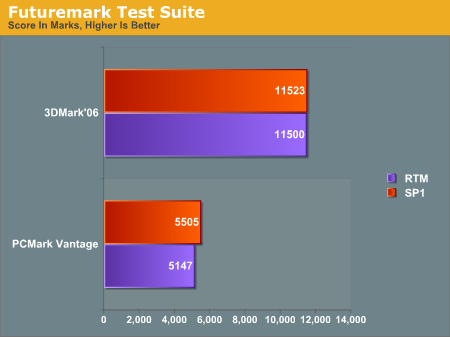 Starting with 3DMark, the change in performance is effective imperceptible at 0.2%, well within experimental variance. This just goes to show there haven't been any changes in overhead. PCMark however is far more interesting; here we get a full 7% score increase, indicating that SP1's effects are felt outside of our earlier benchmarks. Drilling down ino PCMark's subscores, we found that the higher score is a result of improvements in data compression scores, data encryption scores, and searching in Windows Mail, all of which can be attributed to improvements in file I/O performance. All other subscores are virtually unchanged.
Moving on to our application specific benchmarks, we have our DivX encoding test, our iTunes/LAME MP3 encoding test, and the Retouch Artists speed test for Photoshop. DivX stresses I/O somewhat, while the rest of the tests are largely memory and CPU-bound.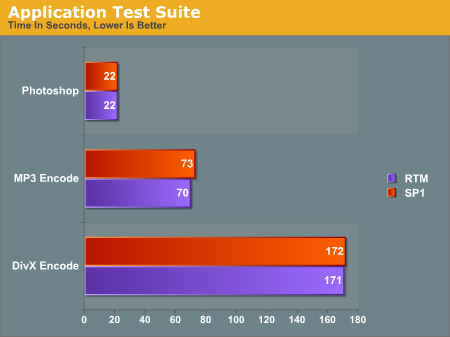 Here we see no notable changes in performance moving to SP1. All of the application tests come back with virtually identical scores.
Finally we have our gaming tests. Games tend to be good a great way to stress all the components in a system, so this should give us a better idea of how far improvements in Vista's file I/O system stretch. For our games we have the RTSes World in Conflict and Company of Heroes, and the FPSes Crysis and Unreal Tournament 3.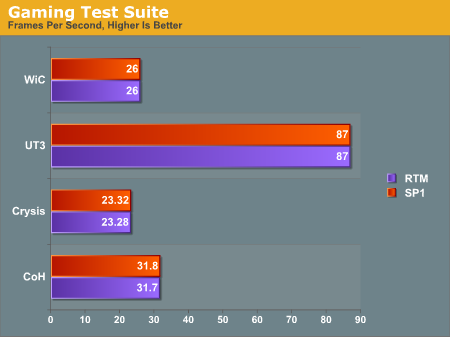 In spite of the more rounded nature of gaming tests compared to our application tests, the results are the same with no perceivable improvement in performance. At this point it's clear that what performance improvements Vista does offer are limited to a handful of situations where we are specifically file or network I/O bound. What this means for any given application is that it is unlikely to see a performance improvement due to SP1.
We also ran some quick testing with startup and shutdown times to see if Vista improved performance there at all; there were a couple of hotfixes in SP1 that dealt with these matters.
Vista Startup/Shutdown Performance



Pre-SP1

Post-SP1

Startup Time

33 Seconds

28 Seconds

Shtudown Time

32 Seconds

31 Seconds

.
While shutdown time doesn't see any real performance improvements, we are surprised to see an improvement in startup time by several seconds. Vista is not notably slow to start up in the first place, so we weren't expecting much improvement if there was to be any at all. Shaving off 5 seconds for a 14% improvement in startup time (getting startup below 30 seconds altogether) is a pleasant surprise.