Penryn Overclocking Preview of the ASRock Penryn 1600SLI-110dB -
It seems as of late that the spotlight in the world of motherboards has definitely been on the Intel X38/X48 and NVIDIA 780i/790i chipsets with the introduction of the Wolfdale and Yorkfield processor families. These are the latest and greatest chipsets in the market (X38/780i) or will be (X48/790i) shortly. While the peformance of these chipsets are impressive, so are the prices. In fact, boards based on these chipsets are outside the budget requirements of many who might be thinking an upgrade to the new Penryn series of processors is in order. An upgrade that looks very attractive considering the price and performance of the E8400 (3.0GHz) dual core or the upcoming Q9300 (2.5GHz) quad core compared to the early Core 2 Duo processors.
What can the budget upgrader do in this case? Well, the first item of business is to visit the manufacturer's website to see if your current board supports the new Wolfdale and Yorkfield processors. If so, this generally requires a BIOS update in order to implement the necessary support for these processors. Even if support is stated, we highly suggest you visit the manufacturer's support forums, our own
forums
, or those on other websites to see just how well your board works with these new processors. We published an
article
last fall that discussed the plans of the chipset and motherboard manufacturers to provide a wide range of support for the new Penryn processor series. We will be updating that article shortly with actual results and unfortunately, several of them are unacceptable.
Why you might ask? Well, pull out every excuse you ever used in school for a late assignment or bad test grade and that will pretty much sum up where we are at right now. There are several logical reasons for this and some that are not, but that is for another time. Today, we are taking a look at the
ASRock Penryn 1600SLI-110dB
to see how well it overclocks our E8400 and QX9650 processors. We will be taking a more in-depth look at its performance against the mighty 780i in SLI (a surprise outcome) and overall performance against like priced P35 boards from MSI, Gigabyte, ASUS, and abit in the coming days. However, we thought it would be wise to spend some time and burn a couple of pages on the touted Penryn compatibility before we look at other results.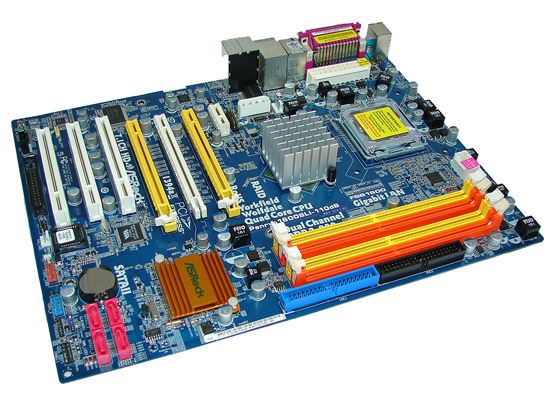 Ever since this board arrived in our labs, we have been somewhat enamoured of it from a price to performance perspective. Also, we appreciate creative engineering techniques and we have to say that ASRock seems to excel in this area. "Give me your tired, your poor, your huddled masses yearning to breathe free..." seems to be ASRock's mantra when it comes to extracting performance and compatibilty out of chipsets that have long ago been discarded for the latest and greatest. Their latest feat utilizes the NVIDIA 650i SLI SPP and nForce 430 MCP that was introduced over a year ago and still provides a very good price sensitive platform for gaming, especially if you have an SLI setup.
The Penryn 1600SLI-110dB (these naming conventions can cause carpal tunnel syndrome) is a very well laid out motherboard considering the available features that we will discuss shortly. Of note, the board has three PCI Express x16 slots of which one (white) is designed to work at x16 speeds with a single graphics card setup. The two yellow x16 slots operate in x8 mode either individually or when two cards are paired up for SLI operation. You cannot use the single white x16 slot in conjunction with either x8 (yellow) slot. We did use either x8 slot in single graphics card mode and they worked fine, in fact, more than fine as benchmark scores indicated a variation of less than 2% in gaming compared to the x16 slot with our 8800GTS-512. The other notable point is the SPP (sliver) heatsink is just barely acceptable for cooling the C55 chipset when overclocked and with voltages at 1.382V. It requires very good airflow on and around the heatsink for stable overclock operation.
Let's take a quick look at the board's features and then overclocking results with Intel's latest processors.