Who Am I?
I awoke today to a gray dawn, the rain pouring down outside my window. I looked around, uncertain of where I was... and come to think of it, who, what, and when I was. I stood up from my sleeping mat, glanced around the unfamiliar surroundings, and managed to find something that would pass as clothing. Opening the door to my room, I found a small package outside with a note. "You have amnesia. Try this — it will help." What the...?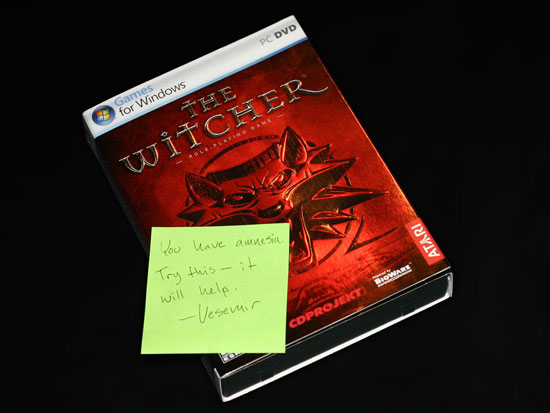 Deja vu
Along with the note was a rectangular box with a strange looking fox head on the cover and the words "The Witcher" across the top. Opening the box, I found a shiny circular disc. Memories poked at my fogged mind: "It's a DVD — you put it inside a computer." My unknown benefactor appeared to be right; the box was helping my memories to return. Walking down the hall, I found a convenient table with food and a laptop sitting on it; might as well get started….
As I watched the opening sequence of this "game", I began to recall more of my past: books I read, people I knew, getting sick at tradeshows, working on computers, and doing something called "benchmarking" until my eyes bled. Another phrase kept popping into my mind: "A non-tech". Who or what that meant, I just couldn't guess. Back to the game, I was walking around a virtual world, talking to people, killing people, and occasionally sleeping with people. Every now and then, I would level up, regaining lost memories and skills.
While my virtual counterpart became more adept at slicing and dicing monsters, my real-world skill upgrades were less dramatic. Typing could be upgraded with 60 WPM and Enhanced Carpal Tunnels, with the level 5 upgrade being Speech-Recognition. Strength upgrades featured skills such as Mountain Biking, Hiking, and the ability to Lug around 20 Pound Desktop Replacement Notebooks. Stamina skills were similarly useful: All-Night Gaming Sessions, Extra Caffeine Tolerance, and Resistance to Tradeshow Meetings. Perhaps I should've started with the Intelligence category, however: Improved Wit, Analogies, Insightful Commentary, and Internet Author were available. Unfortunately, I ran out of skill points after choosing the Author upgrade — it was Improved Wit or the Nacho Champion stamina upgrade! At least you're getting a review, even if it is for a two month old game….
---
If you're thinking right about now that that's the most clichéd introduction to an article you've ever read, you're probably right. Nevertheless, the same cliché serves as the basis for The Witcher, a game developed by CD Projekt and published by Atari. Don't let that deter you, however, as what follows that generic introduction is anything but. The Witcher is set in a fantasy world based on the books of Polish author Andrzej Sapkowski.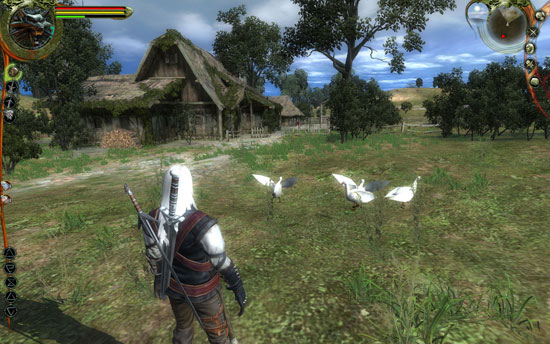 Believe it or not, there's a laptop on a desk inside
Who? Okay, so most of us very likely don't speak Polish and have never read any of his books, but they appear to be extremely popular in Poland and they are being translated into other languages. I'm a huge fan of fantasy and sci-fi books, and I often wish that the stories in computer games could reach the same level as what we find in the pen and ink world. Some of my favorite games of all time have been based on literature — Neuromancer and Betrayal at Krondor — so I was more than happy to give The Witcher a shot.