SSE4 on the Go
Obviously one of the strengths of the Penryn architecture is its SSE4 support. We ran Intel's TMPEGEnc benchmark, which does take advantage of SSE4 during a movie transcode, and the performance gap widened: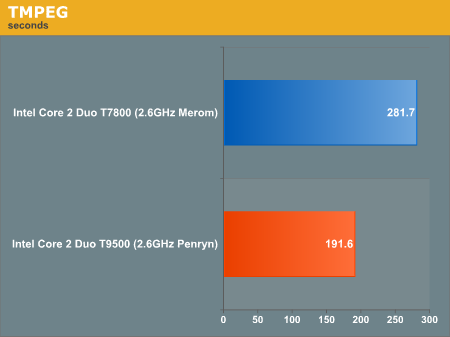 The mobile Penryn based system, because of its SSE4 support, can complete the encoding test in 31% less time than the Merom system. The impact of SSE4 is even more pronounced on the mobile side because of the fact that the mobile chips are already so starved for bandwidth.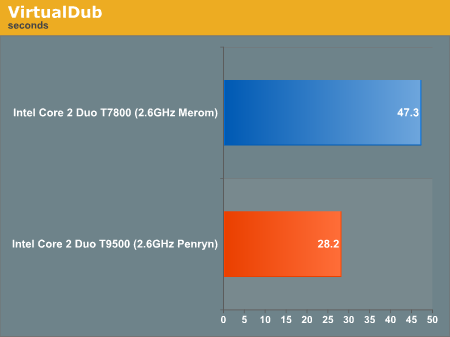 The performance gap widened when running a SSE4 optimized VirtualDub 1.7.2 DivX encode, here Penryn would offer a greater than 40% increase in performance.
These SSE4-optimized situations are far more rare than the 1 - 8% increases we saw elsewhere, the point being that should application support develop, Penryn could do much better. Honestly though, we don't expect a critical mass of SSE4 applications anytime soon, these sorts of things take a long time to materialize.