NVIDIA brought editors together at their corporate headquarters in late October to discuss the launch of nForce 780i, 8800GT, 8800M, 3-Way SLI, and ESA. It certainly appeared at that time that all those new technologies would launch in early November. Unfortunately, there were early problems with 780i and the Intel Penryn processor, and NVIDIA delayed 780i until the Penryn compatibility issues could be resolved.
Since 780i is 680i with an added chip to support PCI 2.0 and two more x16 PCIe ports, it looked for a while as if NVIDIA might actually skip the 780i launch and wait until the DDR3 generation for a new chipset launch. Refinements for Penryn compatibility were completed and NVIDIA worked with Intel for Penryn family (Yorkfield quad-core and Wolfdale dual-core) compatibility certification.
Now, almost two months later, today is the official launch day of the 780i and 750i chipset. This is not just a paper launch, since 780i motherboards are available, or will be very soon, from NVIDIA launch partners XFX and EVGA. NVIDIA calls this the launch of the NVIDIA nForce 700i Series.
From a launch perspective, it is important to understand that 780i is not a new chipset. NVIDIA has said in their press releases, "The NVIDIA nForce 780i SLI MCP is built on TSMC's 90nm process technology, and contains the same micro-architecture as the NVIDIA nForce 680i SLI MCP. However, 780i SLI was designed with a high performance interface to be paired with nForce 200 to provide next-generation PCI Express 2.0 bus capabilities."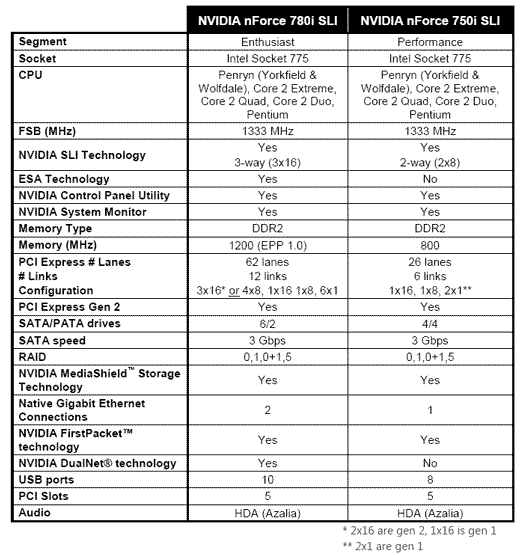 NVIDIA added 1333MHz bus support to the 680i chipset in June, as you saw in our review NVIDIA 680i SLI: Official 1333MHz FSB CPU Support Arrives. Other features are refinements to the 680i chipset that have been added as the 680i evolved in the marketplace. The only truly new specifications are features related to the added NVIDIA nForce 200. Compared to the 680i/650i chipset, the nForce 200 adds 32 lanes that are PCI Express 2.0 compatible.
With the addition of the nForce 200, this NVIDIA chipset can now provide the new feature of 3-way SLI. We will take a closer look at Triple SLI in another review today. If you are interested in the additional performance, a third NVIDIA graphics card can add to gaming performance in certain situations, and you will be interested in those test results.
The other new feature announced with the 700i series is ESA, which allows the NVIDIA chipset and software to control many system components. This technology is discussed in NVIDIA Introduces ESA - Enthusiast System Architecture. Testing has just begun on a system with a full complement of ESA devices. A review will be posted as soon as testing is complete on how ESA actually works in a system, and the potential benefit of ESA as a system control center for the computer enthusiast. In good news for 680i owners, NVIDIA now tells us that ESA will be backwards compatible with 680i after all. We will provide updated information on how that actually works in the upcoming ESA system review.
Since the 780i is the same chipset as 680i with the added nForce 200 for PCIe 2.0 and Triple SLI, we do not really expect any performance advantage for the 780i compared to the 680i under the same test conditions. We did a couple of quick general performance benchmarks just as a sanity check. The real performance advantage should be in with the new 3-Way SLI feature. We will cover this in our Triple SLI review, which examines the potential added gaming performance available with 3-way SLI. We will discuss the architecture and motherboards available at launch in this article.