The Sparkle 8800 GT Passive
This article is called a preview because the 8800 GT Passive just isn't out yet, but Sparkle assures us that it'll be available soon from TigerDirect at $319.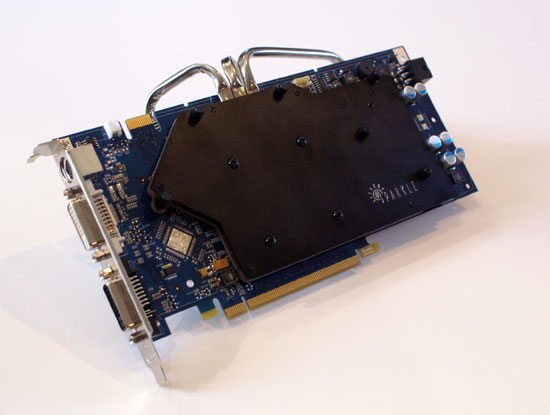 Click to Enlarge
As we've already mentioned, the 8800 GT Passive is bone stock running at a 600MHz core clock, 1.5GHz shader clock and 1.8GHz memory data rate. In other words, this passively cooled best will perform identically to the 8800 GT we reviewed at the end of October. Impressive, if it works.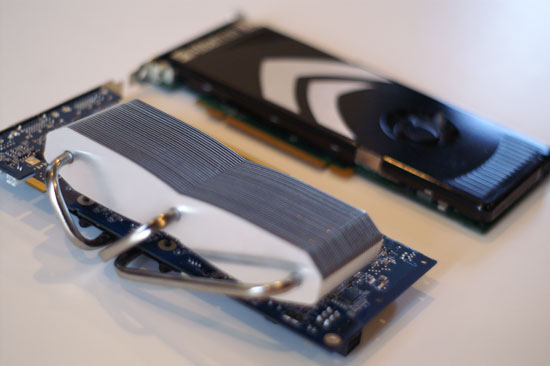 The front of the card is amazingly simple, there's a black plate where we'd normally see a massive heatsink and a small Sparkle logo, well, sparkles, in the lower right. Sparkle keeps the tough job of cooling away from the front, instead all we've got here is a plate that attaches three heatpipes to the G92 GPU.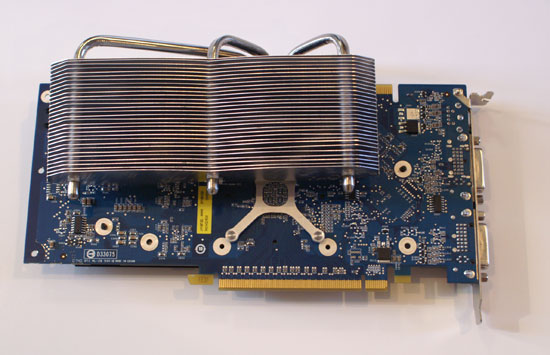 Click to Enlarge
The heatsink wraps around the back of the card, keeping it closer to the CPU in your system. The idea is to keep the heatsink in the path of a large case or PSU fan to help keep it cool since the card has no fan of its own. The heatpipes do a great job of moving heat away from the GPU but heatsinks work best if they have some air carrying heat away from the fins.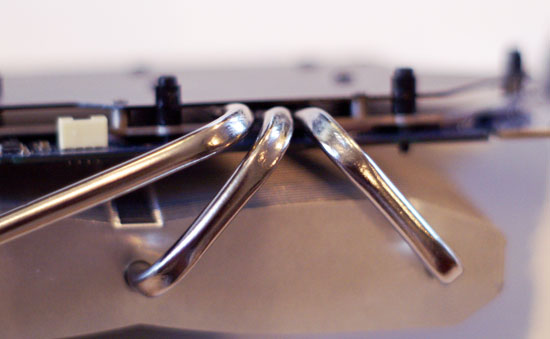 The heatsink design itself is pretty simple; there are a lot of fins made out of a very lightweight aluminum to keep the card's weight down. Despite the larger heatsink the card doesn't seem to weigh any more than a stock 8800 GT. On the flip side you've got to be extra careful with the 8800 GT Passive because these fins are easily damaged, so if you were planning on a sporty game of discus with your 8800 GT don't make it this one.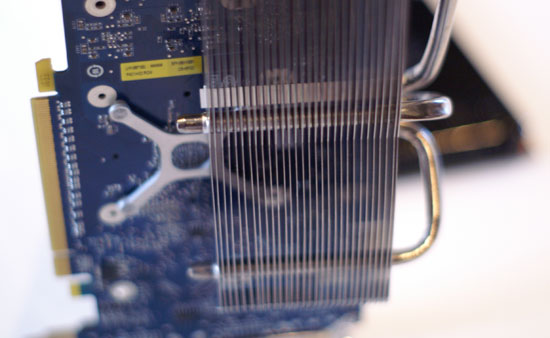 The rest of the card's attributes are standard 8800 GT fare. There's a 6-pin PCIe power connector on one end, two dual-link DVI ports at the other. S-Video out if you want blurry output to a TV, and a single SLI connector if you want to really push the limits and try two passively cooled 8800 GTs in a single system.