Media Encoding Performance
We'll start with our DivX test; this is the same benchmark we've been running for years, we've simply updated to DivX 6.7. The codec was set to Unconstrained quality, with the quality/performance slider at 5 and enhanced multi-threading enabled. The rest of the codec settings remained at their defaults.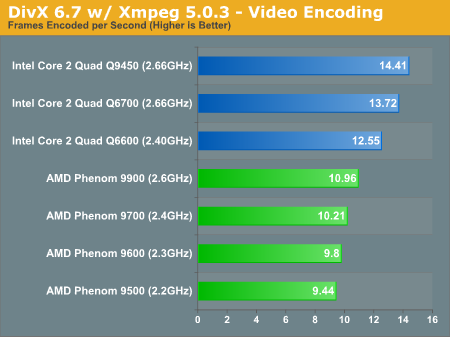 Despite the move to four cores and the improvements to the K8 architecture, the Phenom, even at 2.4GHz, is slower than the Core 2 Quad Q6600. Clock for clock, Intel has a 24% performance advantage here.
AMD did make some progress however, if we look back at some of our older numbers the gap at 3.0GHz between dual-core chips was almost 38%.
The situation gets even more bleak once you take into account that the Phenom 9700 will most likely ship when Intel's Q9450 is also available which extends Intel's lead to over 30%.
AMD has always been much more competitive at encoding using Microsoft's Windows Media Video codec: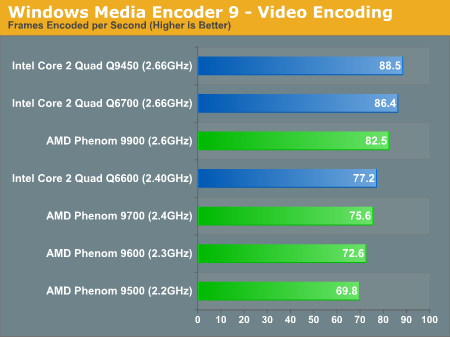 Windows Media Encoder performance is virtually identical between the Phenom and Core 2 Quad at the same clock speed. However, once you take price into account, Intel starts to pull ahead; the Q6600 is priced competitively with the Phenom 9600 and manages a 7% performance advantage over the 9600. It's not much, but the Q6600 is also cheaper.
Our final encoding test is an increasingly popular format: x264. We encode the same .avi file from our WME test but this time using the x264 codec and AutoMKV. We didn't encode audio and left all program settings at its defaults, the only thing we changed was we asked that the final file size be 100MB (down from 500MB).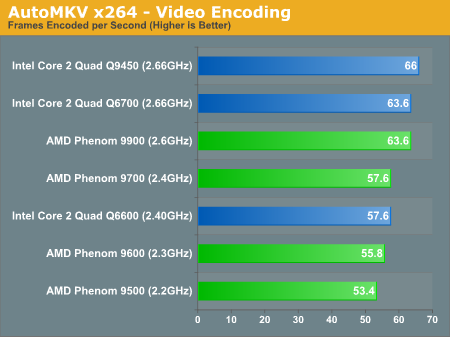 Much like our WME results, clock for clock AMD's Phenom actually equals the performance of the Core 2 Quad. Take price into account and Intel is still the right buy; it's tough to say what will happen when the Phenom 9700 and 9900 eventually launch because they may be competing against Penryn at that time, which in this case would be the Q9450, a more formidable opponent.