3D Rendering Performance
We'll start off our look at 3D rendering performance with the latest version of Cinebench, we ran the single and multi-threaded benchmarks and reported the scores below: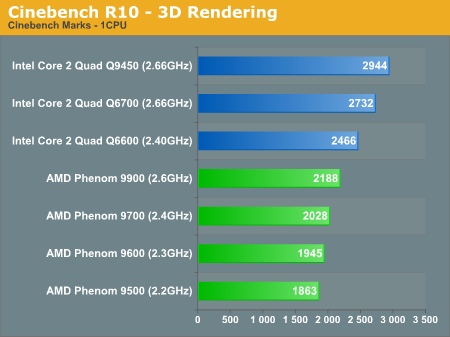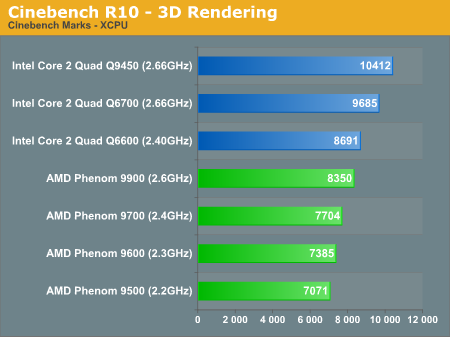 Single threaded performance goes to Intel, highlighting a theme you've probably already noticed thus far: Core 2 is far more efficient per clock than Phenom. AMD would need to be at around 2.8 - 2.9GHz to equal the performance of the Core 2 at 2.4GHz in this particular benchmark, even the Phenom 9900 can't cut it.
Looking at the multi-threaded results we see that AMD does gain some ground, but the standings remain unchanged: Intel can't be beat. We can actually answer one more question using the Cinebench results, and that is whether or not AMD's "true" quad-core (as in four cores on a single die) actually has a tangible performance advantage to Intel's quad-core (two dual-core die on a single package).
If we look at the improvement these chips get from running the multi-threaded benchmark, all of the Phenom cores go up in performance by around 3.79x, while all the Intel processors improve by around 3.53x. There's a definite scaling advantage (~7%), but it's not enough to overcome the inherent architectural advantages of the Core 2 processors.
3dsmax 9
As always we have our 3dsmax 9 test, using SPECapc's 3dsmax 8 benchmark files. The numbers we're reporting below are strictly the CPU rendering composite scores: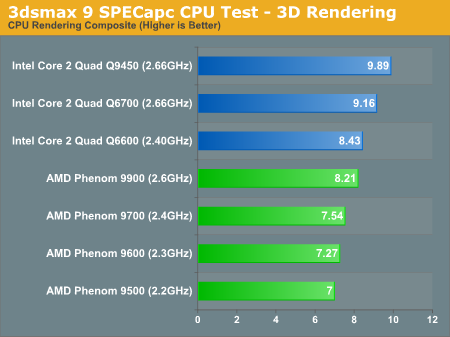 Here the Phenom 9900 is basically as fast as the Core 2 Q6600, unfortunately for AMD the 9900 doesn't launch until next year and it will launch at a price greater than the Q6600. AMD needs help cutting prices fast if it expects Phenom to remain competitive in the eyes of everyone who doesn't own a Socket-AM2 motherboard.
Lightwave 9.5
We see a similar story in our Lightwave benchmarks, the Phenom 9900 at best can equal the performance of the Q6600 but at worst it looks like AMD needs another 200 - 300MHz to catch up to Intel's cheapest quad-core: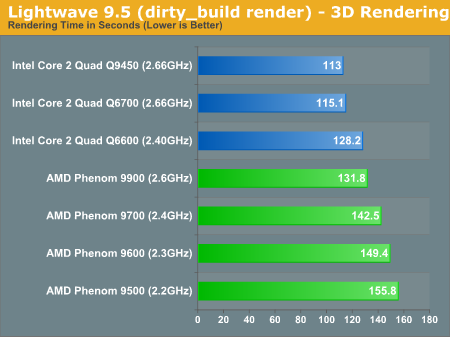 POV-Ray
The POV-Ray benchmark is quite possibly the least kind to AMD out of the group: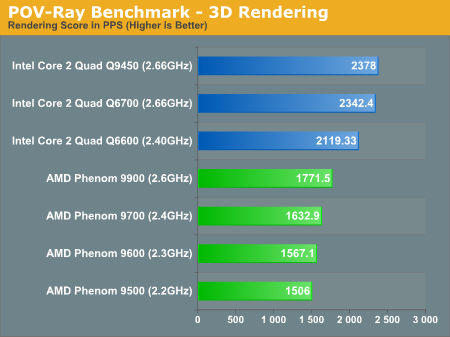 Intel's Q6600 is 20% faster than AMD's fastest Phenom due out in Q1, it's 30% faster than Phenom at the same clock speed, and 35% faster at the most competitive price point.