At the beginning of 2007 AMD unexpectedly announced the intention to develop a new, open motherboard and chassis form factor, entitled DTX (because CTX was a monitor company?).
The idea behind DTX was to finally standardize small form factors for use by white box PC builders and the enthusiast community, both areas where BTX has not been able to really penetrate.
While Intel's BTX spec has been well implemented by the major OEMs, a quick search on Newegg reveals ATX/BTX compliant towers and two motherboards, both from Intel. We simply don't build BTX systems, which is unfortunate because it means that there's no real standardization in use for small form factor PCs by enthusiasts.
AMD also views BTX as too large of a departure from ATX for motherboard and chassis makers to justify bringing BTX boards to the enthusiast community. In AMD's eyes, BTX was a solution for a problem that no longer exists: the power-hungry Pentium 4. Thus DTX was designed as an auxiliary form factor standard, fulfilling the need for a small form factor standard that'll actually be used by more than OEMs.
What is DTX?
In February 2007 AMD published the DTX spec, the 10 page mechanical interface specification is unusually small for a brand new form factor, but it quickly makes sense when you realize that much of DTX is built off of ATX.
The DTX spec has four major requirements:
1) Motherboard size
2) Mounting hole locations
3) Rear I/O dimensions/locations
4) Expansion slot connector locations
There are two DTX form factors outlined in the spec: DTX and mini-DTX, both designed to augment, not replace, ATX.
DTX motherboards will measure 9.60" x 8.00" (243.84 mm x 203.20 mm), while mini-DTX boards measure 6.70" x 8.00" (170.18 mm x 203.20 mm). Mini-ITX motherboards can also be used in DTX compliant cases.
The big selling point for DTX is that it uses ATX mounting hole locations, so DTX motherboards can be used in current ATX cases.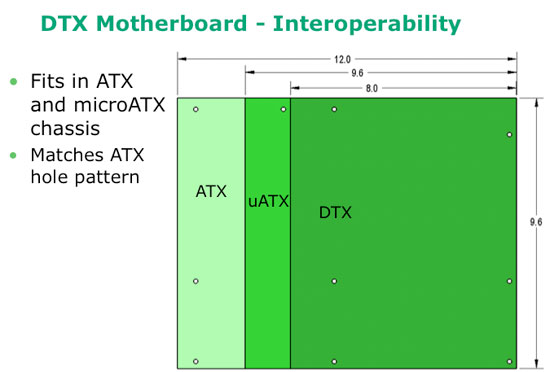 DTX motherboards can have a maximum of two slots, either PCI Express or regular PCI can be used. The I/O connector plane is identical to what's used in current ATX motherboards, although the layout can obviously differ from board to board. The DTX spec doesn't govern what type of ports must be used, leaving it up to the motherboard makers' discretion.
There are no new power supply requirements for DTX, it simply requires the same 24-pin power connector and 2x2 +12V connectors supported by the current ATX specification. Cooling requirements remain unchanged as well, DTX systems can use standard heatsink/fan units.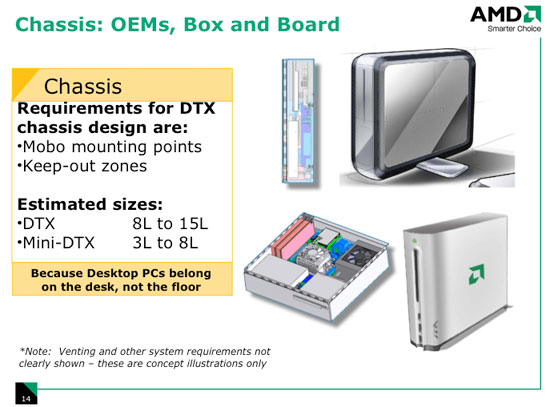 All in all, the DTX spec is really about motherboard size, thus we've got a very simple spec to deal with. It truly is an augmentation to ATX rather than a replacement.