We recently took a first look at the
Foxconn MARS
motherboard and discovered that Foxconn is finally headed down the right path when it comes to product offerings in the enthusiast sector. Our initial testing of the MARS board revealed a product that is capable of competing with other mid-range enthusiast boards but does not stand out from the crowd. However, the MARS board does provide a very competitive feature set which includes a BIOS design that caters to the overclocking crowd. This is a vast departure for a company that is heavily involved in the OEM sector.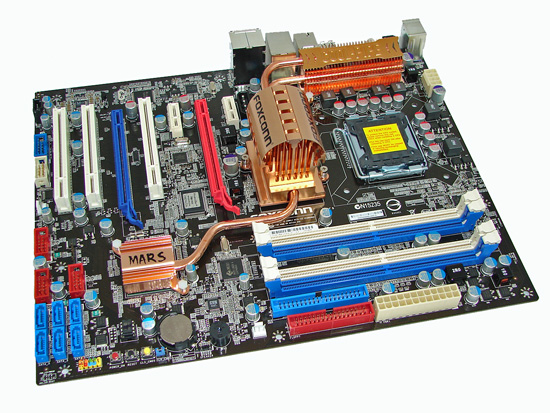 Foxconn has been busy over the past couple of weeks and is now ready to launch their new
Quantum Force
product line that will focus on providing very good price to performance products for the enthusiast. With the initial launch of the Intel P35-based Foxconn MARS motherboard also comes the first official retail BIOS release for the board. Foxconn provided the P06 release to us a few days ago and after testing it, we decided to provide a quick update to our original article that utilized the P03 BIOS.
We are glad to report that the P06 BIOS did not break, damage, or harm any objects or personnel in the labs this last week. To cut to the chase, the P06 BIOS did provide some very minor performance improvements, reduce voltage requirements when overclocking, and generally remained extremely stable throughout testing. Foxconn has been extremely diligent in addressing problems and providing solutions quickly during our testing. This bodes well for future customer support in our opinion although the proof is in the pudding as we will find out shortly as the boards are shipping now.
Not all is perfect with the BIOS release as we still cannot get 2x2GB or 4x2GB configurations to work correctly and there are a few tuning improvements that we would like to see addressed quickly. These improvements include improved 4:5 memory ratio performance when overclocking, ability to manually set the memory straps, drop the quick shutdown and reboot procedure after completing minor FSB or memory settings, and further balancing of memory/chipset timings during overclocking (they tend to be very tight or very loose). With that said, we are going to take a quick look at the board's performance with the P06 BIOS now.
Test Setup
Foxconn MARS P35 Testbed
Processor
Intel Core 2 Quad Q6600
Quad 2.4GHz, 2x4MB Unified Cache, 9x Multiplier, 1066FSB
CPU Voltage
1.200V Stock
Cooling
Thermalright 120 eXtreme
Power Supply
OCZ 1000W
Memory
Corsair Twin2x2048-10000C5DF
Memory Settings
4-4-4-12 (DDR2-1066)
Video Cards
MSI HD X2900 XT 512MB
Video Drivers
ATI Catalyst 7.9
Hard Drive
Western Digital 7200RPM 750GB SATA 3/Gbps 16MB Buffer
Optical Drives
Plextor PX-B900A, Toshiba SD-H802A
Case
Cooler Master Stacker 830 Evo
BIOS
P.03
Operating System
Windows Vista Home Premium 32-bit
.
Our test setup did not change except for the BIOS update and all settings were maintained the same, as much as possible, over the platforms tested. Our game tests are run at settings of 1280x1024 HQ to ensure our MSI HD 2900XT is not the bottleneck during testing. All results are reported in our charts and color-coded for easier identification of results. So, let's take a quick look at the results.