Benchmark Suite Performance
The 3DMark series of benchmarks developed and provided by Futuremark are among the most widely used tools for benchmark reporting and comparisons. Although the benchmarks are very useful for providing apple to apple comparisons across a broad array of GPU and CPU configurations they are not a substitute for actual application and gaming benchmarks. In this sense we consider the 3DMark benchmarks to be purely synthetic in nature but still valuable for providing consistent measurements of performance.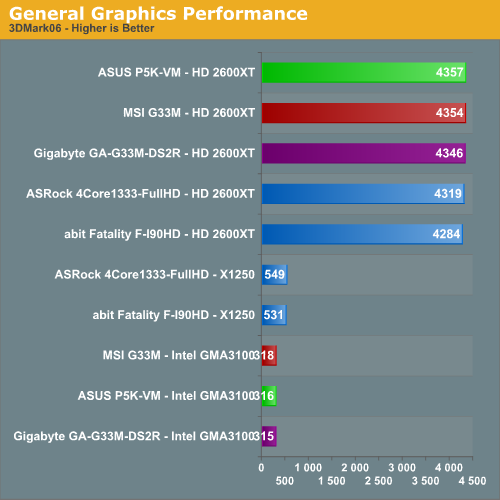 The SM2.0 performance of the X1250 is significantly better than the GMA 3100 on the G33 boards and results in the improved scores, although CPU performance helps the Intel chipset slightly. Worth noting is that neither the X1250 nor the GMA 3100 support SM3.0 graphics - unlike the GMA X3100 found in the G965.
General System Performance
The PCMark05 benchmark developed and provided by Futuremark was designed for determining overall system performance for the typical home computing user. This tool provides both system and component level benchmarking results utilizing subsets of real world applications or programs. This benchmark is useful for providing comparative results across a broad array of Graphics subsystems, CPU, Hard Disk, and Memory configurations along with multithreading results. In this sense we consider the PCMark benchmark to be both synthetic and real world in nature while providing consistency in our benchmark results.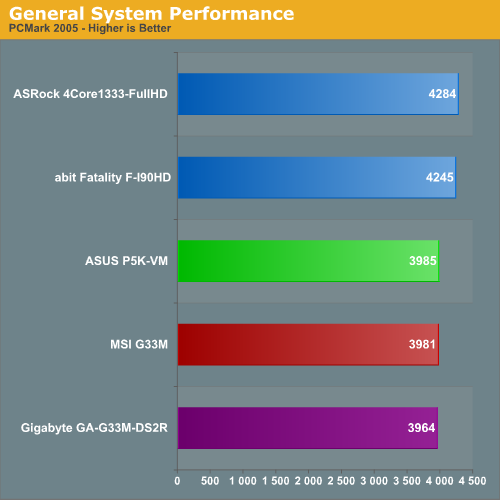 The margins are fairly close in the PCMark05 results with the X1250 platform showing a minor advantage over the G33 platforms due to better video performance results. However, the balance of tests favor the Intel boards. We also noticed after updating to the 15.6 Intel Vista drivers that our scores further dropped when compared to the 15.4 drivers utilized in our last article. This was surprising to us as our GPU benchmarks improved when updating to the latest driver set. While this benchmark is designed around actual application usage, we will see if these results mirror our application testing.
The Office 2003 test from the PC WorldBench 6.0 benchmark test suite features a number of test scripts that simulate general office tasks in Access, PowerPoint, Excel, and Word.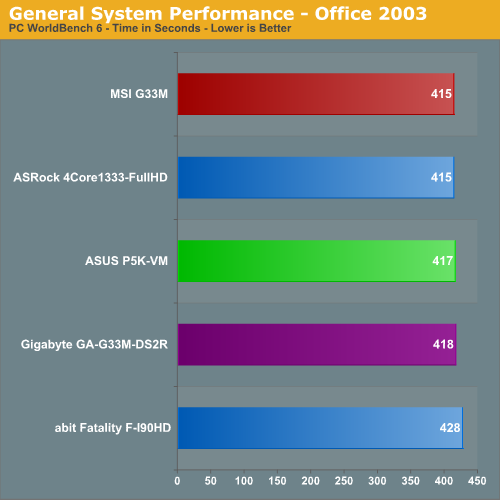 We have a tie between the G33 chipset based MSI board and the X1250 from ASRock. The spread between the group is about 3% so any performance differences are actually very minor.