We have to wonder what is going on at NVIDIA these days. Of all the companies we have dealt with over the years, they seemed to always be the most aggressive when promoting or launching a new product. As of late, we have seen a kinder, gentler NVIDIA when it comes to the marketing of new products. Who knows, maybe Jen-Hsun Huang is out searching for his thousand points of light or life in San Jose is just a little more relaxed than it used to be a few months ago?
Whatever is happening over at Mean Green
(Ed: tm?)
, we are starting to worry that we might miss a really interesting new product launch with the current soft sell approach. Don't get us wrong, we would rather have laid back product announcements and launch activities than having a marching band, balloons, and a three ring circus show up in our offices any day. However, a little tap on the head or nudge in the right direction every once in awhile when an interesting product shows up would be nice.
We almost missed the product we are previewing today. Sure, we saw the press announcements for the nF560 chipset back at Computex and even noticed a couple of early production samples in the various supplier booths. However, the first products based on the nF560 just sort of showed up at our doorsteps a couple of weeks ago without any fanfare. We thought maybe it was just a product update or replacement for the nF520 (another silent introduction) but it turns out to be the true replacement for the nF550.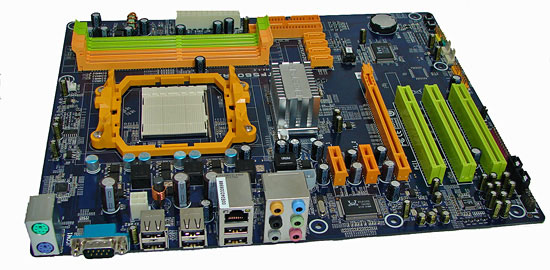 We would love to show you a block diagram of the nForce 560 chipset but it is not available yet. However, the actual specification for the nForce 560 chipset is
available from NVIDIA
. The short story is that the nForce 560 is designed for the mainstream market with a motherboard price target in the $70~$80 range. The nForce 560 offers an expanded feature set over the nForce 520 and 550, including GPU Optimizations for the GeForce 7300GT, 7600GS and 8500GT cards, FirstPacket network technology, and the addition of RAID 5 capability. In terms of I/O features, the nF560 offers four SATA 3Gb/s ports, two PATA ports, one GigE port, ten USB 2.0, and up to four PCI Express slots (1x16,3x1).
The nForce 560 technically offers one less PCIe lane than the nF550, and one less PCIe link; however, it makes up for this by being a single chip solution - one less chip to worry about cooling. While the nForce 520 and 560 officially support the upcoming AM2+ processors, they will not provide HyperTransport 3.0 or split power-plane capabilities.
The nForce 560 has been in the market for about a month now and is currently featured on the Biostar TF560 A2+ motherboard that we are previewing today. (Don't let the name confuse you: while the board supports AM2+ CPUs - like many AM2 boards will after a BIOS update - it is still a standard AM2 platform.) Our article will concentrate primarily on the overclocking capabilities of the board with the AMD X2 BE-2300 and Athlon 64 X2 3800+ processors. NVIDIA and Biostar just provided a new performance BIOS update along with new drivers that include the GPU optimizations. We will provide full test results and a features recap in an upcoming AM2 article.
From a general performance viewpoint, this particular chipset and board combination offer performance levels that are a little better than current NVIDIA 7050 and AMD 690G offerings. On the higher end, this board/chipset are typically equal to or slightly under the nF590/570 SLI boards. Let's take a quick look at the overclocking capabilities of the
Biostar TF560 A2+
now.