AM2 Overclocking
Biostar TF560 A2+
Overclocking Testbed
Processor
AMD X2 BE-2300, (1.9GHz, 2x512KB Cache)
AMD Athlon 64 X2 3800+, (2.0GHz, 2x512KB Cache)
CPU Voltage
B-2300 1.40V (default 1.230V)
X2 3800+ 1.45 (default 1.35V)
Cooling
Retail Air Cooling
Power Supply
Seasonic S12 II 380W
Memory
OCZ Reaper HPC PC2-6400 (2x1GB)
Video Cards
1 x MSI 8800GTX
Hard Drive
Western Digital 150GB 10,000RPM SATA 16MB Buffer
Case
Cooler Master CM Stacker 830
Maximum CPU OC
B-2300 - 333x9 (4-4-4-12, 1000MHz, 2.15V), CPU 1.408V
3003MHz (+58% CPU, +67% FSB)
X2 3800+ - 300x10 (4-4-4-12, 1000MHz, 2.15V), CPU 1.450V
3003MHz (+50% CPU, +50% FSB)
.
X BE-2300 - Stock - 200x9.5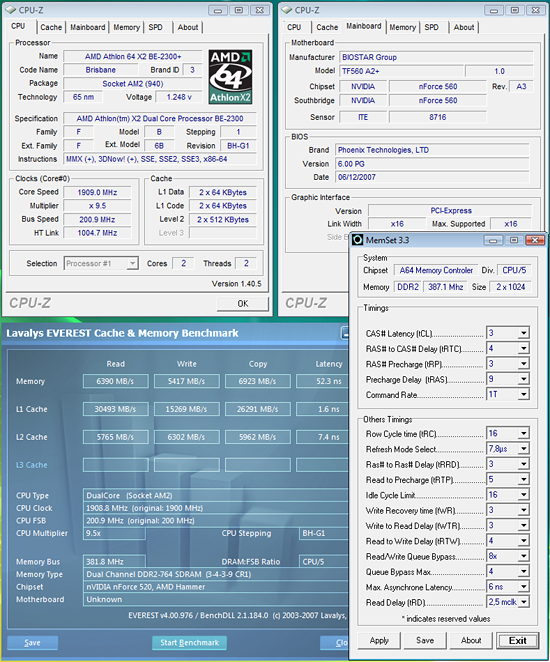 Click to enlarge
X2 BE-2300 - OC - 333x9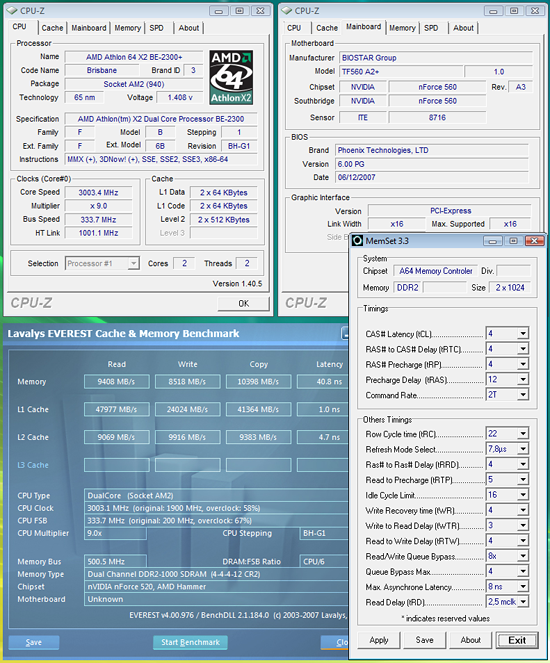 Click to enlarge
Our BE-2300 was able to reach a final setting of 333x9 with the stock cooler. CPU voltage had to be increased to 1.408V, chipset voltage to 1.300V, and memory to 2.15V in order to maintain full stability throughout our benchmark testing that included 24 hours of dual Prime95. We just received a new performance 0801 BIOS that allows us to reduce CPU voltage to 1.37V with the chipset voltage increased to 1.325V for the same settings. We found during testing that keeping tRC settings to 22 or less allowed us to run fairly aggressive CAS and tRAS timings with our OCZ HPC memory at both stock and overclocked settings. We were able to pass all benchmarks except for Quake 4 with tRAS set at 10 and tRC at 19 when overclocking.
X2 BE-2300 - Max OC - 350x9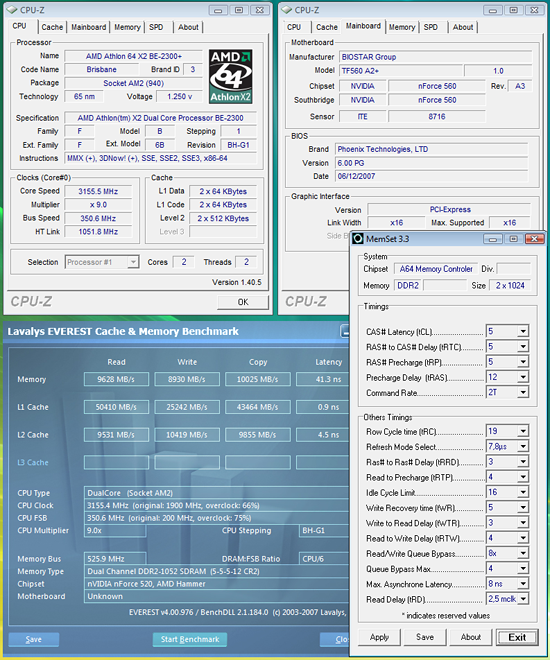 Click to enlarge
We turned our stock cooler in for a Tuniq 120, increased chipset voltage to 1.325V, and CPU voltage to 1.450V to reach a final 350HTT setting that was extremely stable during testing. Of note, our processor will actually do 3258MHz (362x9) on our ASUS CrossHair board but any HTT settings above 350 resulted in benchmark errors on our TF560 sample. The board would POST and enter Vista 64 at 365HTT but was not stable in most benchmarks or stability tests.
X2 3800+ - Stock - 200x10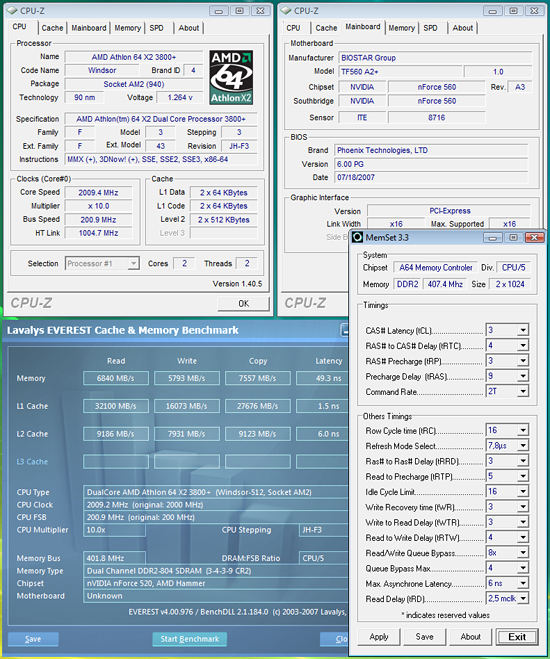 Click to enlarge
X2 3800+ - OC - 300x10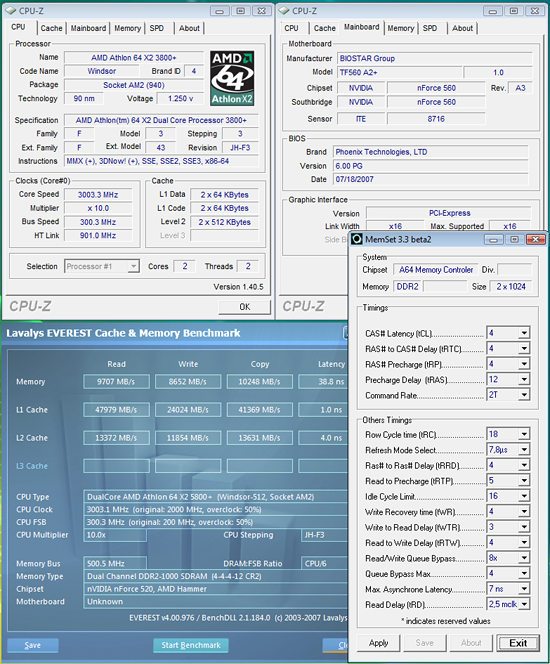 Click to enlarge
Although the Windsor based X2 3800+ is being phased out, the chips are still plentiful and priced at an incredible bargain of $65. We received the new F3 stepping but unfortunately we have a CCBVF 0706 lot number that did not afford us the same overclocking results we are seeing in lot numbers of CCB8F 0715 and beyond now. We just received our first CCB8F 0715 and it has already clocked to 3.4GHz on 1.475V. We will have full test results with this particular CPU in our next overclocking article.
In the meantime, our current X2 3800+ is the runt of the liter and would not even POST past 310x10. It did not matter what clock multiplier we utilized or how much voltage was pumped through this particular sample; we always ended up around 3GHz as its stable limit. With that in mind, we determined a final setting of 300x10 with memory set at DDR2-1000 offered the best overall performance. Our final CPU voltage was at 1.450V, chipset at 1.300V, and memory at 2.15V.