Shanghai: What Immediately Follows Barcelona
In the second half of 2008, AMD will introduce its first 45nm processor under the codename Shanghai.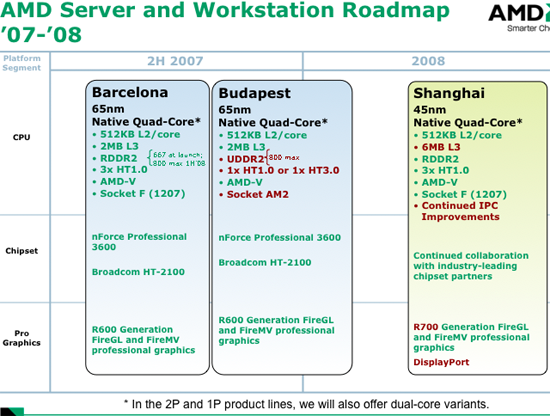 Shanghai will be an evolutionary step above Barcelona, adding a larger L3 cache and some IPC enhancements at both the core and North Bridge levels. Shanghai will keep the same 512KB L2 cache per core of Barcelona, but grow the shared L3 cache from 2MB to a full 6MB. Note that this is still less cache than Penryn will offer in its quad-core configurations, but with AMD's integrated memory controller, larger caches aren't as necessary.
Shanghai, like Barcelona, is targeted at the server market. There will be a desktop variant also introduced in the second half of 2008 with similar specs. Shanghai and its desktop equivalent will be socket-compatible with Barcelona/Phenom motherboards.
AMD has also indicated that Shanghai will begin AMD's transition to DDR3 on the desktop, indicating that the desktop version may be available in two different sockets: AM2 for DDR2 support, and AM3 for DDR3 support. In the first half of 2009, Sandtiger will follow Shanghai in the server space with a brand new architecture (we'll talk about this core shortly). Sandtiger will be exclusively DDR3 and will definitely require a new platform, and just like Shanghai there will be a desktop variant of Sandtiger as well.
Intel : tick-tock :: AMD : Pipe?
One thing we've been waiting to hear from AMD is how it would compete with Intel's tick-tock cadence of microprocessor releases. To recap, Intel's new model shows that every two years it will introduce a new microprocessor architecture, and on the alternate year in between it will introduce a new manufacturing process on the existing architecture.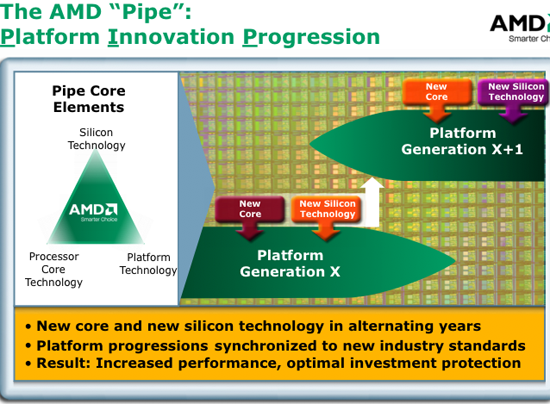 Today, AMD confirmed that it, too, would be releasing a new microprocessor architecture every two years, and a new manufacturing process on the alternate years. AMD attempted to go one step further and tie platform technology to the cadence as well; confirming that every two years the platform would change, alongside the microprocessor architecture, to support new features as they are available. It's a minor distinction but the main point is that AMD is committed to Intel's 2-year processor cycle.
Oh, and the acronym is horrible guys.
mmmm-space
In our AMD: The Road Ahead article we looked at AMD's modular approach to CPU design going forward:
AMD has now attached a marketing name to its modular core approach: M-Space: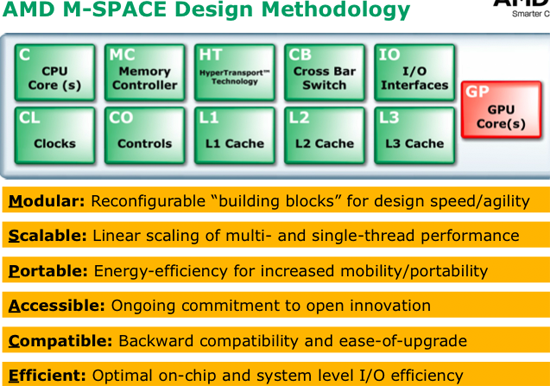 The principle is still the same; these discrete blocks within a microprocessor can be things like GPU cores, CPU cores, memory controllers, specialized hardware, etc... There's nothing really new here, we just wanted to make sure you were up to date with the latest and greatest in AMD marketing so you don't get confused.
The next part however, we can't guarantee that it won't confuse you.