HD Tune / HD Tach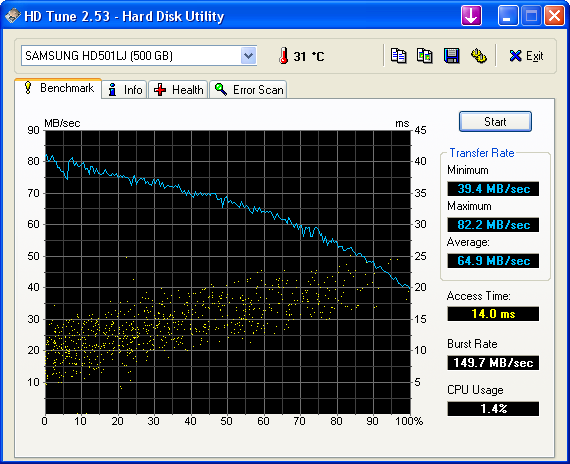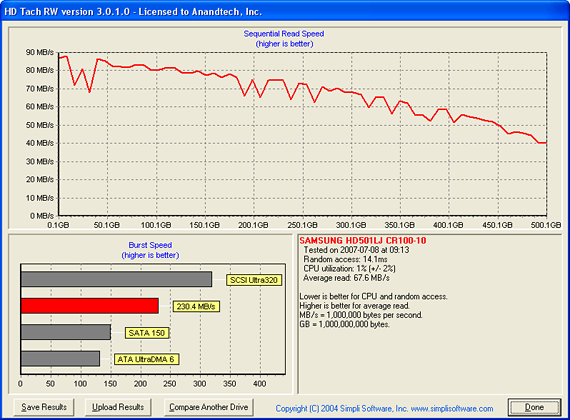 Click to enlarge
In previous HD Tune 2.53 testing the Hitachi T7K500 came in at 65.3 MB/s, Seagate's 7200.10 500GB drive at 63.1 MB/s, Western Digital's YS 500GB at 62.4 MB/s, and falling way behind at 51.5 MB/s was the Seagate 7200.9 500GB drive. The Samsung's 64.9 MB/s puts it near the Hitachi's class leading performance and slightly ahead of the Seagate drive.
With a reported read access time of 14.0ms, the Samsung drive finishes at the bottom of the pack of our 500GB drives with the Hitachi T7K500 having a 13.0ms score and the Seagate 7200.10 finishing at 13.2ms. Considering the rotational latency of a 7200 RPM spindle is generally 4.2ms, this leaves the SpinPoint T166 with a measured seek time of 9.8ms which is higher than Samsung's reported 8.9ms results.
In the HD Tach tests the sequential read speed at the 250GB level for the 500GB 7200.10, Hitachi 500GB, and WD 500GB averaged around 70 MB/s while the 7200.9 500GB was near 53 MB/s. The Samsung drive is once again very competitive with a reading right over 72 MB/s at the 250GB mark while finishing around the 40 MB/s mark at the end of the drive. As in the HD Tune tests, we a slight dip at the 25GB mark before the drive recovers back to the 80 MB/s range in the sequential read speed test.
It is important to note that access times, average read rates, and burst rate measurements are basically synthetic measurements, and while important these are not "true" application measurements. There is a great deal of potential bottlenecks elsewhere in the system that can and will affect the true performance of a drive. Although these "benchmarks" are a good indicator of a drive's performance, it is the total make-up of components in the PC that will determine the drive's actual performance.