Samsung
introduced the SpinPoint T166 series last fall after the P120 series had success in the market as a low cost alternative to similar offerings from Seagate, Maxtor, Hitachi, and Western Digital. While the P120 series was certainly a bargain in terms of cost, the drive series did not receive much press coverage nor did Samsung actively promote the product in the same manner you see from their competitors. However, those drives developed almost a cult following from people who perceived them as great price to performance alternatives, not to mention drives that were whisper quiet and easy on the electric bill.
We have always liked the P120 series but our experiences with earlier Samsung storage products usually ended in disappointment either through sub-par performance or reliability issues. It also seemed at times that Samsung was almost embarrassed to admit they were in the storage market as their products consistently lagged behind others in both technology and performance. Over the past two years, we have seen some dramatic changes at Samsung and they are now committed to providing class leading performance in the desktop market at the lowest possible cost.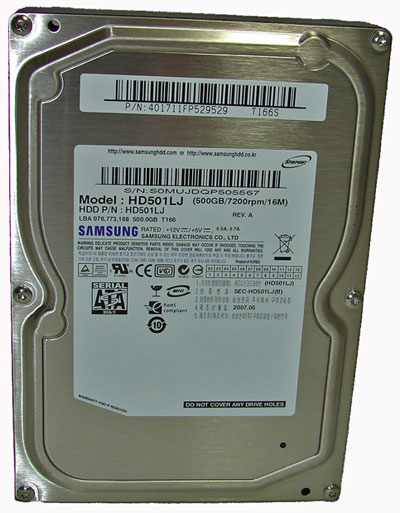 The SpinPoint T166 series brings Samsung close (if not even) to the other manufacturers in offering performance competitive drives at somewhat discounted prices. We have also seen and experienced an improvement in both reliability and customer support to the point that we think Samsung is on the right track, if not the fast track, to meeting their goals.
From a technology viewpoint, they were first to market this year with
Hybrid
hard drives that feature 256MB of NAND Flash memory and full support for Vista's new ReadyBoost technology. We will take a look at this interesting meld of technology in the near future but for now they are the leaders in this developing market. Also of note will be Samsung's entry into the Perpendicular Magnetic Recording desktop market with their new F1 series.
The F1 features capacities up to 1TB utilizing a three disk design with 334GB per-platter capacities in a SATA 3Gb/s interface. Hitachi is using 200GB per-platter capacities and later this month we will see Seagate introduce their 250GB per-platter design in the new 7200.11 series. The F1 also features 32MB cache and their NoiseGuard/SilentSeek technologies with the promise to provide whisper-quiet operation and the best thermals in the 1TB range of drives. While we are excited about the specifications, we will hold off on making any judgment calls until we have tested this new drive. After all, making the jump from 167GB per-platter designs to an all new PMR drive with a 33% density improvement over the nearest competitor has its risks.
In our review today of the SpinPoint T166 500GB (HD501LJ), we will see how far Samsung has come in its drive technology, and if it stands above the competition or just merely comes close. Let's now find out how Samsung's newest drive performs against our other 500GB offerings.