Barcelona Demos and Motherboards
Much to our dismay and definitely against our recommendations, AMD will not follow in Intel's footsteps and let us do a performance preview of
Agena
or
Barcelona
. In fact, AMD wouldn't even let us know what clock speeds its demo systems were running at. While we cautioned AMD that a lack of information disclosure at this point would only reinforce this idea that AMD is lagging far behind Intel, AMD's counterpoint does have some validity. AMD's reasoning for not disclosing more information today has to do with not wanting to show all of its cards up front, and to give Intel the opportunity to react. We still don't believe it's the right decision, and we can't help but believe that the reason for not disclosing performance today is because performance isn't where it needs to be, but only AMD knows for sure at this point.
In order to combat worries that
Barcelona
is fundamentally broken, AMD did give us a couple of live demos of an 8-core QuadFX system and a 4-core Socket-AM2+ system. AMD ran Cinebench as well as Nero Recode on the systems, but it did not let us measure performance on either. Both systems worked fine; they didn't get too hot and they didn't crash.
Undoubtedly
Agena
and
Agena FX
work. We suspect that clock speeds aren't quite as high as they need to be but we don't doubt that AMD can get there by its scheduled release sometime in the second half of this year.
AMD also let us get up close and personal with the motherboards used in these systems, but we can't disclose details about the chipsets used just yet. Keep in mind that what you're looking at is AMD's next-generation desktop chipset solution.
The Hammerhead reference board is AMD's Socket-AM2+ reference board that was used in the quad-core
Agena
system above: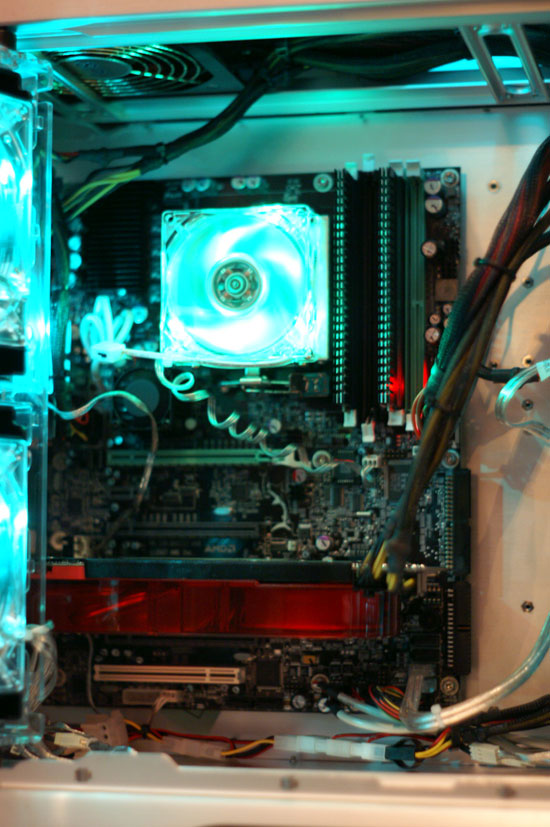 Up and running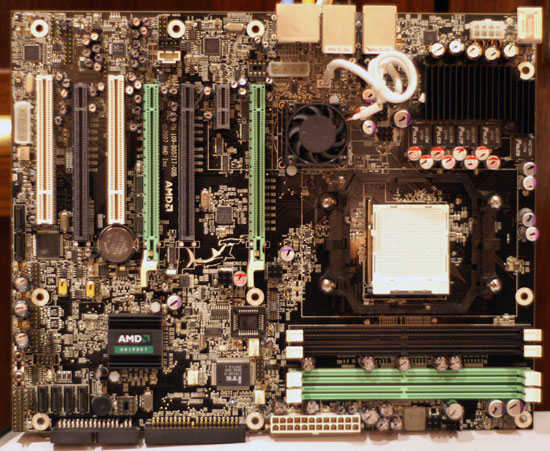 The motherboard - Click to Enlarge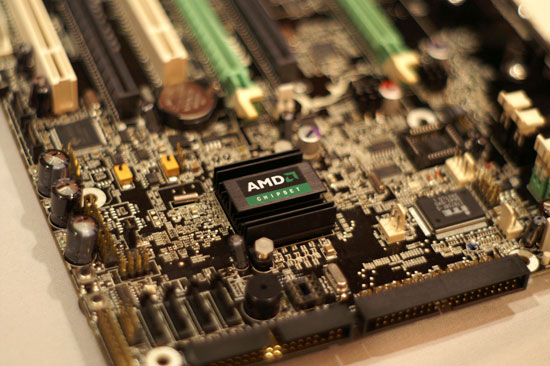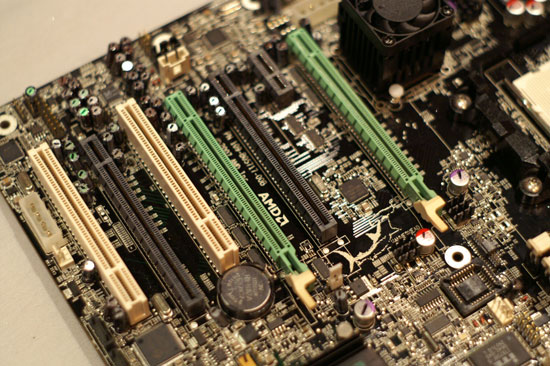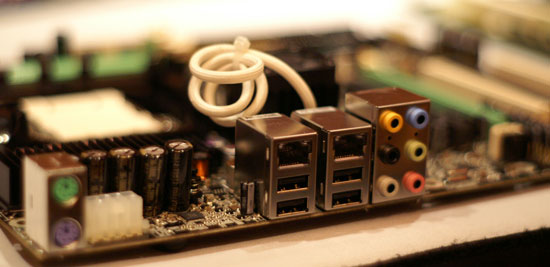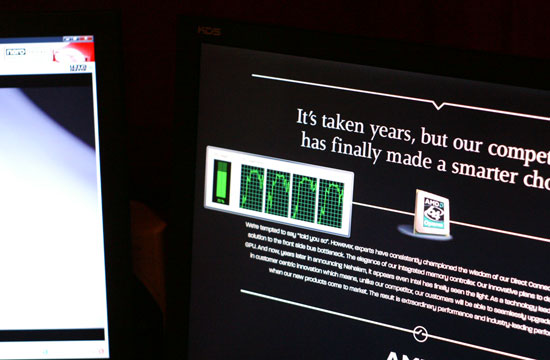 All four cores, loaded and running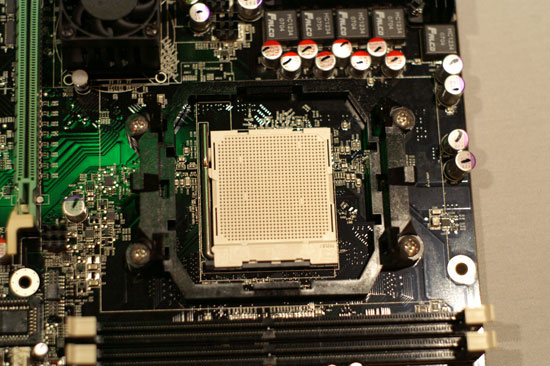 Socket-AM2+
The Wahoo reference board is AMD's QuadFX Socket-1207+ reference board, used in the eight-core
Agena FX
system: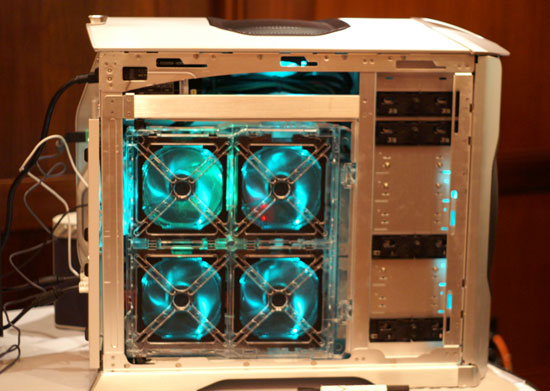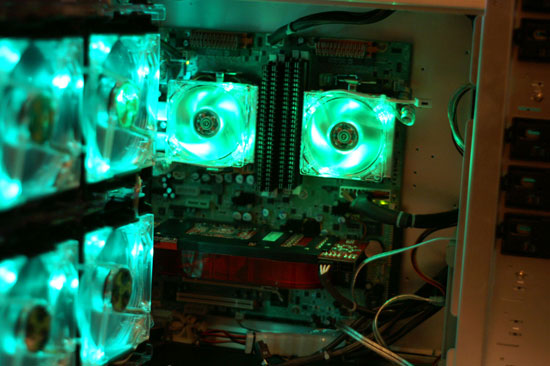 Quad core per socket x two sockets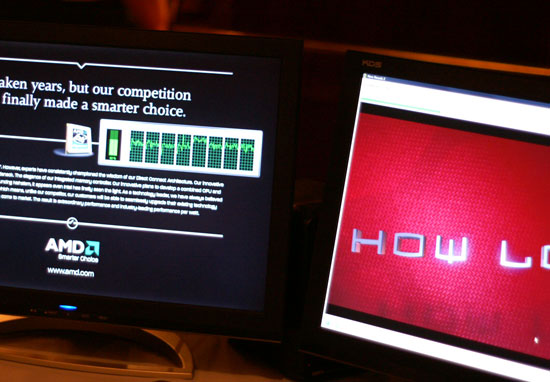 All eight cores, locked and loaded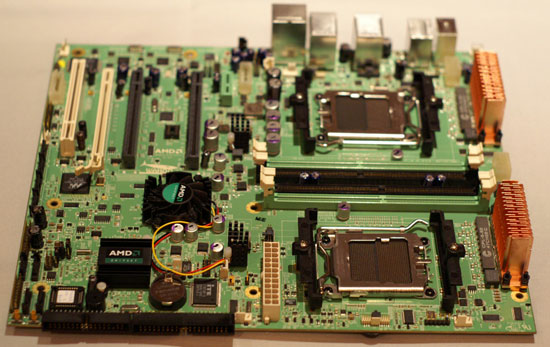 The Wahoo Motherboard - Click to Enlarge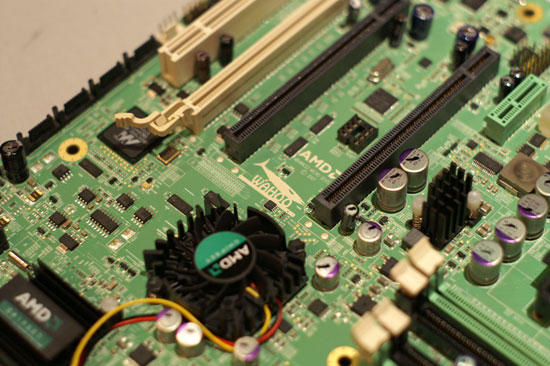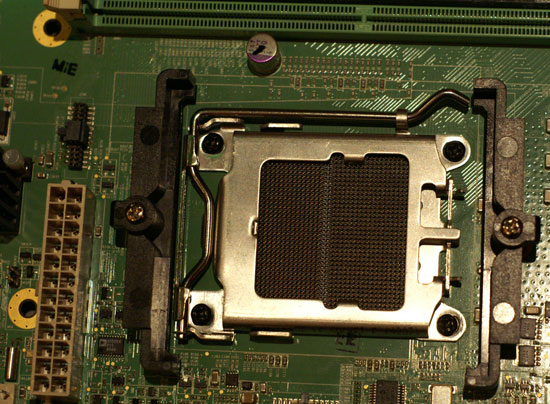 Socket-1207+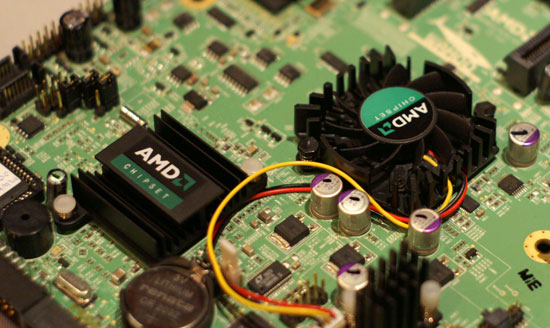 And here's the man that made sure we could see these demos - AMD's Ian McNaughton: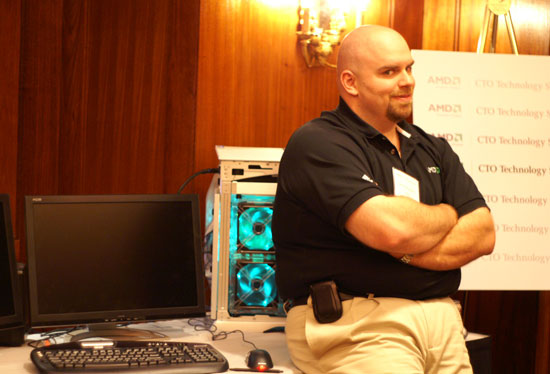 He's also the guy that prevented us from running benchmarks, and hid the Cinebench scores from us: