New Details on Barcelona Emerge
If you've been following AMD's latest roadmaps then you'll know there are a couple of new sockets on the way. While AMD's next-generation CPUs will work in current Socket-AM2 and Socket-1207 motherboards, a new class of boards will launch with support for Socket-AM2+ and Socket-1207+. Inevitably the question you will ask yourself is: what does the + get you?
The pinout of Socket-AM2 and Socket-AM2+ is identical, and likewise Socket-1207 and 1207+, and thus the same
Agena
or
Barcelona
will work in both sockets, which is how AMD is able to guarantee full backwards compatibility with current AM2 and 1207 motherboards. If you do buy a new motherboard that uses either Socket-AM2+ or 1207+, you will get some additional functionality.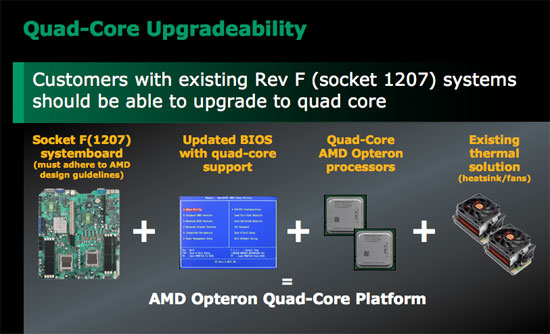 Current platforms only support HyperTransport 2.0, while the new + platforms will enable HT3.0 which brings faster link speeds and greater bandwidth. For desktops, a faster HT link won't really change performance, but in multi-socket workstations and servers there will be a benefit.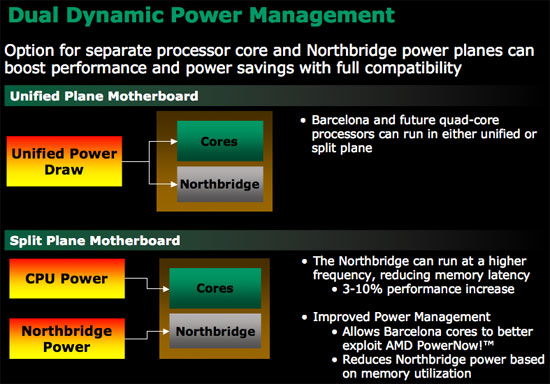 The more tangible feature is the ability to support split voltage planes. As we mentioned in our preview of AMD's
Barcelona
architecture, the CPU cores and the Northbridge can operate at different voltages and frequencies. In order to enable this functionality, you need motherboard support, thus if you want the power benefits of having the Northbridge and CPU cores on independent power planes you need an AM2+ or 1207+ motherboard.
It's not all about saving power with split voltage planes, as there's also a performance benefit to going AM2+/1207+. When the Northbridge is placed on its own power plane, the motherboard can actually apply more voltage to it than the CPU cores and run it at a slightly higher frequency on the order of a 200 - 400MHz increase. The Northbridge is an extremely low power part of the CPU die and an increase in voltage/clock frequency results in a minor increase in TDP, but it can drive a disproportionately large increase in performance.
With AM2+/1207+ systems, the Northbridge runs at a higher frequency and thus the memory controller sees slightly lower latencies. The shared L3 cache also operates on the same power plane as the Northbridge, reducing L3 cache latency as well. AMD expects the overall performance advantage by going with AM2+/1207+ to be on the order of 3 - 10% over current motherboards.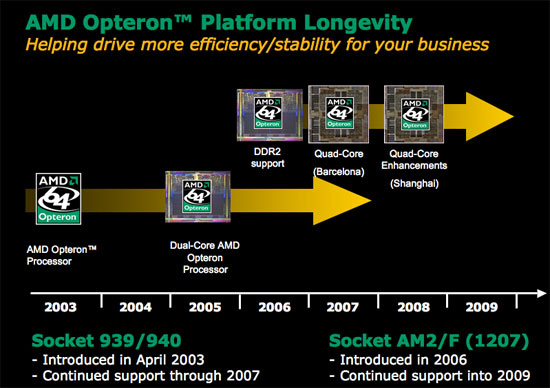 While your current motherboards will work with AMD's forthcoming CPUs, you'll get better performance out of upcoming Socket-AM2+ and Socket-1207+ platforms. AMD does plan on supporting both AM2 and 1207 into 2009, so you can expect a continued upgrade path for your AMD platforms well after
Agena
/
Barcelona
.