Noctua NH-U12F
Unless you are an enthusiast of silence in computer builds and modifications you probably haven't heard of Noctua. CPU coolers from Noctua are not generally sold by the large US etailers like Newegg, ZipZoomFly, or mWave. However, Noctua products are readily available at specialty computer enthusiast shops like
Frozen CPU
or
Xoxide
. The Noctua NH-U12F kit retails for around $65, but we have seen it selling for lower prices at a few etailers. The kit includes the Noctua NF-S12 fan which retails for $20 by itself.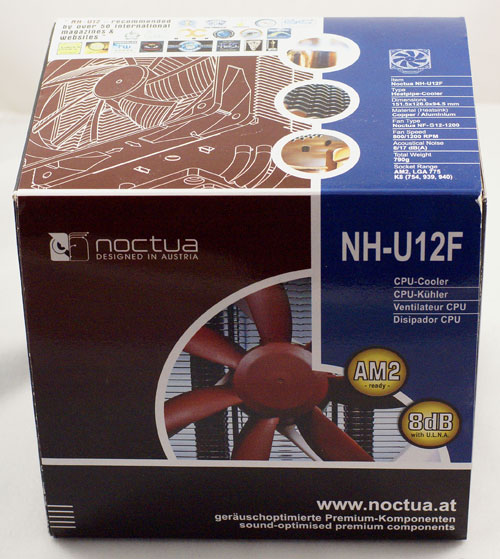 The Noctua NH-U12F is packaged in a sleeved box with the Noctua trademark brown and blue packaging. It seems that everything Noctua comes in packaging with variations on this corporate color scheme.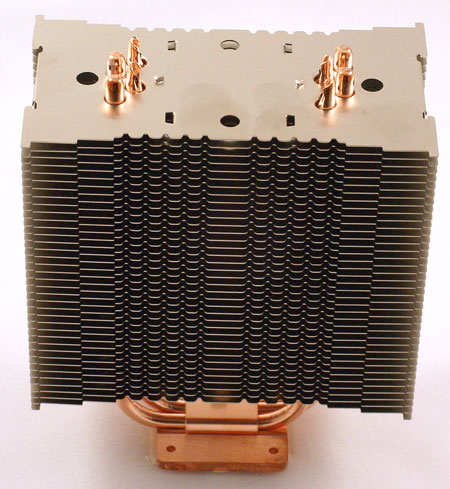 The Noctua kit starts with a heatpipe tower that is very reminiscent of the Thermalright Ultra 120 design. We wouldn't dare touch the "which came first" question, but we do know that Noctua has been refining the basic design of this 120mm heatpipe tower for some time. Since the two Thermalright Ultra 120 models now sit at the top of our comparative cooler reviews, this design similarity certainly raises our Noctua performance expectations. There are also fan wire channels that allow mounting of both front and rear fans on the Noctua if you choose that configuration.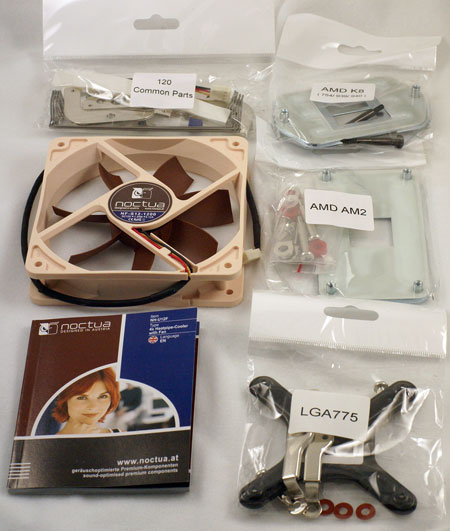 Inside the dark brown box you will find an exceptionally well-protected heatsink, along with everything you need to mount the NH-U12F on socket 775, AM2, or 754/939/940.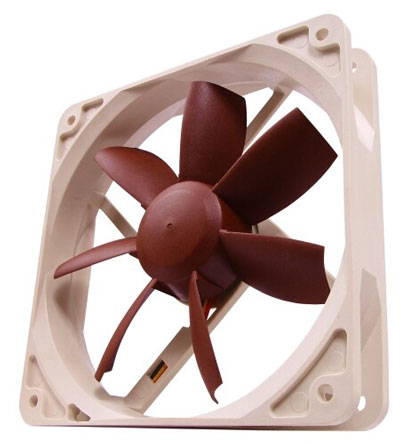 The $20 retail S12 fan is also included, as mentioned earlier, and the U.L.N.A. adapter that fits between the fan plug and the board is included for those who want to run slower speeds with the lowest noise possible.
The included accessories abound with thoughtful little touches. Noctua includes a screwdriver that actually fits in the holes of the cooler fins to allow cooler mounting in some of the mount variations. There are even two pairs of fan wire clips included that practically invite the buyer to try a push-pull fan setup. A clearly written multi-language installation manual is also in the package. Overall, the clear parts identification, abundance of mount options, and included extras make the Noctua one of the best coolers we have worked with right out of the box.
Specifications
Our test system is socket 775, but the Noctua NH-U12F will also mount on any AM2/754/939/940 CPU with included adapters.
Noctua NF-U12F Specifications
Heatsink
Dimensions
70(L) X 126W) X 155(H)mm (excluding fan)
Weight
640g (excluding fan); 790g with fan
Heatpipes
Four U-Shaped Copper Heatpipes
Material
Copper and Aluminum with soldered joints
Fan Configuration
Supports up to two 120mm fans of any thickness with open mounting posts
Included Fan
Model
Noctua NF-S12-1200 (included, but also sold separately)
Fan Size
120mm x 120mm x 25mm
Bearing Type
SSO (Self Stabilizing Oil-Pressure)Bearing
Noise Level
17dbA (8dbA with U.L.N.A.)
Speed
1200 rpm
Air Flow
81 cubic meters/hour (59 with U.L.N.A.); 47.7cfm (30.0cfm with U.L.N.A.)
Fan Bearing
SSO Bearing
Blade Geometry
Straight-Blade Design
Input Power
1.44W at 0.12A Input Current
Voltage Range
4-13V
Fan Life
>150,000 hrs (vs. 50,000 hrs for ball bearing)
Weight
180g (fan only)
Any 120mm fan without posts will fit the Noctua, regardless of the fan thickness. The Scythe SFLEX fans and SilenX IEXTREMA high-output/low-noise fans will all fit the Noctua since they do not use mounting posts.