One of the more interesting aspects of the CPU cooler market is the truly international mix of products on the market. While Asian companies do dominate in the manufacturing side of the cooler marketplace, cooler designs come from all over the world. Noctua is a case, fan, and cooler company based in Austria, and designs for their new products are developed in their labs in Austria. Manufacturing is provided by a partnership with Kolink International, a cooling specialty manufacturer in Taiwan.
Noctua's "Designed in Austria" approach brings some very interesting resources to bear in new Noctua coolers. Rascom Computerdistribution Ges.m.b.H. is based in Austria and handles the design and distribution of new Noctua products. Kolink is also involved in R&D with Rascom, but the primary Kolink responsibility is the manufacturing and on-site Quality Assurance for Noctua products.
The Rascom design in Austria also brings additional advantages. Rascom is a principal in Österreichisches Institut für Wärmeübertragung und Ventilatorentechnik, ÖIWV (The Austrian Institute for Heat-Transmission and Fan Technology). This development partnership between Noctua and ÖIWV brings extensive scientific resources to Rascom that greatly enhances the product design process.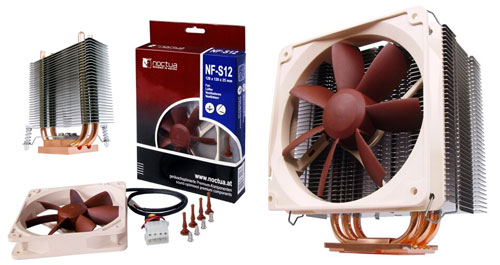 The current product line from Noctua features heatpipe tower CPU coolers based on 92mm and 120mm ultra-low noise fans, 80mm and 120mm low-noise fans, and a fanless chipset cooler which is basically a miniaturized CPU cooler. The NH-U12F that is the subject of this review is the top-of-the-line Noctua cooler, and it's a refinement of their earlier 120mm fan coolers.
Noctua packages and markets their ultra-low-noise fans through specialty cooling shops with noise suppression plugs to lower fan noise to incredibly low levels. Noctua fans are well-known for their super low noise, and they are normally among the leaders in fan reviews looking for low noise. Noctua attributes their success with low-noise fans to the design partnership with the Austrian Institute for Heat-Transmission and Fan Technology.
It should be abundantly clear to all readers at this point that Noctua as a company caters to quiet PC solutions. This is certainly obvious in the specifications and reviews of Noctua products. It is likely therefore that Noctua will have no problem at all meeting our expectations for low noise in a CPU cooler design. The bigger question for the Noctua NH-U12F is whether Noctua can also deliver the cooling performance needed to satisfy overclocking enthusiasts - with their kit fan or a quiet high-output fan from another manufacturer? We will try to answer that question as the Noctua is benchmarked and overclocked on the Intel X6800 processor.