OCZ Technology
OCZ originally started out as a memory manufacturer that was dedicated to the enthusiast, and in all honesty it has to be stated that some of their earlier products left us wanting. Several years ago, however, OCZ increased their focus and began to really work on targeting the computer enthusiast memory market with several different classes of memory products ranging from the gamer to hard-core overclocker. They went from offering mostly generic memory products in a couple of market sectors to becoming one of the leading performance RAM companies in a very short time by providing what the customer wanted. Many of their products over the past few years have offered class leading performance and have rightfully earned Editor's Choice awards from AnandTech. After their success in the cutthroat memory market, OCZ began to branch out into other areas. They now offer several lines of high quality power supplies, some interesting cooling solutions, high-performance flash memory, and of course they continue to manufacture a range of system memory products. Not content to rest on their laurels, OCZ plans to branch out into additional component markets over the coming year.
The big news is that OCZ will begin introducing graphics cards to the market after CES. The first cards will be performance tuned NVIDIA GeForce 8800 models, after which they will expand into other GPU lines. The first question that must be asked is, what can OCZ offer in an already crowded market? Looking at their past history, however, many things come to mind. OCZ has spent a lot of time tuning their high-end memory products to eke out every ounce of performance possible. Higher bandwidth isn't the only way to improve memory performance, and OCZ has had quite a few products that focused on improving memory latency in various ways as well. With graphics cards now shipping with 512MB, 768MB, and even 1024MB of memory these days, it certainly seems that a company like OCZ with their extensive memory background should be able to compete. Of course, ASUS, Gigabyte, and many other enthusiast companies are also in this market, so how OCZ will manage to differentiate their graphics products remains to be seen. Still, we look forward to taking a closer look at their new graphics cards when they become available after CES.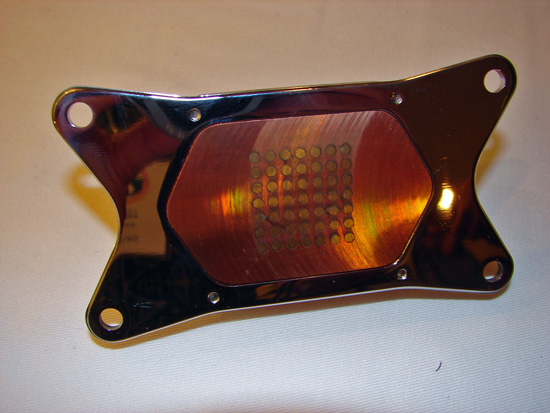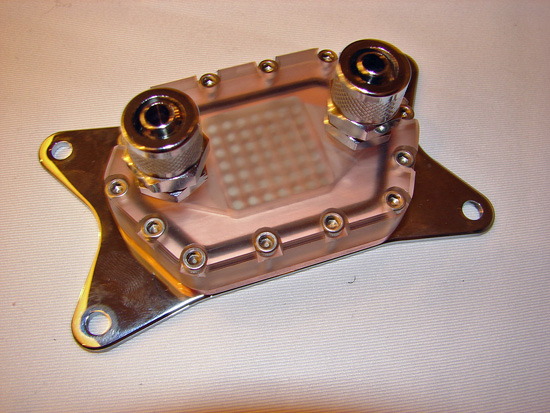 In the CPU cooling market, OCZ will be introducing some high performance water cooling blocks with a unique design in the next month or two. The first of these products will utilize silver rods that contact the CPU heatspreader directly in order to improve heat transfer. The unit we were shown is a prototype block but we expect production samples shortly for review. The production units should be available some time around CES, and OCZ will release an enhanced water block featuring jet spray technology in the spring. Both of these water blocks are targeted at enthusiasts utilizing high end-dual and quad core CPUs. We will also look at their new Phase Change system in our next article.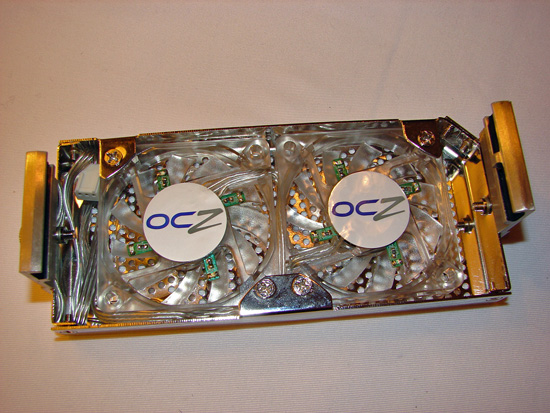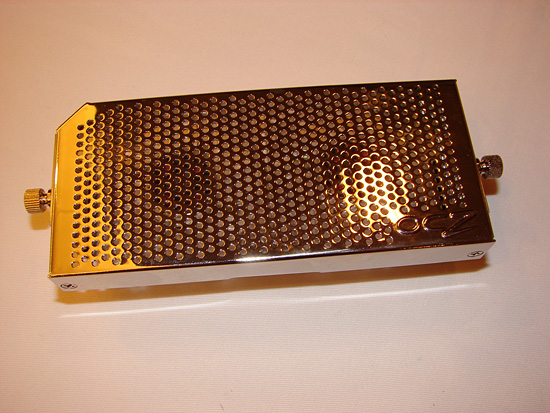 OCZ is also working on some products that will help with cooling in other areas. Above you can see their memory cooler, which ought to be able to help people looking to achieve maximum performance from their RAM. The unit is unique in that it will cool up to four DIMMs instead of the typical single of dual DIMM coolers on the market current. The cooler uses two 60mm fans and they are rated at 29dBA. Unfortunately, it is unlikely that such additions will help your computer run quieter, but such is the price we often pay for top performance.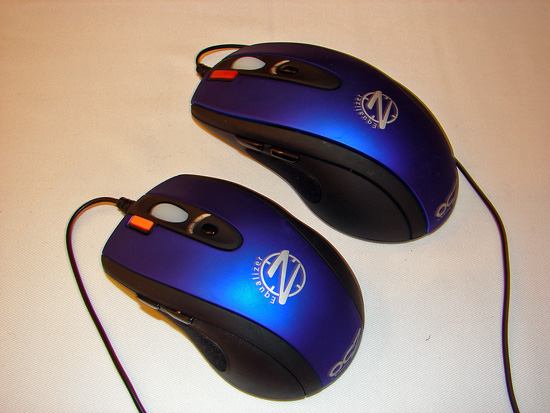 Finally, OCZ looks to cater to the gaming enthusiast by releasing gaming centric mice for notebook and desktop use. These mice will feature dual laser designs, as well as extra programmable buttons that can be customized for individual games including a rapid fire button. These "Equalizer" mice have a nice design and feel and should be available shortly after CES. How well they function over a long gaming session and whether or not they will be able to surpass other gaming mice remains to be seen but we will be reviewing these units once production samples are ready. In a brief test session we were able to confirm the button assignments and the general "feel" of the mice was actually quite good. We also talked with OCZ about a new system kit that involves a partnership with ASUS and Shuttle, which we will cover on the next page.