Back when Pat Gelsinger was Intel's CTO, he was on stage at these IDF Keynotes talking pure, unadulterated technology and research - much like Justin Rattner was doing yesterday. Pat is an absolutely excellent presenter, arguably Intel's best; unfortunately, these days he spends his time talking about the Enterprise market - and historically, the Enterprise keynote has always been the least interesting keynote of IDF. Against all odds, Pat managed to make the latter half of the keynote interesting with some important announcements that we'll talk about in the coming pages.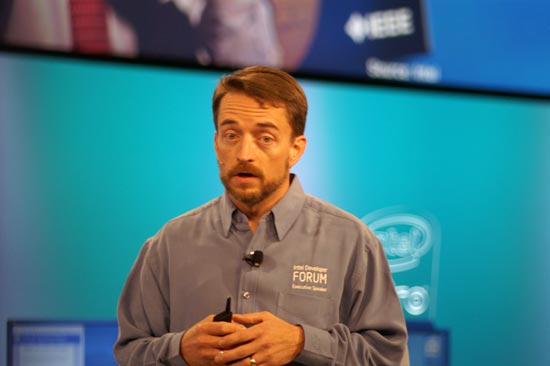 Gelsinger's keynote started with a recap of what's been released in the past six months: mainly Core 2 based processors into the server and client markets.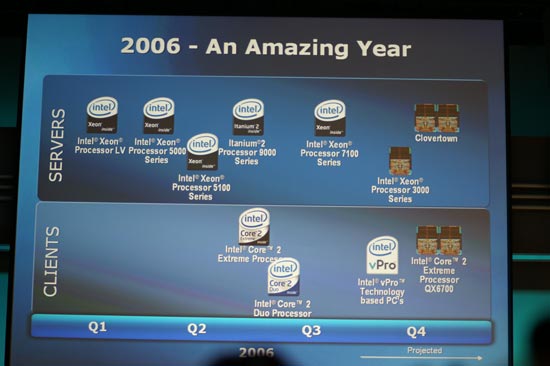 Given that this is the first IDF since the launch of Intel's Core 2 based processors, it's not surprising that the majority of the show has been touting the performance advantages of Intel's existing Core 2 products rather than new products.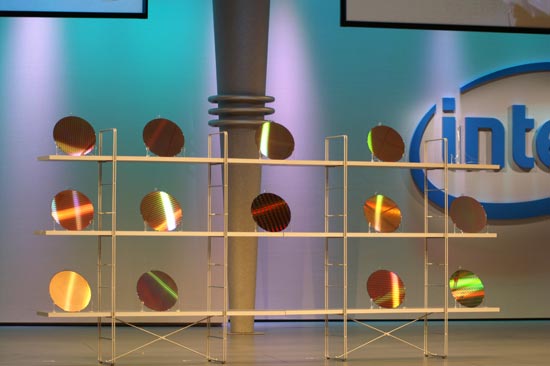 Ever since Core 2 launched, Intel has been unusually competitive in that it has done an unprecedented amount of public Intel vs. AMD benchmarking. From setting up an AMD system to compare to Conroe at last IDF to having a live Socket-F Opteron performance comparison today, Intel is proud of its performance advantages and is not shy of talking about them.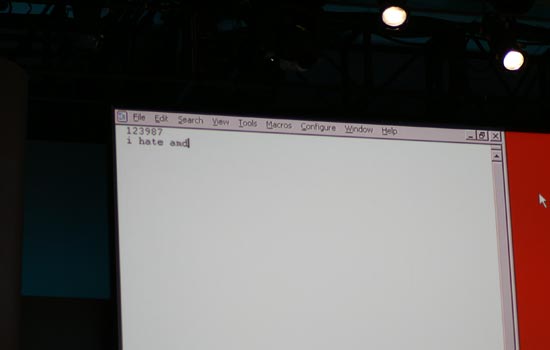 The second line is Pat Gelsinger's password captured by an Intel rep playing a hacker during a security demo at today's keynote
The Socket-F Opteron 2.8GHz vs. Xeon 5160 (3.0GHz) demo was a simple performance test using a Matrix-Matrix Multiplication benchmark (sounds a lot like Linpack). Obviously the Opteron system lost taking 67.49 seconds to complete the benchmark compared to 39.06 seconds for the Xeon 5160 system (both systems were dual socket). Power consumption was lower on the Xeon system at 370W vs. 444W. Without knowing the configurations of both systems (other than Intel saying that they were as close to identical as possible), we can't really say much about how comparable these results are.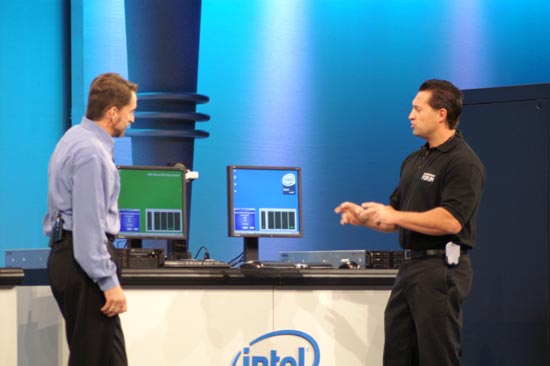 Gelsinger then "challenged" his demo assistant to upgrade the Xeon box to new Clovertown based, quad-core Xeon processors within the next 8 minutes.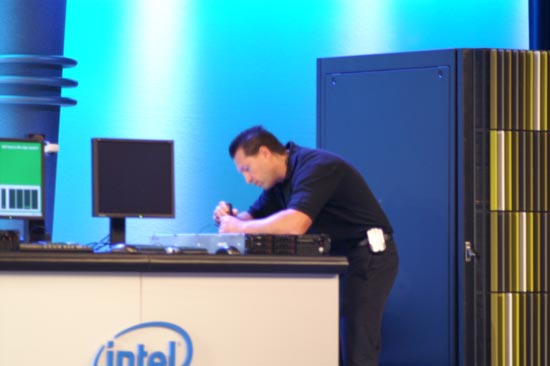 The demo assistant simply swapped out the old Xeon 5160s with new Low Voltage Clovertown based Xeons running at a clock speed almost 900MHz lower than the 5160s (around 2.1GHz). Despite the lower clock speed, having twice as many cores in the system let the new LV quad-core Xeon setup complete the benchmark in 31.01 seconds, and at marginally higher power consumption of 380W.