Intel Robson Technology
Intel offered some brief information on its upcoming Santa Rosa platform and its associated Robson technology: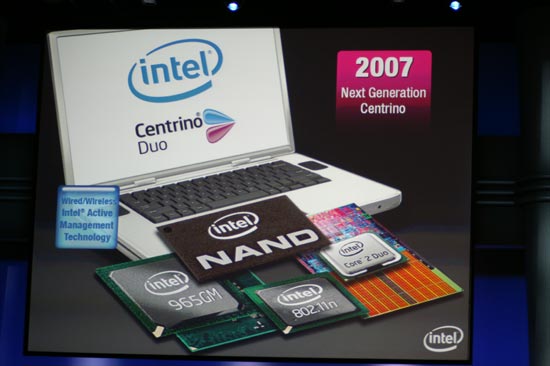 Along with 802.11n support and a new chipset (965GM), Intel's next-generation Centrino (codenamed Santa Rosa) will for the first time incorporate Intel NAND flash as a supported part of the platform. With software support from Windows Vista, Intel's Robson technology will allow notebook makers to utilize a small amount of NAND flash memory as a disk cache and/or extra virtual memory to improve performance.
Windows Vista supports two technologies that are taken advantage of by Intel's Robson (NAND flash in a notebook) technology: Windows ReadyDrive and Windows ReadyBoost.
Windows ReadyDrive is the marketing name for Vista's support for disk caching to NAND flash devices. The idea here is that ReadyDrive can cache frequently used OS and application data to a NAND flash device in order to speed up OS boot time and application load time.
Windows ReadyBoost on the other hand is designed to increase performance of systems that don't have much system memory but do have access to external flash based storage devices (e.g. USB drives). ReadyBoost will use these drives as additional virtual memory and swap to them when it runs out of main memory, which will obviously improve performance vs. simply going to disk.
ReadyBoost is really only targeted to systems with 512MB of memory that won't be upgraded (e.g. corporate desktops that you can't just stick more memory in without approval from IT), since you'd get better performance out of simply installing more memory in the system rather than relying on external flash devices as swap drives. These external flash drives have to be Vista certified in order to work with ReadyBoost (they mainly have to support a minimum read/write speed), but the performance improvement here would really only be seen on systems without sufficient main memory.
Windows ReadyDrive however can result in a significant performance increase as it acts as a cache, closing the gap between main memory and hard disk performance. Intel has been touting very tangible reductions in resume from hibernate time as well as application launch time thanks to ReadyDrive.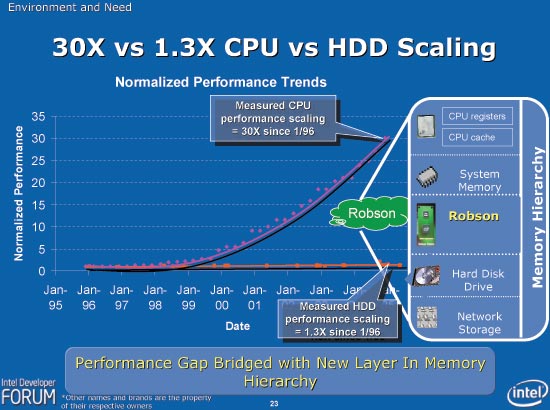 Intel's Robson technology is simply Intel's solution for both ReadyDrive and ReadyBoost; using a single Intel card (either in a Express Card slot or on the motherboard itself), Intel can support both ReadyDrive and ReadyBoost (although the latter isn't as important if you have enough main memory).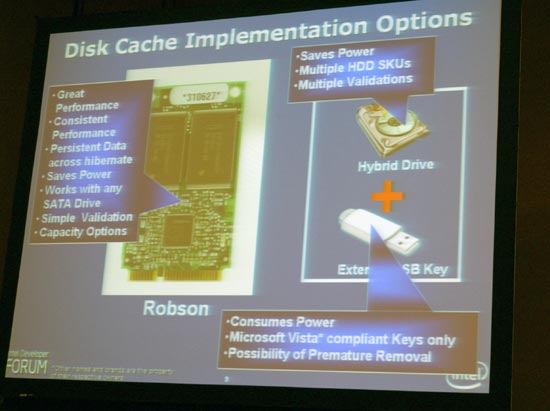 While you can take advantage of ReadyDrive with a hybrid hard drive, Intel obviously views the motherboard level integration of Robson technology as the best option.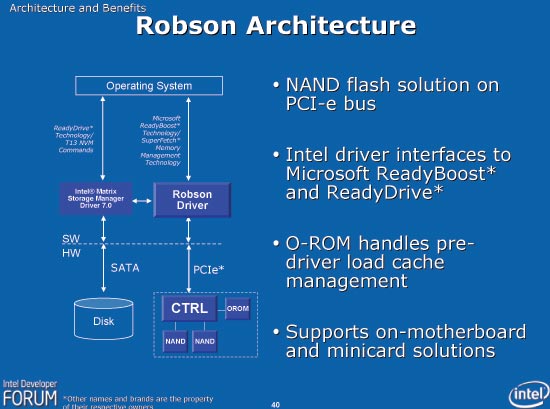 Currently Intel expects the mainstream target for Robson NAND flash to be 1GB, although higher performance alternatives would definitely be larger. In order to take advantage of both ReadyDrive and ReadyBoost, you'd have to have a Robson card equipped with two flash devices, otherwise you can only support one. Assuming it's upgradable, Intel's Robson approach makes a lot of sense since it would be a lot cheaper to simply replace a flash card in your system rather than upgrading your hard drive everytime you wanted more flash for ReadyDrive.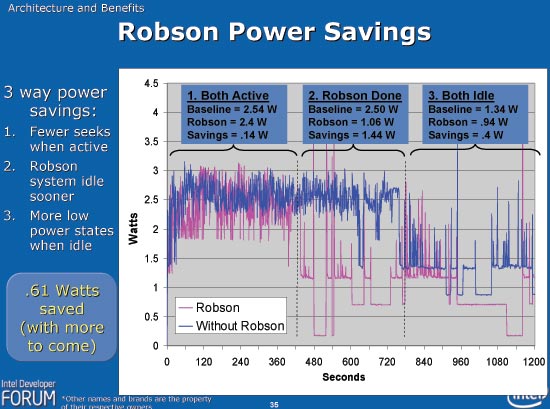 Although it's not a required part of the Santa Rosa platform, Intel is expecting many OEMs to take advantage of Robson technology and we will see it introduced next year alongside Vista and the new Centrino notebooks.