Gaming Performance using Quake 4, Battlefield 2 & Half-Life 2 Episode 1
Our gaming performance analysis starts out with Quake 4 running at 1600 x 1200 with High Quality visual settings. We used version 1.2 of Quake 4 and SMP was enabled: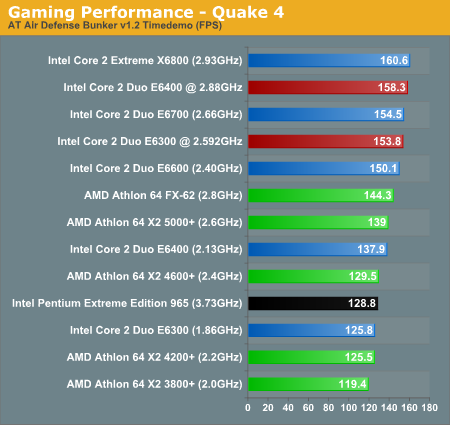 Once we shift over to gaming performance, the differences between all of the tested systems are greatly diminished. Enabling 4xAA would further reduce the difference, to the point where most of the systems would be about equal. This does not change the fact that the Core 2 Duo chips are able to outperform their AMD counterparts in terms of raw performance, so once faster graphics cards become available we should see the processors begin to differentiate themselves more. Of course, by then we might also have games that are more demanding of the GPU.
Looking specifically at Quake 4 performance -- and remember that this is one of the few games that can truly take advantage of multiple processor cores -- the Core 2 processors continue to outperform their AMD counterparts, but only by a small margin. The overall spread between the X6800 and the X2 3800+ is 35%, which is certainly noticeable, but with frame rates that are all averaging over ~120 FPS Quake 4 is clearly going to run well on all of the tested systems. We had hoped to include Prey performance as well, so that we could see how an updated Quake 4/Doom 3 engine game performs, but we ran into benchmarking issues that we are currently investigating.
Next up we've got the recently released Half Life 2: Episode 1, running at default quality settings (auto detected with a pair of X1900 XTs installed) with the exception of AA and aniso being disabled. As with all of our gaming tests in this article we tested at 1600 x 1200: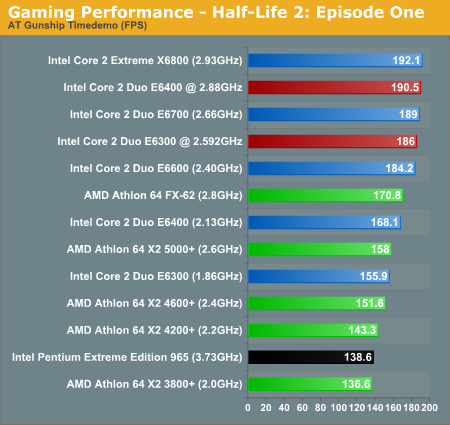 In Half-Life 2: Episode One, the Performance spread is 41%. At the top end of the spectrum, we're beginning to become GPU limited even without antialiasing enabled. Valve's Source engine clearly likes the Core 2 architecture, as even without overclocking the E6300 and E6400 clearly perform better than their similarly priced AMD counterparts.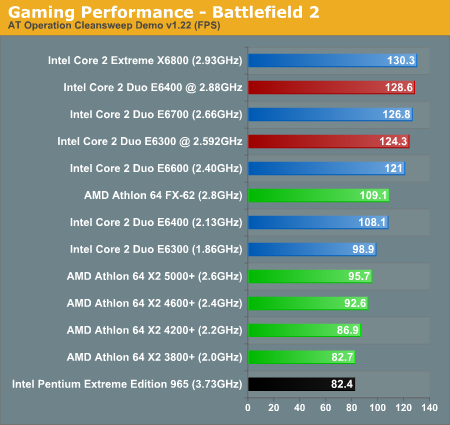 Battlefield 2 is a game that has consistently demonstrated it is more CPU limited than GPU limited, especially with high-end graphics solutions. Here the spread between the processors is 58%, and the E6300/E6400 without overclocking are faster than everything from AMD except for the FX-62. At the top end of the spectrum, we finally begin to reach the limitations of our GPUs, with the top four systems all performing within 3% of each other.