Gaming Performance using F.E.A.R. & Rise of Legends
Our F.E.A.R. test should be fairly familiar by now, as it is the built in performance test included with the game. Computer settings were left at "Maximum" while the graphics settings were set to "High" with the resolution cranked up to 1600 x 1200. F.E.A.R. ends up still being more GPU than CPU bound at these settings, even with a pair of X1900 XTs at its disposal, but we do see some separation among the processors: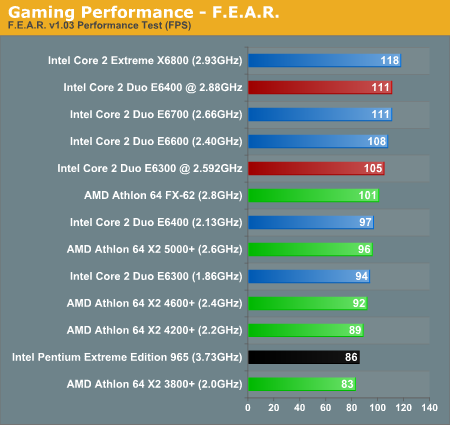 We mentioned that F.E.A.R. is more GPU limited than many other titles, but without antialiasing enabled the spread is still 42%. As with many other games, the Core 2 Duo chips outperformed their AMD counterparts in terms of price/performance. However, it's questionable how many people would purchase a $200 CPU to pair up with over $1200 worth of motherboard and graphics cards. That doesn't mean the Core 2 Duo isn't faster, but you will certainly need a very powerful graphics chip in order to realize the potential. On the flip side, the extremely strong performance of an overclocked E6300/E6400 means you can spent more money on your graphics setup if you're a gamer and get close enough to the speed of a X6800 through overclocking to drive those high end GPUs.
Rise of Legends is a newcomer to our game benchmark suite and what an excellent addition it is. This Real Time Strategy game looks very good and plays well too; it serves as good filler until the next Command & Conquer title eventually arrives for those looking for an RTS fix. We ran with the resolution set to 1600 x 1200 and the graphics settings set to the medium defaults. We recorded a custom demo of a 3 vs. 2 multiplayer battle and played it back at 4x speed, recording the average frame rate for 10 minutes of the battle. The 10 minutes we focused on contained a good mix of light skirmishes between opponents, base/resource management with very few characters on the screen and of course some very large scale battles. As with most RTSes, Rise of Legends is extremely CPU bound. The performance variability between runs was fairly high in this test, mainly because of how disk intensive the playback can get. Differences in performance of up to 5% should be ignored.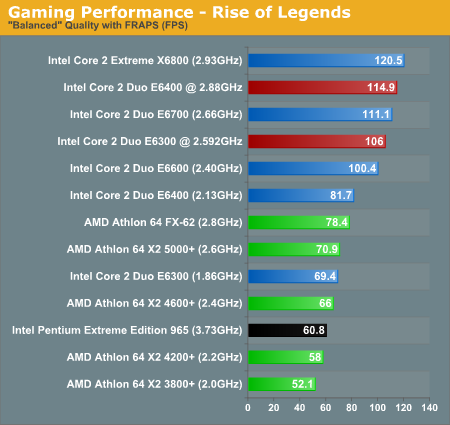 Rise of Legends is clearly a game that demands a lot from the processor, and the additional cache in the 4MB Core 2 Duo chips also appears to have more of an impact in this game than in other games. The only Core 2 chip that AMD's FX-62 is able to beat is the "budget" E6300. If other RTS games perform similarly, strategy gamers will definitely want to upgrade to Core 2. Once again we see that overclocking the E6300 and E6400 get you fairly close to the higher end E6700 and X6800 Core 2 processors; with performance like this, why bother spending any more on a faster Core 2 CPU?