Gaming Performance using Oblivion
We'll close out our gaming performing analysis with Oblivion. We ran at a setting that more or less corresponds to "medium quality", without antialiasing. This game is demanding of both CPUs and GPUs, though if you have to choose just one we would still recommend a faster GPU over a faster CPU. Remember, we are using arguably the fastest GPU setup for running Oblivion; if you're only running a single GPU, your average frame rates will be far lower. That said, let's take a look at performance: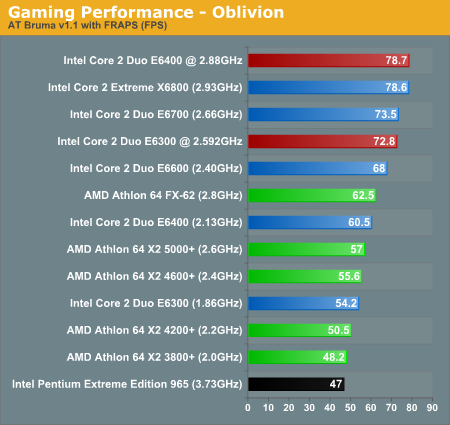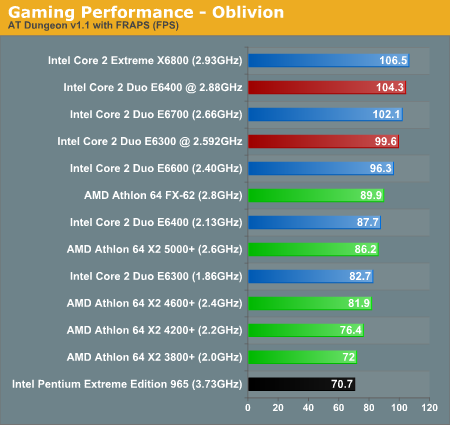 The additional L2 cache doesn't seem to matter as much in Oblivion, but faster processor speeds definitely help out. The performance spread is 67% in the town portion of the benchmark, but only 51% in the dungeons. This likely has a lot to do with the number of creatures present in most towns, as there are far more AI calculations to perform.
The patterns we've seen in other games and applications continue here, and with some overclocking both of the slowest Core 2 processors are essentially out of reach of the fastest AM2 offerings. It will almost certainly take more than a die shrink and faster clock speeds for AMD to close the gap. Those of you who are interested in purchasing a high-performance CPU and keeping it for a while while you upgrade your graphics cards will definitely not be displeased with what you can get from Intel's Core 2 lineup.