Encoding Performance using DivX 6.1, WME9, Quicktime (H.264) & iTunes
Multimedia encoding is typically a very good CPU benchmark, with performance that scales very nearly linearly with faster CPU clock speeds. Video testing was conducted using three popular codecs and applications: Xmpeg 5.03 with DivX 6.1, Windows Media Encoder with WMV9, and QuickTime 7.1 with H.264. The complexity of the encoding process increases as we move from DivX to WMV9, and H.264 encoding is in a league of its own in terms of the amount of CPU time required. Audio encoding performance was also tested using iTunes; MP3 encoding is less time-consuming than video encoding, but it continues to stress CPU performance.
Video encoding was always one of the strong points of the NetBurst architecture, and the results in DivX and WME9 are one of the few instances where the Pentium Extreme Edition 965 can actually outperform all of AMD's dual core offerings. This is in part due to optimizations in the applications, and the advantage doesn't extend over to QuickTime H.264 encoding or MP3 encoding.
Both of the low end Core 2 Duo chips continue to impress, especially the overclocked E6400 which once again manages to surpass the stock X6800 in performance. How can a slower clocked chip outperform the X6800? Video encoding also stresses FSB bandwidth, and the FSB is running faster and providing more bandwidth with the low-end parts due to overclocking. Obviously, neither chip is actually faster than the X6800 if you test that with overclocking thrown in, but for those looking to save money the performance offered is definitely impressive.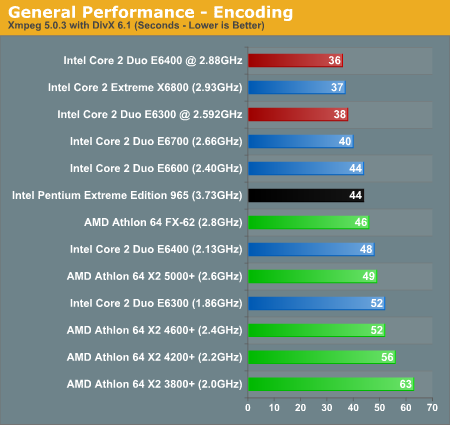 DivX performance is very strong with the new Core 2 processors, and it looks like it'll take K8L to restore AMD's competitiveness here. The E6300 performs like a 4600+ while the E6400 performs like a 5000+, but once overclocked there isn't an AMD CPU that can touch either one. Given that most current 90nm X2s top out at around 2.8 - 3.0GHz on air, there's not much hope here for AMD until 65nm.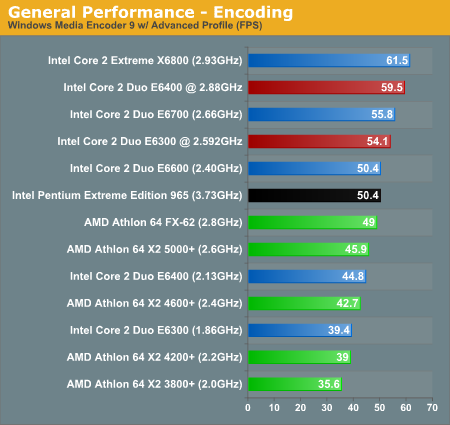 The situation is pretty much unchanged using Windows Media Encoder 9: the E6300 and E6400 are competitive at stock speeds but once overclocked they are now able to hang with their more expensive 4MB brethren.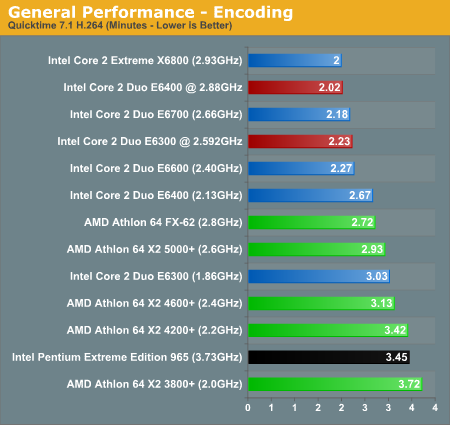 Our Quicktime H.264 test is the most stressful out of all the video encoding tests we've got here, but the Core 2 line is quickly changing that as the majority of Core 2 parts complete the test in around 2 minutes. The E6400 is already faster than the FX-62 at stock speeds and overclocking it gives the X6800 a new neighbor at the top of the chart.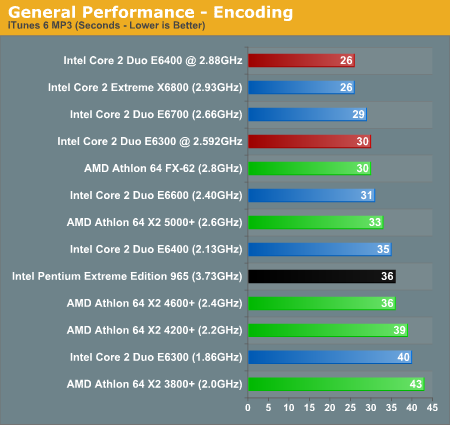 The AMD lineup is far more competitive under the iTunes MP3 encoding test; the E6400 is the same speed as the X2 4600+ while the E6300 is just under the performance of the X2 4200+.