Application Performance using PC WorldBench 5
Looking at the overall WorldBench 5 performance score, Intel's Core platform has a lead of 15% at the high-end and 10% at the low-end.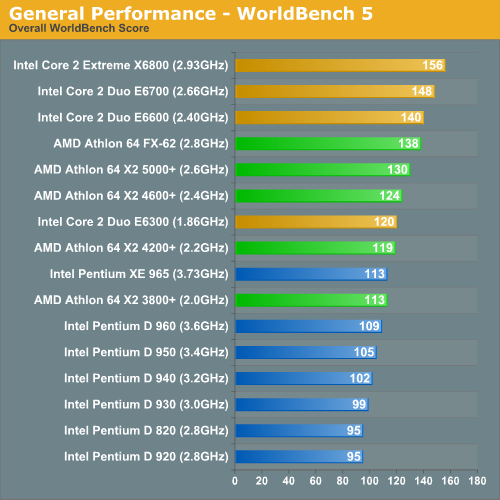 The midrange options show similar results. Of course, the overall performance score is something of an abstraction, so it's also important to look at the individual results. (Click on the images below for detailed results; the numbers are completion times in seconds - lower numbers are better).
Click Images to Enlarge
Intel leads in almost every instance, with AMD's only win coming in the Ahead Nero Express test. That particular test is mostly I/O limited, however, so the win doesn't particularly count for much. The margins in Adobe Premier, Microsoft Office XP, and 3D Studio Max 5.1 are a bit closer (3%-11%), while the Photoshop, Mozilla, Windows Media Encoder, WinZip, and the multitasking test all favor the Core 2 Duo chips by a slightly larger margin (12%-26%). The net result is clearly a victory for Intel, however.