Application Performance using SYSMark 2004 SE
We'll kick off our look at general application performance with SYSMark 2004 SE and as always, and we'll look at the overall score as well as the scores in each of the two suites - Internet Content Creation and Office productivity.
As we saw in our last preview of Intel's Core 2 Extreme processor, it posted SYSMark scores that were well beyond anything either AMD or Intel had been able to deliver in the past. With the final version of Core 2 silicon in our hands and a more stable/tweaked platform, we got even better numbers out of Conroe: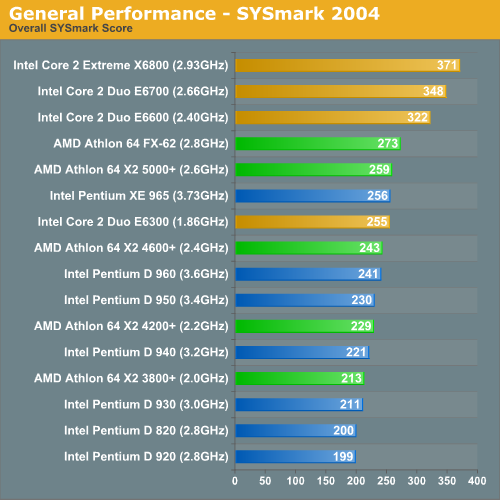 At the high end, the Core 2 Extreme X6800 was just under 36% faster than the Athlon 64 FX-62. In fact, even the $316 E6600 was around 18% faster than AMD's fastest. To add even more insult to injury the slowest Core 2 Duo in the test, the 1.86GHz E6300 is barely slower than AMD's fastest Athlon 64 X2.
The old Intel lineup of Pentium D processors is truly an embarrassment. Only the Extreme Edition 965 is remotely competitive and even then it can barely outperform the $183 E6300.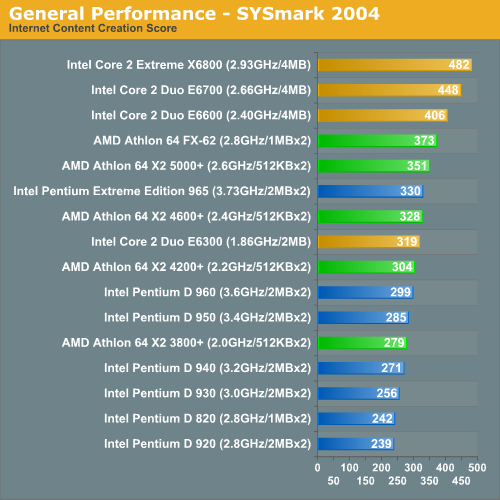 Drilling down into the SYSMark scores we've got the overall ICC results, which honestly are not much different than the overall scores we saw above. The Core 2 Extreme X6800 holds a 29% performance advantage over the FX-62 and once again, and the E6600 is able to outperform AMD's best by over 8%.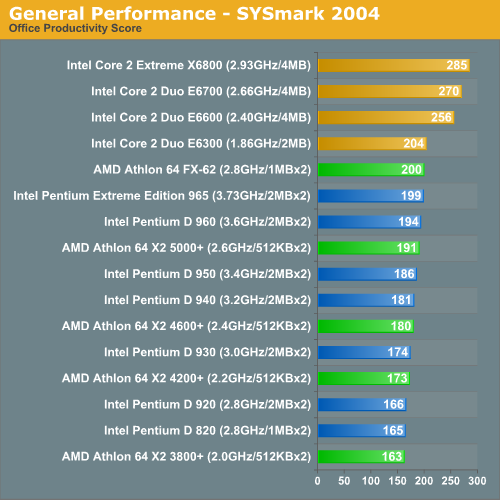 Intel's Core 2 performance domination continues in the Office Productivity portion of SYSMark 2004, with the Core 2 Extreme X6800 maintaining a 42.5% performance advantage over the FX-62. This time around, even the E6300 manages to remain competitive with the FX-62. This is Intel's new $183 part offering performance equal to that of AMD's $1,000 flagship FX processor; it's going to take a lot for AMD to recover from this deficit.
The individual SYSMark 2004 SE scores are graphed below if you're interested. The data is used in calculating the overall scores we've already discussed above: