ATI made it clear at the launch of their CrossFire Xpress 3200 in March that it would be more than just a Socket 939 chipset. The new ATI dual X16 chipset would be launched for Socket 939, but it was designed from the ground up for AMD Socket AM2. ATI is now showing how well the CrossFire Xpress 3200 performs on the new AM2 socket with DDR2 memory.
The AM2 launch for ATI is also an important launch of new technology for ATI. AM2 is the first time we have seen the new ATI SB600 Southbridge, and it's coming to market none too soon. ATI's Rx480 and RD580 for Socket 939 were somewhat hampered by the outdated feature set of their SB400/SB450 Southbridges. Both were excellent in IDE and standard SATA performance, but they lacked SATA2 3.0Gb/s support featured in competing chipsets; SB450 also was criticized for lackluster USB 2.0 performance compared to the competition.
Most manufacturers who went to market with ATI's SB400 or SB450 were penalized with low sales, so much so that most manufacturers in the RD580 launch this past March went with the compatible and up-to-date ULi M1575 Southbridge. This solution worked well, but NVIDIA purchased ULi and ULi M1575 Southbridge chips have become scarcer in the marketplace. ATI has been promising for almost a year that SB600 was coming and would fix the Southbridge concerns. With today's launch SB600 is finally a reality. This is important for ATI since manufacturers can now use a full ATI chipset solution that should be well-received in the marketplace.
Through development the latest ATI chipset was called RD580. When ATI launched their dual X16 Northbridge for Socket 939 in March the official name became CrossFire Xpress 3200. RD580 for AM2 carries the same name - CrossFire Xpress 3200 - with the addition of AM2 to identify the board socket. This is in contrast to NVIDIA's launch of nForce5 which uses a die-shrink "Northbridge" MCP with added features and an existing "Southbridge" C51 to provide the second X16 PCIe video slot.
With the introduction of the SB600 Southbridge with the RD580 AM2, ATI has made revisions to their chipset lineup. The features listed in the chart below are not all provided by the RD580/SB600 chipset, but are ATI recommended configurations for the target market segments. The top-end recommendation is also the configuration of the RD580 AM2 Reference board. Page 2 provides details of the features you will find in the SB600 compared to competing chipsets.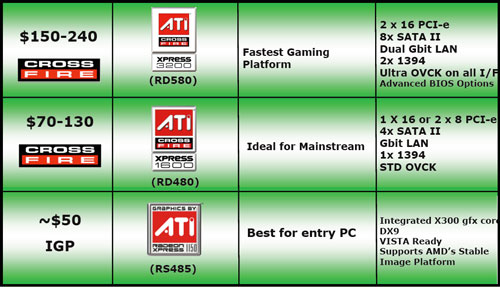 Xpress 3200 now covers RD580 Socket 939 and AM2. RD480 is now combined with SB600 with the new name Xpress 1600. The integrated graphics solution, based on RS485, is now marketed as Radeon Xpress 1150.
At launch, ATI was hesitant to provide reference boards for testing since it will still be several weeks until retail 3200 AM2 boards will appear in the marketplace. ATI was preparing for the original AM2 launch date of 6/06/06 at Computex. Several weeks ago AMD decided to move the AM2 launch back to May 23
rd
, and directions could not be changed that quickly. Considering the date changes were by AMD, it is understandable why ATI will have a slight delay before retail AM2 boards appear on the shelves.
CrossFire Xpress 3200 for socket 939 brought dual X16 PCIe slots to the ATI chipset. This made the ATI RD580 fully competitive with the top NVIDIA chipsets for AMD with the exception of a few I/O features. Socket 939 RD580 was still paired with SB450, which had the disadvantage of no SATA II support and lackluster USB2 performance.
CrossFire Xpress 3200 AM2 aims to make ATI fully competitive in features with the top NVIDIA offerings for AMD. With AM2 comes the long-awaited SB600, with support for SATA2 and much improved USB performance. ATI would tell you, however, that RD580 is more than just competitive with the best from NVIDIA.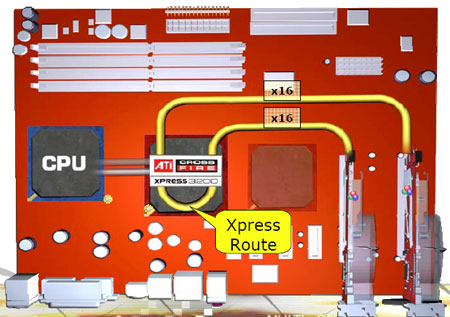 The new ATI dual X16 is the first of the type to implement dual X16 with a single chip. The NVIDIA solution uses two chips with a potential communications roadblock between the two chips that were really developed for other applications. NVIDIA states there is no performance loss in their design. However, NVIDIA is also planning to move to a single chipset supporting dual X16 PCIe video lanes later this year. NVIDIA states that move is for cost savings.