Introduction
Of the conferences and trade shows we attend each year, WinHEC is one of the most enigmatic. While most fanboys would be very happy to attend E3, both for the demos and the booth babes, it might be a little more difficult to "get into" something like the Windows Hardware Engineering Conference. The focus of the conference can be very technical, which isn't a bad thing by any means (especially for nerds like us). We, of all people, can get excited about the low level architectural details of computer hardware. But the technical detail provided at WinHEC is generally very Microsoft OS focused rather than hardware centric.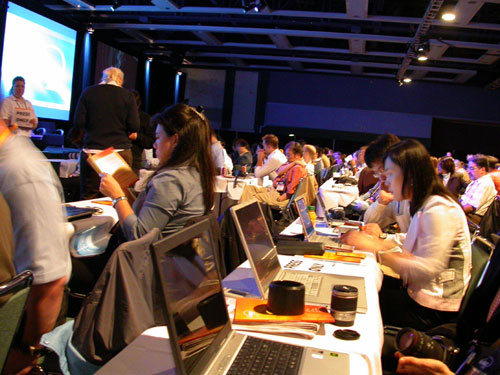 While there is some good content on the direction and capabilities of next generation hardware, most of the real meat of the conference comes in discussions of Microsoft APIs, driver models, and that blurry line between software and hardware. Even for the hardcore programmers and hardware engineers among us, some of this stuff can get pretty hairy. The warriors who fight the driver battle must be savants; they must intimately know the hardware, the operating system, and the software that will make use of both.
So why are we interested in, even excited over, WinHEC? For our part, we will do our best to delve into the heart of the conference, absorb as much as possible from the highly technical very low level presentations, and distil out all the best information so you don't have to. And thus shall all the masses rejoice!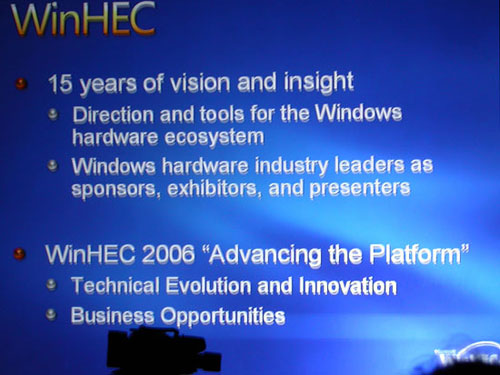 There are quite a few changes afoot in the Windows world, as has been widely discussed in the past. Vista, DX10, 64-bit, and many other advancements are either here or coming soon. In order to get the jump on what's going on, we are taking a peek under the hood. But before we get to the technical discussions, Bill Gates presented a keynote in which he espoused the advantages of the Windows ecosystem and announced the release of the Beta 2 versions of Longhorn server, Vista, and Office.