IPEAK Business Application Tests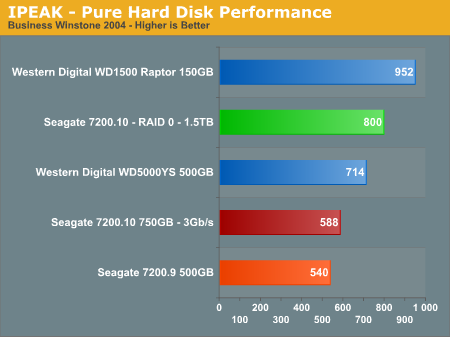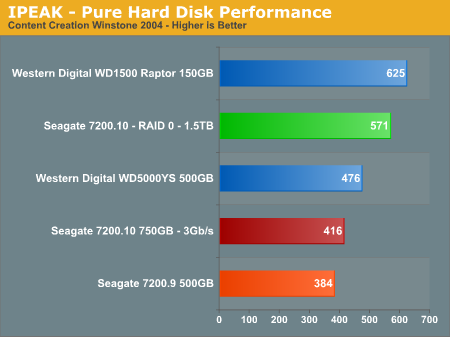 Our IPEAK Winstones benchmarks offer a glimpse into how well our hard disk drives will handle general office applications, media encoding, and graphics manipulation. While the business applications that are being tested tend to be more CPU bound at times, the performance of the hard drive can and will make a difference in the more disk intensive video and graphics applications where large media files are typically being edited.
As expected, the WD Raptor places first as its 10k RPM spindle speed and optimized cache play an important role in its ability to sustain high transfer rates, especially in the Content Creation benchmark where transfer block sizes are significantly larger than in the Business application benchmark.
The Seagate 7200.10 outperforms the 7200.9 by 9% in the Business test and 8% in the Media Content test. These scores are consistent with Seagate's claims that the 7200.10 should outperform the 7200.9 by 10% on average. The WD RE2 500GB drive makes a very strong showing in these benchmarks; obviously it continues the performance trend set by the WD RE2 400GB product. The RAID 0 performance of the Seagate 7200.10 is very good with drive performance increases of 36% in the Business test and 37% in the Content Creation test but still not enough to match the WD Raptor.
IPEAK General Task Tests
The IPEAK based General Task benchmarks are designed to replicate utility based application tasks that typically are disk intensive and represent common programs utilized on the majority of personal computers. While the WinRAR program is very CPU intensive it will typically stress the storage system in short bursts. Our antivirus benchmark will stress the storage system with continual reads and sporadic write requests while the defragmentation process is split between continual read and write requests.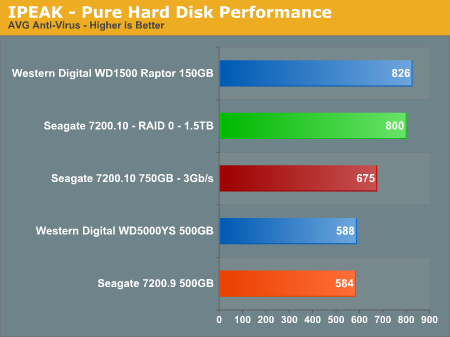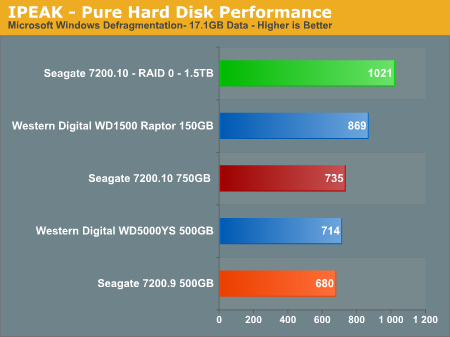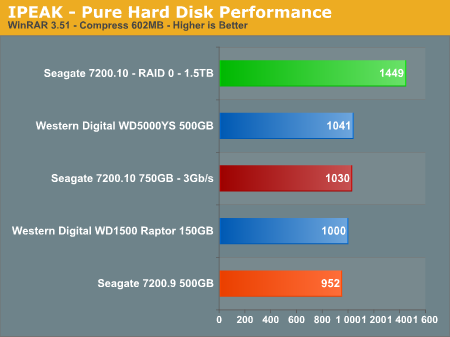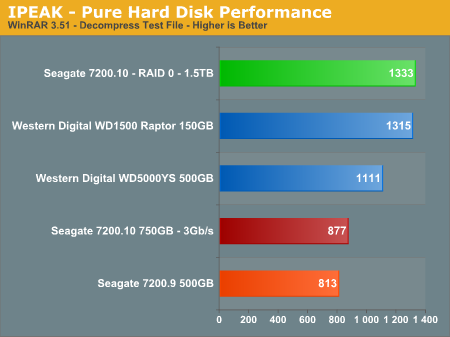 The Seagate 7200.10 RAID 0 combination scores first in three of the four tests with the WD Raptor close behind while the Raptor takes three of four tests in the single drive category. The Barracuda 7200.10 finally surpasses the WD RE2 and posts excellent scores in the very drive intensive antivirus and disk defragmentation benchmarks but falls up to 26% behind in the file decompression test. The Seagate 7200.10 outperforms the 7200.9 by 8% in the WinRAR tests, 8% in the defragmentation test, and 15% in the AVG antivirus benchmark that continues a steady pattern of improved performance for this series.